Are you a STEM student looking for peer and academic support?
You may be eligible to be a WiscAMP Scholar! The goal of the WiscAMP Scholars program is to bring together and support a diverse community of STEM learners. The UWRF WiscAMP Scholars Program is a Wisconsin Louis Stokes Alliance for Minority Participation Program supported through funding from the National Science Foundation. This grant funding agency aims to diversifying our nation's workforce by supporting Black, Indigenous, and people of color through their STEM baccalaureate and graduate degrees. In addition, we have limited funding to support other underrepresented or marginalized communities.
The WiscAMP Scholars Program supports students from underrepresented or marginalized populations in STEM. Scholars' academic need is also considered, including, but not limited to: high school GPA, application essay need description, ACT scores, and other academic factors.
WiscAMP Scholars can receive up to $2,200 for fully participating in our academic peer mentoring program, $550 for each semester of participation. Our program will provide peer support, faculty support and financial support as you navigate your first two years of college as a STEM major.
WiscAMP Scholars are assigned a peer mentor/tutor to meet with on a regular basis and upon request meet with you for tutoring in your introductory math and science courses. WiscAMP Scholars also meet with a faculty mentor to learn more about the exciting directions a STEM major can take. Through training and mentoring from our program, we hope our scholars leave our program to become future WiscAMP mentors, McNair Scholars and URSCA researchers not to mention SUCCESSFUL STEM GRADUATES!
When do I apply for this program?
We accept new UWRF undergraduates first-year students each fall semester. Transfer students who are just starting their STEM major can also apply in their first term at UWRF. Yearly applications will be due by the last day in November. Applications for a cohort will remain open until filled through March. The cohort will be selected to start the spring after acceptance.
What STEM majors are eligible for this program?
If you major in STEM (Ag Engineering, Animal Science, Biology, Biomedical and Health Science, Biotechnology, Chemistry, Computer and Information Systems, Computer Science, Conservation, Crop and Soil Science, Dairy Science, Data Science, Environmental Science, Food Science and Technology, Geology, Horticulture, Mathematics, Neuroscience, Physics, Science and Math Education) you are eligible for this program.
What do I need to submit for this application?
The application is available here. Most of the application is questions to get to know the applicant. One question will ask the applicant to write a short essay (1-2 paragraphs) on the following question: "During this program, you will meet regularly with a peer mentor to discuss academic topics. What academic topics do you hope to learn about to help you reach your college goals? How will these topics address any challenges you see as a STEM major?" We ask this because this program is designed to help you meet your personal goals!
What is the distribution and length of the program?
Upon acceptance into the program, scholars will be assigned a peer tutor/mentor, a faculty mentor and they receive up to $550 per semester. Students are admitted to the program at the beginning of Spring term during their first year and are eligible to continue in the program through the end of Fall term their third year for a maximum of $2,200.
Grant Funding Source?
Subaward ($60,000) within the 2019-2024 Louis Stokes Alliance for Minority Participation Program NSF grant, PI-Sarah Mangelsdorf (UW-Madison) and Sub-award PI Jamie Schneider (UWRF), titled "STEM Pathways and Research Alliance: The Wisconsin LSAMP (WiscAMP)"
What are other WiscAMP opportunities?
The UWRF WiscAMP Scholars programs is part of a larger UW-System WiscAMP program centered on the UW-Madison campus. Any WiscAMP eligible students (not just scholars) can participate in the larger opportunities through this UW-System program and through the national LSAMP Program. Further information on the summer Excel Program, Research Opportunities, Bridge to Doctorate Programs, and Other Resources can be found at https://wiscamp.engr.wisc.edu/student-research-and-opportunities/#excel-program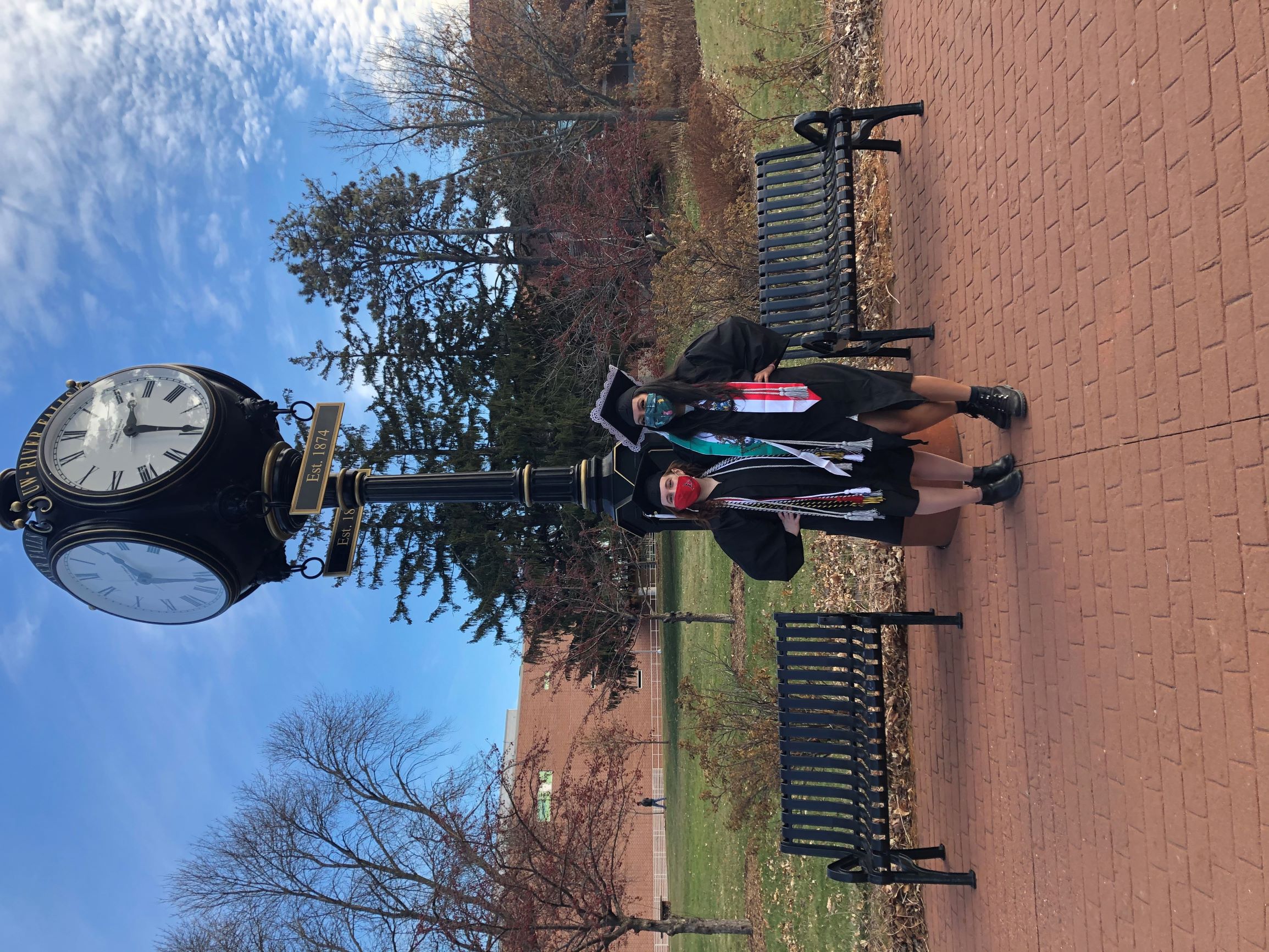 Graduates Ashley Lozano & Sarah Jewett