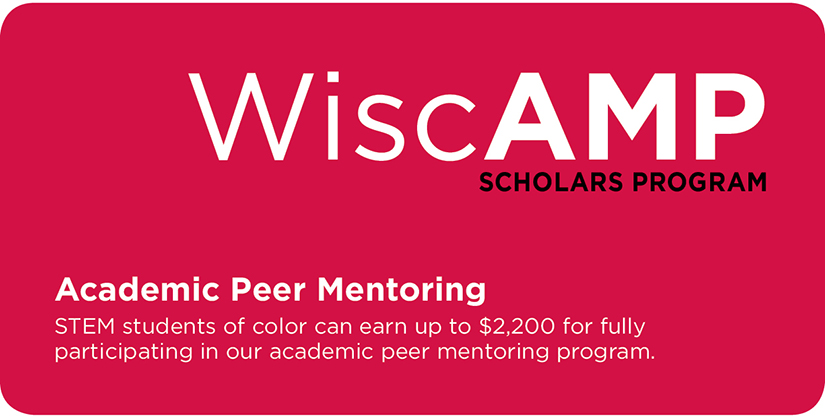 About the WisCAMP Scholars Program

Are you a STEM student of color looking for peer and academic support? You may be eligible to be a WiscAMP Scholar! The UWRF WiscAMP Scholars Program is a Wisconsin Louis Stokes Alliance for Minority Participation Program supported through funding from the National Science Foundation. 
STEM students of color can receive up to $2,200 for fully participating in our academic peer mentoring program. Our program can provide peer support and financial support as you navigate your first two years of college as a STEM major.
WiscAMP Scholars are assigned a peer mentor/tutor to meet with on a regular basis and upon request meet with you for tutoring in your introductory math and science courses. They also meet with a faculty mentor to learn more about the exciting directions a STEM major can take. Through training and mentoring from our program, we hope our scholars leave our program to become future WiscAMP mentors, McNair Scholars and URSCA researchers not to mention SUCCESSFUL STEM GRADUATES!
When do I apply for this program?
We will be accepting new UWRF undergraduate first-year students (sorry no transfer students) in Fall 2019 for the first cohort of WiscAMP Scholars. The cohort will be selected to start in Spring 2020. Future WiscAMP Scholars cohorts will be selected to start in subsequent Spring term years as well. The Fall 2019 online application deadline is early Spring semester 2020.
Am I eligible for this program?
If you major in STEM (Ag Engineering, Animal Science, Biology, Biomedical and Health Science, Biotechnology, Chemistry, Computer and Information Systems, Computer Science, Conservation, Crop and Soil Science, Dairy Science, Data Science, Environmental Science, Food Science and Technology, Geology, Horticulture, Mathematics, Neuroscience, Physics, Science and Math Education)
What underrepresented racial/ethnic groups can apply to this program?
To be accepted, you must be a U.S. citizen or permanent resident from one or more of the following historically underrepresented racial/ethnic groups: African American, Hispanic/Lantinx, American Indian, Alaska Native, Native Hawaiian and Native Pacific Islander.
Applications from students who are from underrepresented backgrounds in STEM will also be considered depending on availability of funding.
What do I need to submit for this application?
Required application materials include submitting an official application form which can be found at WiscAMP Fall 2019 Application
What is the distribution and length of the program?
Upon acceptance into the program, scholars will be assigned a peer tutor/mentor, a faculty mentor and they receive up to $550 per semester. Students are admitted to the program at the beginning of Spring term during their first year and are eligible to continue in the program through the end of Fall term their third year for a maximum of $2,200.
Grant funding source: Subaward ($60,000) within the 2019-2024 Louis Stokes Alliance for Minority Participation Program NSF grant, PI-Sarah Mangelsdorf (UW-Madison) and Sub-award PI Jamie Schneider (UWRF), titled "STEM Pathways and Research Alliance: The Wisconsin LSAMP (WiscAMP)"
What are other WiscAMP opportunities?
The UWRF WiscAMP Scholars programs is part of a larger UW-System WiscAMP program centered on the UW-Madison campus. WiscAMP eligible students can participate in the larger opportunities through this UW-System program and through the national LSAMP Program. Further information on the summer Excel Program, Research Opportunities, Bridge to Doctorate Programs, and Other Resources can be found at https://wiscamp.engr.wisc.edu/student-research-and-opportunities/#excel-program