Take the Next Steps
---
Contact Us
College of Agriculture, Food and Environmental Sciences
Email: laura.walsh@uwrf.edu
Phone: 715-425-3535
 
College of Agriculture, Food and Environmental Sciences
Welcome to the College of Agriculture, Food and Environmental Sciences. Around campus you'll hear us called CAFES and we're home to more than a dozen majors, two laboratory farms, award-winning faculty and so much more. In CAFES, you're empowered to learn by doing, and we provide incredible hands-on learning opportunities to help you do just that.
600+
Acres of Laboratory Farms
45+
CAFES student organizations
Our Academics
CAFES features the only agricultural engineering technology program in Wisconsin, one of the largest dairy science programs in the nation and an agricultural studies program that gives you the flexibility to design an individualized program. Since 1912, we've earned a reputation for excellence and are consistently ranked as one of the top undergraduate agricultural programs in the country.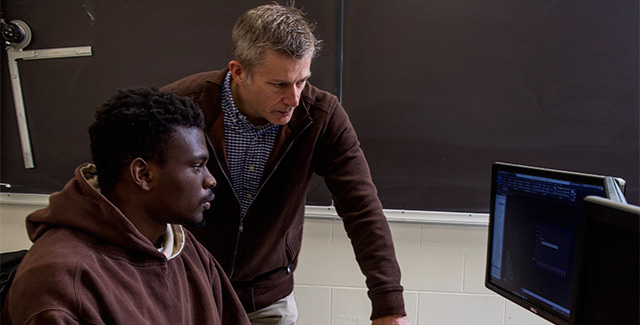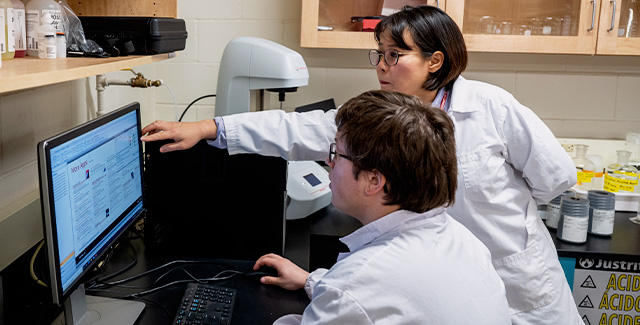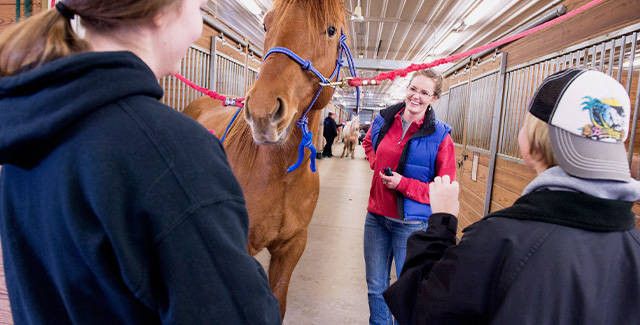 The CAFES Experience
CAFES is proud to offer a personalized, comprehensive and highly experiential education to our students. Whether you're studying crop production on a research plot, propagating plants in a horticulture class, training horses at the Campus Farm or completing an internship with an agriculturally-focused company, there's no shortage of ways to make the most of your education. 
The goal of the CAFES Internship Program is to create a uniquely beneficial experience for both students and employers. With assistance from faculty coordinators, we listen closely to our students' career aspirations and work hard to find the perfect fit with local, regional, national and international organizations. 
Not all CAFES majors require an internship, but they are strongly recommended for all programs. The vast majority of CAFES internships are paid experiences.
New location, new vision, same goal: producing high quality graduates prepared for success in the dairy industry! 
The agriculture training program in Wisconsin that has stood the test of time returns for fall 2023. Experience world class, hands-on training, just at a new location - UW-River Falls! As a student, you'll have the opportunity to participate in the program for one or two years. Year one will focus on critical, fundamental aspects of dairy farm operation with a heavy emphasis on managing the animal. Year two will be a deeper dive into herd management and additional emphasis on managing operations of the entire farm. 
Program overview
16-week residential program runs October 25, 2023-March 15, 2024
Classes taught by world-class UWRF faculty in collaboration with UW-Madison and UW-Platteville
Students live in UWRF residence halls
Access the same student privileges as four-year students.
Earn college credits that can be used at UWRF or transferred 
Create lifelong friendships, professional networks and mentor relationships
Want to learn more?
If you have questions or want to learn more about the program contact Steve Kelm at 715-425-3704 or fisc@uwrf.edu.
We believe that hands-on learning opportunities are the key to an excellent education. We operate two laboratory farms where those opportunities abound. Courses in animal science, horticulture, crop and soil science, environmental science and more meet on the farms for lab portions for their classes. Farm jobs are even available for students!
In addition to crop production, the lab farms support horse, beef and dairy cattle herds, a swine herd and a sheep flock. Demonstration and experimental plots are provided for student, class and research use and cropland and livestock production facilities are used for both classroom learning and hands-on educational purposes. Modern facilities house our animals and are used to demonstrate the relationships between management, nutrition, breeding and the environment.
Located south of River Falls within walking distance of campus, the Campus Farm includes approximately 130 acres primarily devoted to horse operations and includes the following features:
Outdoor and heated indoor riding arenas

A mare barn and colt barn with classroom space

Breeding facilities

Pasture and hay land

Rodeo arena (student-run rodeo each fall)

32 acres for horticulture research and extension work

Eight acres for environmental science and forestry projects on the northwest edge of the farm
Located 2.5 miles northwest of River Falls at County Road MM and S. Glover Road, Mann Valley Farm spans approximately 475 acres. The farm houses our beef, dairy, sheep and swine operations and facilities include:
Beef finishing lots

Swine farrowing

Hoop and finishing barns

Sheep barn with heated lambing rooms

St. Croix Valley Bull Test Station

Dairy Learning Center

Indoor classroom

Indoor pavilion for instruction, contests, workshops and livestock shows/sales

Case IH provides the farm with the latest in farming technology and equipment

Feed processing, grain drying and storage units (cropland on the farm produces the majority of feed required for livestock production)

Interdisciplinary composting research program housed on-site
We are committed to helping you soar. Each year, CAFES students are eligible for scholarships dedicated to students pursuing agriculture-related majors and minors.
CAFES supports a variety of active student organizations, intercollegiate judging teams and social and academic fraternities and sororities. Visit FalconsConnect to learn more about how you can get involved.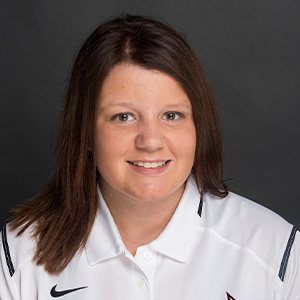 "My experience has been amazing. I have participated in many clubs, internships and research throughout my four years. My courses set me up to excel at all those things, along with my job after college. The professors are extremely easy to talk to and they all have an open-door policy that makes asking for help a lot easier."
Madison Schochenmaier, agricultural engineering - machinery emphasis