Why Study Engineering?
Major | Engineering | CAFES/​CAS
A leader in science education, UW-River Falls provides a solid educational foundation for engineering students, no matter your degree path. You'll have access to personalized hands-on learning, extensive research opportunities, professional development and so much more.
Students pursuing engineering at UWRF have multiple degree paths. Explore the possibilities below.
For information on Agricultural Engineering, Environmental Engineering or Engineering Technology, contact the AET Department at engineering@uwrf.edu or 715-425-3985
For information on Pre-Engineering or Physics/Engineering Dual Degree (mechanical, electrical, civil, aerospace and more engineering areas), contact the Physics Department at physics@uwrf.edu or 715-425-3235.
Program Details
Bachelor's Degrees: We offer four-year bachelor's degree programs in Agricultural Engineering (with options in machinery systems, natural resources and environmental systems, and food and process systems), Environmental Engineering, Engineering Technology (with options in test engineering technology, civil and environmental engineering technology, food and bioprocessing technology, and agricultural systems management), and applied physics for industry and engineering.
Dual Degree: You'll complete about three years of physics, chemistry, math, engineering and general education coursework at UWRF and then about two years of upper-level engineering courses at a highly-regarded partner institution such as UM-Twin Cities, UW-Madison or UW-Milwaukee, among others. Upon completion, you'll earn two bachelor's degrees: one in applied physics for industry and engineering from UWRF and one in engineering from the partner school.
Pre-Engineering: You'll complete about two years at UWRF and about two years at an engineering university. UWRF offers all the physics, mathematics and chemistry you'll need, plus your first engineering and electronics courses. You'll benefit from our affordable tuition and supportive environment while making progress toward your degree.
700+
Students in Honors Programs
84%
Of Students Received Financial Aid in 2021-2022
99%
Of Grads are Employed or Attending Grad School
Engineering
cafes@uwrf.edu // 715-425-3535
cas@uwrf.edu // 715-425-3777
Your Degree:
Pre-Professional/​Undergraduate
Area of Study:
Engineering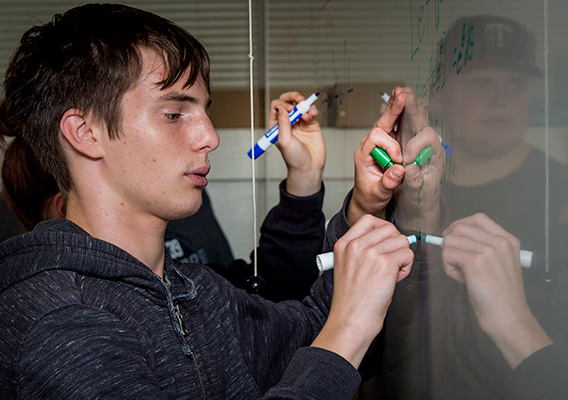 Skills and Learning Outcomes
Understand and apply physics and math principles to practical and applied technical problems.
Gain experience with instrumentation and develop proficiency in collecting and interpreting data.
Research and develop new products and processes.
Determine why objects fail and how to prevent future failures.
Practice collaboration, oral presentation, scientific writing and laboratory safety skills.
Develop problem-solving and critical thinking skills.
Types of Courses
Dynamics
Engineering Fluid Mechanics
Engineering Thermodynamics
Intro to Computer Aided Design
Machine Design
Programming for Engineers
Statics
Structural Analysis and Design
Watershed Engineering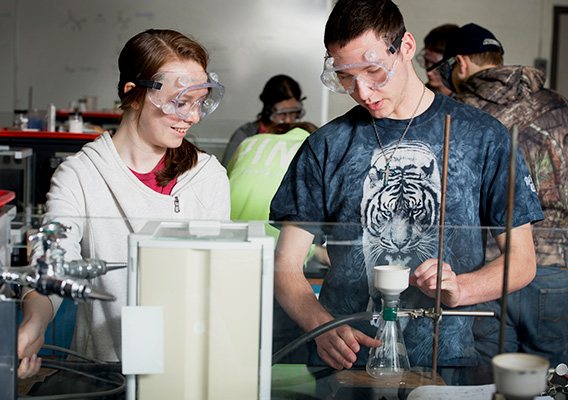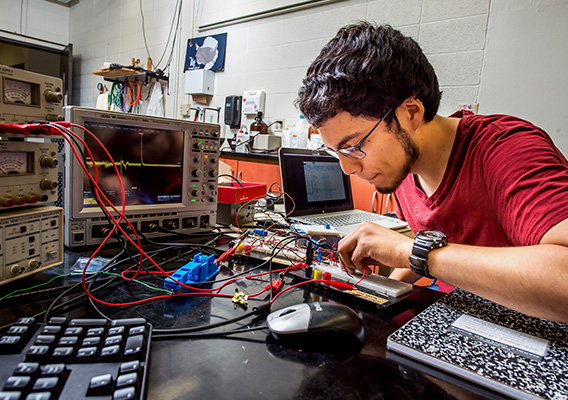 Potential Careers
Engineering graduates have strong foundations in math and science and stand out from the crowd when applying to jobs or graduate school. Depending on your degree path and interest area, you may find yourself in a variety of roles, including:
Aerospace Engineer
Agricultural or Biosystems Engineer
Biomedical or Chemical Engineer
Civil or Mechanical Engineer
Computer or Electrical Engineer
Environmental or Industrial Engineer
Materials Engineer
Get More Information
Interested in learning more about UWRF or any of our 70+ areas of study? Just share your contact information and we'll be in touch!