Chancellor Maria Gallo, Ph.D.
Maria Gallo, Ph.D. started as the 20th chancellor at UW-River Falls in July 2021, after serving five years as the Delaware Valley University president in Doylestown, Pa.
Gallo was the first woman president at DelVal. During her tenure there, the university developed a comprehensive strategic plan and new vision. First-year student fall-to-fall retention rates significantly rose, career outcome rates became the highest in the history of the university and graduate program offerings expanded. She established the President's Commission on Diversity and Inclusion and the Division of Campus Life and Inclusive Excellence.
Elected in March 2022 as the chair of the American Council on Education Women's Network Executive Council (WNEC), Gallo will serve a two-year term. She has been a part of the WNEC since June 2018. ACE Women's Network is a national system of networks within each state, Puerto Rico and the District of Columbia with the goal of advancing and supporting women in higher education.
Gallo was dean and director of Research and Cooperative Extension at the University of Hawaii at Mānoa College of Tropical Agriculture and Human Resources from 2012 to 2016. Her research interests included plant molecular biology, plant genetics and plant-microbe interactions.
Prior to that, Gallo was a professor and chair of the University of Florida Agronomy Department where she specialized in crop improvement. She also taught three genetics courses.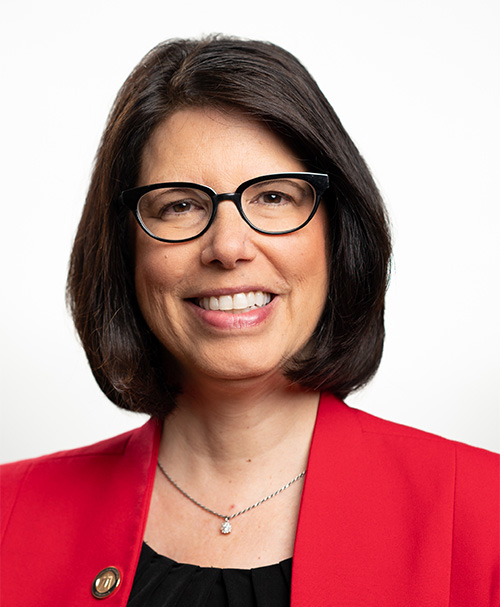 In the mid-1990s, Gallo conducted research at the University of Minnesota Department of Agronomy and Plant Genetics, and the Plant Molecular Genetics Institute.
As a Fulbright Scholar, Gallo taught and conducted researched at Utrecht University in the Netherlands.
Gallo is a fellow of the American Society of Agronomy and the Crop Science Society of America, where she also served as president and chaired numerous committees.
She earned her bachelor's degree in agronomy from Cornell University and both her master's degree in crop science and Ph.D. in genetics from North Carolina State University.
During her first six months as chancellor, Gallo conducted listening sessions with campus and community stakeholders to hear ideas for UWRF's future. The Listening and Learning Report identified key themes for opportunities to make meaningful change at the university.
Gallo is a strong advocate for women in STEM, including the agricultural sciences; undergraduate research opportunities; and equity, diversity and inclusion in higher education.
She started an endowed scholarship for first-generation students interested in pursuing a degree in science, technology, engineering and math. The UWRF Foundation scholarship is named the Dr. Maria Gallo STEM Scholarship Endowment. The $1,000 scholarship is slated to be awarded for the first time in the 2022-23 academic year.
She is committed to authenticity, transparency and community building while continuing UWRF's tradition of academic excellence, innovation, student success and student-centered learning.
Listening and Learning Report
During her first six months at UW-River Falls, Chancellor Maria Gallo conducted a Listening and Learning Tour during which she met with dozens of internal and external stakeholders. Her goal was to learn more about UWRF, identifying what makes our campus great and what opportunities for improvement lie ahead under her leadership. Click here for a summary of the major themes which emerged on the tour and the chancellor's current thoughts in response to each theme.

  
Chancellor's Administrative Cabinet
The Chancellor's Administrative Cabinet meets approximately twice a month to coordinate campus planning and policy. In addition to the Chancellor, the staff below make up the Chancellor's Administrative Cabinet. The Provost, all Vice Chancellors and the Chief of Staff are also members of the Chancellor's Executive Cabinet, which meets weekly. 
Chancellor's Advisory Council
Arlin Albrecht – (Retired) Owner, Red Wing Publishing

Jamie Benson – Superintendent, School District of River Falls

Chris Blasius – Business Development Associate, IGO Legacy Hotel Group

Tom Borowski – President, Hudson Hospital & Clinics

Ray French – WiSys Regional Associate

Mark Gherty – Gherty and Gherty S.C Attorneys at Law

Gregory Gray – Former Chief Compliance Officer of Minnesota Department of Human Services

James Harsdorf – Secretary-Emeritus, Wisconsin Department of Agriculture, Food & Consumer Protection

Steve Healy – (Retired) Polk County Economic Development Corporation

Andrea Jorgenson – Community Service Manager, Xcel Energy

Lynn Nelson – Executive Director, West Central WI Regional Planning Commission

Nick Ouellette – Superintendent, Hudson School District

John Potter – (Retired) Executive Director, Phipps Center for the Arts

John Rosenow – Partner, Rosenholm-Wolfe Dairy, Owner Cowsmo

Bill Rubin – Executive Director, St. Croix Economic Development Corporation

Quentin Schultz – (Retired) President, Eurofins BioDiagnostics, Inc.

Scot Simpson – River Falls City Administrator

Mark Tyler – (Retired) President, OEM Fabricators

Shannon Zimmerman – Entrepreneur  

Angel Zimmerman – Belle Vinez Winery
Chancellor's Student Ambassadors
A select group of student leaders, our Chancellor's Student Ambassadors (CSAs) represent UWRF in a variety of capacities. CSAs are enthusiastic and proud while playing a vital role in the success of the university, particularly in their dedication to student success and connection. A CSA appointment comes with perks, including scholarships, campus exposure, professional development and networking opportunities. Learn more about CSAs, including how to apply, at www.uwrf.edu/Administration/Chancellor/CSA.cfm.