Contact Us
College of Education, Business and Allied Health
Email: cebah@uwrf.edu
Phone: 715-425-3774
School of Allied Health and Social Work
What's the School of Allied Health and Social Work like? It's bold. It's hands-on. It's personalized. It's what gets you ready for what comes next. You set your goals - we'll help you reach them. The School of Allied Health and Social Work is full of service-oriented programs like social work and communication sciences and disorders. Our Falcons leave the nest prepared to serve and to make waves in the world. As a student, you won't just learn the ins and outs of your chosen field, you'll cultivate transferable skills that will last a lifetime. You'll learn how to work with others, communicate across mediums and audiences, think critically and get creative.
76%
Of Students Completed At Least One High-Impact Practice Before Graduation
99%
Of Grads are Employed or Attending Grad School
Our Academics
We offer a variety of graduate and undergraduate programs designed to meet the needs of growing and in-demand fields. Explore below to learn more about our programs.
---
The School of Allied Health and Social Work Experience
Part of the College of Education, Business and Allied Health, the School of Allied Health and Social Work is committed to providing you with a world-class education and limitless opportunities. Diversity is one of our core values and we strive for inclusivity. Our award-winning faculty teach, guide and mentor you throughout your college career and beyond so when you fly from the nest, you're ready for what's next.
Our graduate programs provide flexible, affordable options in a wide variety of interest areas, all tailored to help you succeed. 
We talk a lot about how the School of Allied Health and Social Work will provide you with the skills needed for your future career but how will you gain these skills? Hands-on experience, that's how! Our communication sciences and disorders students observe and work in our onsite Speech-Language and Hearing Clinics, exercise and sport science majors use their practicums to gain real-world experience in the field and so much more. These opportunities, along with state-of-the-art active classrooms and laboratories, research work, small class sizes and personalized instruction all add up to one incredible education.
Internships and professional experiences give you a serious leg up when it comes to your career prospects. We strongly encourage students to pursue internships and have dedicated resources to help.
We encourage you to get involved! The School of Allied Health and Social Work supports a variety of active student organizations that provide our students with opportunities outside of the classroom. From the Student Social Work Association to the National Student Speech Language & Hearing Association, there's no shortage of ways to get involved.
Take your education outside the classroom! Studying abroad is an excellent way to expand your mind and your education. We encourage students to explore their study abroad options and even offer stipends to eligible students.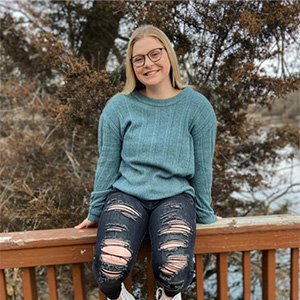 My favorite experience has been my senior year field placement. This experience has allowed me to really grow and expand my learning. I have been able to connect with clients and apply everything that I have learned in the classroom. Although we learn so much in the classroom, this was a great experience to really put what we learned into action. I feel as if I am completely comfortable to lead more because of everything that I learned from my professors in class.
Samantha Potocnik, Social Work