Why Study Strength and Conditioning?
Graduate | Exercise Science | CEBAH
UWRF offers a master of science degree in Strength and Conditioning to prepare individuals to train athletes at every level of sports including collegiate and professional. You'll be qualified for advanced career opportunities within professional sports teams, NCAA collegiate programs, high school level sport programs, community based sport initiatives, private sport performance centers, sport performance research institutions, sports medicine clinics and private health agencies.
Beginning Spring 2023, the program will move to a fully hybrid format. Courses will be offered asynchronously each semester and students will only be required to come to campus for three weekends throughout the course of the program, with each weekend consisting of intensive hands-on training in the gym from experts in the field. 
Who is this program designed for?
Individuals wanting to work with athletes of any level, including the professional level.
Individuals who enjoy training, lifting weights and conditioning and who want better opportunities in the sports performance fields.
Baccalaureate graduates who want to continue their education via a graduate degree.
Professionals currently working in the field of exercise and sports science who want to obtain a professional certification in strength and conditioning or a master's degree.
Program Details
Flexible online schedule. Study on your own time and customize your schedule around work or other responsibilities! Beginning Spring 2023, the program will move to a fully hybrid format with asynchronous online classes and three in-person weekends at UWRF. Each of the three weekends will include intensive hands-on training in the gym from experts in the field.
Weekend in-gym hands-on intensives will provide you with hands-on application of the theories you learn in class.
We will pay for your CSCS exam!
Our faculty have real world experience training world class athletes.
Students will have opportunities both to volunteer and earn credits through curated internships working with athletes.
Students will make contacts with other industry professionals through curated internships and volunteer opportunities.
Students can enroll at any time throughout the year (Fall, Spring or Summer).
We're affordable! Our tuition rates are highly competitive and can be found here. Pricing is the same regardless of residency.
Full-time students can complete their degree within 12-16 months, depending on options selected.
No GRE requirement.
Total credits to degree: 33

EXSS 701 Advanced Physiology of Exercise, 3 cr.
STAC 705 Sports Nutrition, 3 cr.
EXSS 715 Stats and Research Methods in HHP, 3 cr.
STAC 725 Muscle Physiology, 3 cr.
STAC 735 Sports Movement Analysis, 3 cr.
STAC 743 Functional Anatomy, 3 cr.
STAC 760 Sports Performance Program Design, 3 cr.
STAC 761 Advanced Strength, Speed and Power Design, 3 cr.
STAC 765 Organization and Administration of S&C Programs, 3 cr.
Curated Internship - 6 credits
Our faculty have developed a network of potential internship placements for our students, ranging from NCAA strength and conditioning positions to private training centers working with professional athletes. At the end of their degree plan, students will work with faculty to obtain an internship of their choice.
​​​​​​To be considered for the program, applicants must meet the following requirements:
An undergraduate degree from an accredited institution
Undergraduate GPA of at least 2.75

Or, a GPA of at least 2.75 in the last half of all undergraduate work
Or, a GPA of at least 3.00 of graduate study at another accredited graduate school

Completed application received with $56 processing fee (see Application Process tab)
Prerequisites
For applicants with a bachelor's degree:
An Exercise Physiology course

A Human Anatomy and Physiology course
Applications are accepted for each semester (fall, spring and summer). Space is limited and applications are processed on a first come, first serve basis.
Upon completing the online application please send the following to graduateadmissions@uwrf.edu 
Official transcript(s) have your registrar's office send your transcripts directly to graduateadmissions@uwrf.edu
One letter of recommendation
Professional resume or curriculum vitae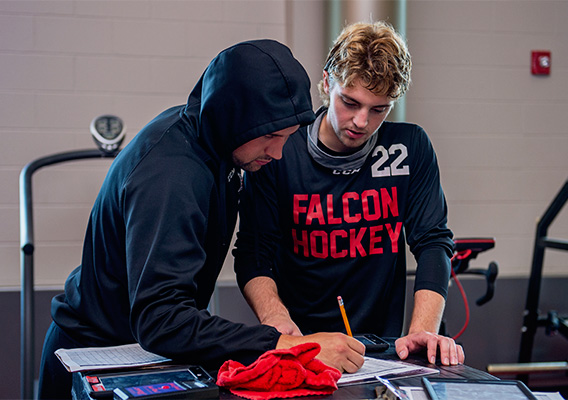 Skills and Learning Outcomes
Train athletes to perform at optimal levels.
Design and implement strength and conditioning programs for all levels of athletes. 
Understand the scientific method and key scientific fields as they relate to human physical activity.
Critically interpret and integrate the latest scientific literature and research into practice.
Types of Courses
Advanced Physiology of Exercise
Advanced Strength, Speed and Power Design
Functional Anatomy
Muscle Physiology
Organization and Administration of S&C Programs
Sports Movement Analysis
Sports Nutrition
Sports Performance Program Design
Stats and Research Methods in HHP