Why Study Music Education?
Major | Music Education | CAS
As a music educator, you will have the opportunity to make a positive difference in the lives of young people through the amazing art of music. Music Education majors at UWRF will learn about and experience music in performing ensembles, classroom settings, and private lessons. In addition, teaching candidates will have the opportunity to gain knowledge about diverse student populations, then put that knowledge to use during field experiences and student teaching. 
Degree Overview
Results in PK-12 certification for ALL music areas 
Includes 130 total credits to degree
Can be completed in 4 total years (including student teaching)
 
At UW-River Falls, we have rebuilt our music education degree from the ground up. The result is a forward-thinking, holistic, interconnected, and student-centered degree designed to meet the needs of tomorrow's students. 
For More Information
Visit https://www.uwrf.edu/MUS/Music-Education.cfm to learn more about Music Education at UW-River Falls, including course requirements, semester-by-semester degree maps, music education events, and more.
99%
Of Grads are Employed or Attending Grad School
67%
Of Students Received Financial Aid in 2022-2023
76%
Of Students Completed At Least One High-Impact Practice Before Graduation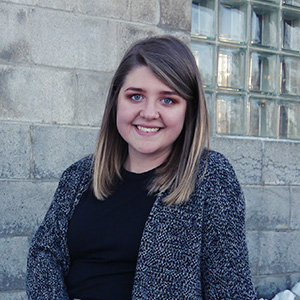 Being a student in the Music Department at UWRF has shown me that there are professors that truly care about me, my education and my future. Every time I have a lesson or a class, I feel welcomed and valued by each professor and that's extremely important to me. I'm so glad I chose UW-River Falls!
Marissa Altendorfer
Music Education
cas@uwrf.edu // 715-425-3777
Your Degree:
Undergraduate
Area of Study:
Music Education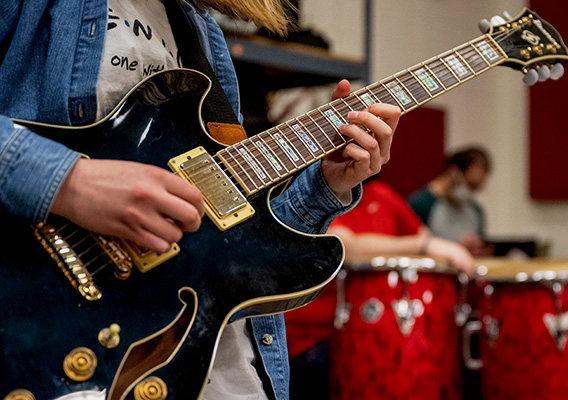 Skills and Learning Outcomes
Prepare future educators to teach music to PK-12 students across all music disciplines and in any setting 
Explore contemporary approaches, including online teaching and learning, modern music, and more
Celebrate music traditions from around the world
Cultivate and engage in musical creativity
Foster student-centered approaches to music education that supports and empowers the students being served
Types of Courses
Ensembles (Band, Choir, Orchestra, Jazz, Women's Chorus, etc)
Applied Music (Voice Lessons, Bassoon Lessons, Cello Lessons, etc)
Technology for the Musician
Classroom String Techniques - Guitar and Ukulele
Vocal and Choral Techniques
Woodwind Techniques
World Music Ensemble
Advanced Conducting and Rehearsal Techniques
Adaptive Music 
Contemporary Topics in Music Education
Multicultural Education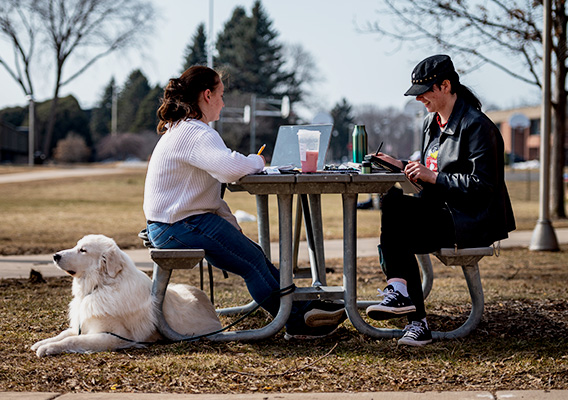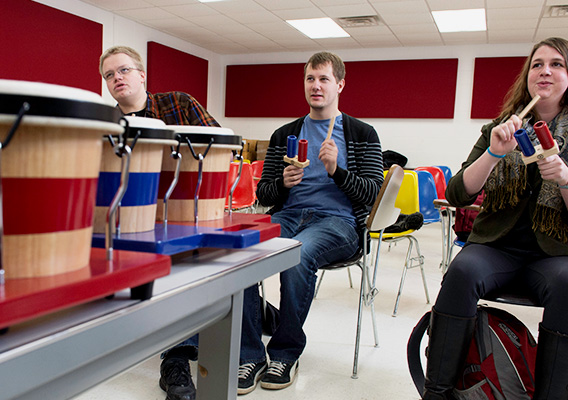 Potential Careers
Band Teacher
Choir Teacher
Orchestra Teacher
Elementary Classroom Music Teacher
Secondary Classroom Music Teacher
Private Lesson Teacher
Get More Information
Interested in learning more about UWRF or any of our 70+ areas of study? Just share your contact information and we'll be in touch!