Why Study Elementary Education?
Graduate | Education | CEBAH
UWRF's Master of Science in Education and Initial Teaching Certification program is designed for individuals with an undergraduate degree in an area other than education who want to become certified to teach in kindergarten-9th grade or in an early childhood setting. Our program meets the needs of our students and aligns with the licensing requirements of the Wisconsin Department of Instruction (DPI). Through the program, you'll complete requirements for your teaching license within two years and can choose to complete a master's degree with one additional course.
Program Details
Completion of Wisconsin certification requirements for Elementary and Middle School (grades Kindergarten – 9) while pursuing the master's degree.
Field experiences during the day in elementary and early childhood settings are integrated throughout the program.
Year-round classes are held during the evenings in combination with online and summer coursework.
Degree Requirements
Initial Licensure Requirements, 32 credits
First Fall Term
TED 701 Psychology of Teaching and Learning, 3 credits
TED 706 Historical, Philosophical and Multicultural Foundations of Education, 3 credits
TED 708 Pre-Kindergarten and Kindergarten Curriculum and Early Childhood Methods, 3 credits
Winter Term
TED 661 Health and Physical Education for Elementary Teachers, 2 credits
Spring Term
TED 711 Literacy Methods: English Language Arts Assessment, Instruction and Intervention, 3 credits
TED 713 Social Studies Methods and Children's Literature, 3 credits
TED 716 Inclusive Education for English Learners and Students with Special Needs, 3 credits
Summer Term
TED 726 Creative Expression: Methods in Arts, Integrated Movement and Wellness, 3 credits
Second Fall Term
TED 731 STEM-infused Math Methods for Elementary and Middle Grades Educators, 3 credits
TED 738 STEM-infused Science Methods for Elementary and Middle School Educators, 3 credits
TED 741 Advanced Methods: Assessment Principles and Middle Grades Learners, 3 credits
Required for Teaching Certification (6 credits)
TED 746 Student Teaching, 6 credits
Prior to student teaching, student must also receive a qualifying minimum score of 157 from Praxis Subject Assessment Exam for Elementary Education (#5146) and a passing score on the Wisconsin Foundations of Reading Test (FORT).

See the Educator Preparation Program for more information.
Master of Science Degree Completion Requirements, 3 credits
TED 780 Professional Development Practicum (Fall and Spring 1.5 credits each semester)
The admissions process is designed so that those who enter and complete the program will obtain their license and be prepared for a career as a teacher. Individuals who complete the admissions process before July 1 will have priority for admission into the fall cohort. Later applicants may be admitted if space is available.
All candidates need to meet these admissions requirements:
Submit an online UW-River Falls application and payment of the processing fee
A 600-1000 word letter of intent describing why you consider yourself a strong candidate for the teaching profession and identifying your future career goals
Official transcripts showing an earned baccalaureate degree from an accredited institution with an overall GPA of > 2.75 (on a 4 point scale).
If the overall undergraduate GPA is between 2.5 and 2.74, a candidate may receive a contingent admission requiring a UW-River Falls graduate grade point average in their first term with grades ≥ 3.0 AND passing scores on one of the following assessments to demonstrate basic skills (ACT, PRAXIS Core, GRE, MTLE EAS). 
Send all documents directly to the UWRF Graduate Admissions Office by mail or email. Transcripts must be sent to UWRF directly from your previously attended institution. 
NOTE: A criminal background check is not required as part of the application but will be required for all accepted students prior to formal admission. Accepted students will receive an email from the College of Education, Business and Allied Health about this process. Indications of any criminal history on the background check are not considered in the application review process but may require a meeting with the college Associate Dean. Additionally, the program cannot guarantee any graduate an educational license nor job opportunities. Some licensing agencies and some school districts may choose not to consider applicants with criminal histories.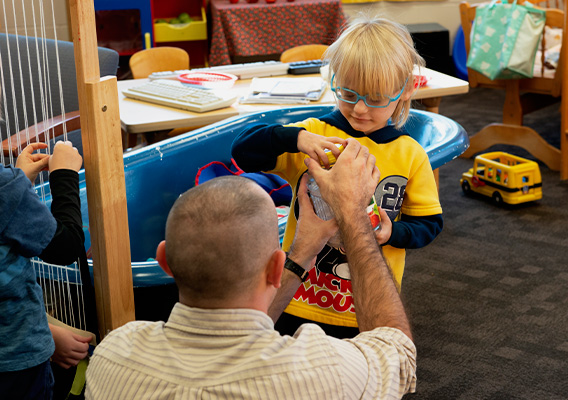 Skills and Learning Outcomes
Demonstrate proficiency in best practices and implement them in the preparation and development of classroom materials, schedules and lessons for students.
Design, implement and assess teaching tools.
Develop and use assessments to evaluate student performance and promote intellectual, personal and social growth of students.
Communicate effectively with a range of audiences.
Understand students' diverse needs and utilize tools to meet needs through instruction.
Types of Courses
Assessment Principles and Middle Grades Learner
Creative Expression: Methods in Arts, Integrated Movement and Wellness
Health and Physical Education for Elementary Teachers
Inclusive Education for English Learners and Students with Special Needs
Pre-Kindergarten and Kindergarten Curriculum and Early Childhood Methods
Psychology of Teaching and Learning
Social Studies Methods and Children's Literature
STEM-infused Math Methods for Elementary and Middle Grades Educators