Why Study Cybersecurity?
Graduate | Technology | CEBAH
Nearly 60% of all U.S. companies have experienced a security breach and the demand for experts in the cybersecurity field continues to grow exponentially. The online University of Wisconsin Master of Science in Cybersecurity teaches skills that align with current market demands. The curriculum addresses cybersecurity fundamentals and offers four unique tracks of study: Digital Forensics, Cyber Response, Governance & Leadership and Security Architecture. 
Program Details
Students in the Cybersecurity program can pursue one of four tracks. Explore your options below. 
Digital Forensics: 
Digital forensics uses scientific investigation methods to collect, preserve, and analyze data stored on electronic media so that it can withstand legal review. As a student in this track you will study computer criminology, network forensics, and learn digital evidence investigation techniques.
Cyber Response:
Cyber response is an organized approach to monitoring, detecting and responding to security events through each stage of their lifecycle. It encompasses both defensive and offensive security strategies—including threat identification, management and prevention. As a student in this track, you will learn about security infrastructure, incident remediation, and active defense techniques.
Governance and Leadership:
Cybersecurity governance provides a framework for mitigating risk by assuring that information security strategies align with business objectives, and are consistent with relevant laws and regulations. It includes executive leadership and communication at every level of the organization. As a student in this track, you will take courses in security administration, leadership, and cybersecurity management.
Security Architecture:
Security architecture is responsible for system confidentiality, integrity, and availability in relation to an enterprise's overall system architecture and security process. As a student in this track you will study modern cryptography, the foundations of engineering secure applications, cyber-physical systems, and secure cloud computing.
The Master of Science in Cybersecurity represents a fully online, asynchronous curriculum comprised of 34 credits to include seven core courses, three concentration or track courses, a capstone preparation course and a project-based capstone course.
Required Courses:
Core Courses:
CYB 700: Fundamentals of Cybersecurity, 3 credits
CYB 703: Network Security, 3 credits
CYB 705: Sociological Aspects of Cybersecurity, 3 credits
CYB 707: Cybersecuirty Program Planning and Implementation, 3 credits
CYB 710: Introduction to Cyrptography, 3 credits
CYB 715: Managing Security Risk, 3 credits
CYB 720: Communication in Cybersecurity, 3 credits
Digital Forensics
CYB 725: Computer Forensics and Investigations, 3 credits
CYB 730: Computer Criminology, 3 credits
CYB 735: Network Forensics, 3 credits

Cyber Response
CYB 740: Incident Response and Remediation, 3 credits
CYB 745: Secure Operating Systems, 3 credits
CYB 750: Offensive Security and Threat Management, 3 credits

Governance and Leadership
CYB 755: Security Administration, 3 credits
CYB 760: Cybersecurity Leadership and Team Dynamics, 3 credits
CYB 765: Cybersecurity Management, 3 credits
Security Architecture
CYB 770: Security Architecture, 3 credits
CYB 775: Applied Cryptography, 3 credits
CYB 780: Software Security, 3 credits
CYB 785: Cyber Physical System Security, 3 credits
Capstone Courses
CYB 789: Pre-Capstone, 1 credit
CYB 790: Capstone, 3 credits
Tuition is $850 per credit for all cybersecurity classes, regardless of where you live. Tuition rates for other courses, such as the prerequisite courses, may be different. Textbooks are purchased separately and are not included in tuition. Students who take at least four credits each term may be eligible for financial assistance.
Admission to the Master of Science in Cybersecurity requires:
Bachelor's degree with, at minimum, a 3.0/4.0 undergraduate GPA from a regionally or nationally accredited university or college
Prerequisite coursework in Introduction to Computer Science which must include programming content and prerequisite coursework in calculus or statistics
Resume
Two letters of recommendation (can be professional or academic)
Up to 1,000 word statement of personal intent describing your decision to pursue the degree and what you believe you will bring to the cybersecurity field
Aptitude tests (GRE, GMAT, e.g.) are not required. If you do not currently meet admissions requirements, a campus adviser can discuss options for enrolling in the program. Request a consultation with an adviser by sending an email to learn@uwex.edu.
You may apply and begin the program with the start of any term. Complete a UW System application online, pay the processing fee and have official transcripts sent directly to UW-River Falls from the colleges and universities that you have previously attended. Application materials must be completed two weeks prior to the semester start to be considered for admission.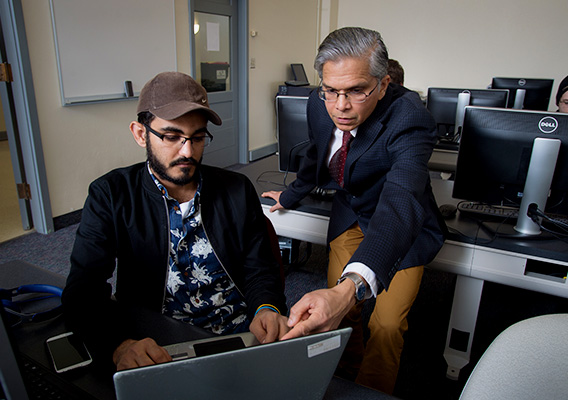 Skills and Learning Outcomes
Analyze and resolve security issues in networks and computer systems to secure an IT infrastructure
Design, develop, test, and evaluate secure software
Develop policies and procedures to manage security risks
Evaluate and communicate the human role in security
Interpret and forensically investigate security incidents
Types of Courses
Applied Cryptography
Computer Criminology
Computer Forensics and Investigation
Fundamentals of Cybersecurity
Incident Response and Remediation
Managing Security Risk
Network Security
Offensive Security and Threat Management
Software Security