Why Study Business Analytics (MSBA) - Online?
Graduate | Business | CEBAH
The demand for professionals with expertise in business analytics is growing rapidly, as organizations of all sizes seek to harness the power of data to drive their businesses forward. Graduates of the UWRF MSBA program are well-positioned to pursue careers in a variety of industries, including finance, healthcare, retail, and technology. You will graduate with the knowledge and skills needed to succeed in a rapidly-growing field, and offer opportunities for advancement and earning potential.
Program Details
Required Education: Bachelor's degree from an accredited institution.
Minimum GPA: Minimum overall undergraduate GPA of 3.00 (4-point scale) or minimum GPA for last 60 credits of 3.00 (4-point scale).
Business Foundation Requirements:
Complete a foundation course in statistics such as ECON 226 (Intro to Statistics). An introductory statistics course from other departments or universities may satisfy this requirement.
International Students: For international students from non-English speaking countries, TOEFL (minimum 80 internet-based test score) or IELTS (minimum 6.5 score) is required.
For TOEFL information, visit ETS.org. The UWRF school code is 1918.
For IELTS information, visit IELTS.org.
In order to apply for the MSBA program, the following materials, in addition to an online application (link coming soon), must be submitted electronically:
Application fee
Personal statement: an essay addressing your interest in the program as well as your immediate and long-term personal goals.
Resume: resume detailing work experience.
Letters of recommendation (if less than two years work experience): two letters of recommendation if less than two years of post baccalaureate experience.
Official transcripts: official final transcripts need to be sent from the issuing school(s) directly to UWRF Graduate Admissions via email at admissions@uwrf.edu.
International Students
International students must provide all of the above (personal statement, letters of recommendation, transcript(s) and TOEFL (min. score of 80) or IELTS (min. score of 6.5). In addition, international applicants must also provide the following:
Transcripts must be verified by a transcript evaluation service such as World Education Services (WES) www.wes.org or Educational Credential Evaluators (ECE) www.ece.org and delivered to Graduate Admissions.
Mailing Address
Official transcripts, GMAT/TOEFL/IELTS scores, letters of recommendation, personal statement and transcript evaluation report should be directed to:
Leanne Van Allen, Director of Adult Programs
College of Business and Economics
216 South Hall
University of Wisconsin-River Falls
410 S. 3rd St.
River Falls, WI 54022
Questions? Call 715-425-4691 or email msba@uwrf.edu
Course design and flexibility allows you to pursue your educational goals at your own speed in a program you can tailor to achieve your individual career objectives with online classes.

Communicate and interpret data to support strategic decision making within your organization

Draw conclusions from business analytic techniques, including data visualization, machine learning, and statistical methods

Design and manage projects involving traditional and modern statistical methods that support evidence-based and strategic decision making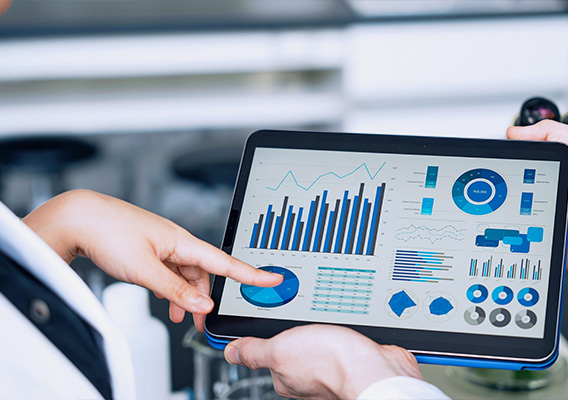 Skills and Learning Outcomes
Ethically use data to make evidence-based decisions within an organization.

Draw conclusions from business analytic techniques, including data visualization, machine learning, and statistical methods.

Demonstrate analytical skills and business acumen.
Types of Courses
Organizing for Innovation

Data Visualization

Project Management

Business Analytics

Fundamentals of Business Intelligence

Fundamentals of Data for Business

Artificial Intelligence for Business