Why Study Business Administration (MBA) - Online?
Graduate | Business | CEBAH
Open doors through peer networking and cultivate meaningful and powerful connections with an MBA from UWRF. Strategically approach your career advancement by developing your managerial skill-set with a program that offers individual and personalized attention, small classes and faculty/student mentoring. This program is offered 100% online.

Along with the traditional MBA path, we offer three specialized tracks that allow you to customize your MBA experience based on your specific career goals. Track options include an Innovation & Entrepreneurship track, Strategic Leadership track and Business Analytics track.
Program Details
Explore MBA application requirements below. For questions, contact mba@uwrf.edu.
Required Education: Bachelor's degree from an accredited institution.
Minimum GPA: Minimum overall undergraduate GPA of 3.00 (4-point scale) or minimum GPA for last 60 credits of 3.00 (4-point scale).
Business Foundation Requirements: 
You MUST MEET ONE of the following requirements:
Bachelor's degree in the field of business or accounting (demonstrated with an academic transcript).
Completed the undergraduate business core (demonstrated with academic transcript including accounting, economics, finance, management, marketing, math and statistics).
Two years post baccalaureate work experience.
If you DO NOT MEET any of the above conditions, you must do one of the following (note: if the deficiency is in only part of the core, then that part must be completed in one of the following ways as well).
Complete an approved undergraduate business core (or the deficient part) at UW-River Falls or another university.

Foundation courses at UWRF include the following (a passing grade in one of the following UWRF courses will meet Foundation Course requirements): ECON 226 (Intro to Statistics), ECON 201 (Principles of Microeconomics), ACCT 231 (Principles of Accounting).
Foundation courses at other universities: You may meet the foundation requirement by taking appropriate undergraduate or graduate courses at other universities. We suggest you check with us regarding application of courses before you take them. Please contact the Master of Business Administration Director regarding these courses.

Score at or above 50 on CLEP exams for the following business core courses: Principles of Accounting and Principles of Microeconomics. If you are interested in this option, visit http://www.collegeboard.com/clep/.
International Students: For international students from non-English speaking countries, TOEFL (minimum 80 internet-based test score) or IELTS (minimum 6.5 score) is required.
For TOEFL information, visit ETS.org. The UWRF school code is 1918.
For IELTS information, visit IELTS.org.
In order to apply for the MBA program, the following materials, in addition to an online application, must be submitted electronically:
Application fee
Personal statement: an essay addressing your interest in the program as well as your immediate and long-term personal goals.
Resume: resume detailing work experience.
Letters of recommendation (if less than two years work experience): two letters of recommendation if less than two years of post baccalaureate experience.
Official transcripts: official final transcripts need to be sent from the issuing school(s) directly to UWRF Graduate Admissions via email at admissions@uwrf.edu.
International Students
International students must provide all of the above (personal statement, letters of recommendation, transcript(s) and TOEFL (min. score of 80) or IELTS (min. score of 6.5). In addition, international applicants must also provide the following: 
Transcripts must be verified by a transcript evaluation service such as World Education Services (WES) www.wes.org or Educational Credential Evaluators (ECE) www.ece.org and delivered to Graduate Admissions. 
Mailing Address
Official transcripts, GMAT/TOEFL/IELTS scores, letters of recommendation, personal statement and transcript evaluation report should be directed to:
Leanne Van Allen, Director
MBA Program
School of Business and Economics
216 South Hall
University of Wisconsin-River Falls
410 S. 3rd St.
River Falls, WI 54022
Questions? Call 715-425-4691 or email mbacbe@uwrf.edu.
The MBA requires a minimum of 30 graduate credits, including six required courses and at least four elective courses. See the detailed curriculum.
Course content is directly related to developing skills that will make you a better, more effective manager.
Course design and flexibility allows you to pursue your educational goals at your own speed in a program you can tailor to achieve your individual career objectives.
The program assesses your current knowledge and competencies and awards credit for what you've already mastered.
Courses are offered in a flexible manner, making life easier for busy professionals
Forward-thinking themes such as globalization, use of information technology and creative decision-making are integral parts of the curriculum.
Business Administration (MBA) - Online
mba@uwrf.edu // 715-425-3335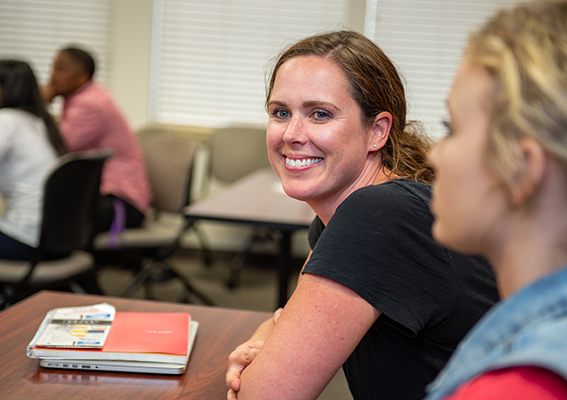 Skills and Learning Outcomes
Develop essential skills to become a successful manager
Refine decision-making and communication skills
Expand awareness of globalization and its implications for business managers
Understand the use of technology and information systems to support effective management practice
Types of Courses
Financial Management
Leadership and Ethics
Managerial Statistics
Operations Management
Strategic Marketing Management
Strategy and Organizational Performance