Wednesday, Oct. 19, 2022
9-10 a.m. | Innovator in Residence presentation
Location: Riverview Ballroom, University Center
Innovative Rural Broadband Solutions

Presented by Nate Boettcher, President and CEO of Pierce Pepin Cooperative Services and SwiftCurrent Connect.

Event hosted by the College of Business and Economics
Noon-1 p.m. | Inauguration Showcase Coffee Concert Celebration
Location:  Wm. Abbott Concert Hall [Kleinpell Fine Arts building]
The concert will feature the UWRF Symphony Band and include guest soloists of current faculty and alumni, Dr. Gary Bird ('68) and Richard Gaynor ('84).
1-1:30 p.m. | Art Department Faculty Exhibition
Location: Gallery 101 [Kleinpell Fine Arts building]
Faculty members who have artwork on display will be present to visit with guests. The artwork represents the diverse areas of studio practices and artistic interests.  The gallery will be open before and after the coffee concert. 
Artists included in the exhibition: Eoin Breadon, Heather Delisle, Shoshana Fink, Hannah Freeman, Mike Helke, Brett Kallusky, Jeannine Kitzhaber, Ann Lawton, Dan Paulus and Nicole Schneider.
1:30–2 p.m. | Sustainability Focus
Location: Riverview Ballroom, University Center

Come help UWRF identify sustainability priorities! This informal interactive time will allow you to share what is important to you.
2–2:50 p.m. | Sustainability Overview
Location: Riverview Ballroom, University Center
UWRF Sustainability staff will share an overview of UWRF sustainability including the new Sustainable Campus Community Plan and sustainability model.
2:50–3:30 p.m. | Campus Sustainability Highlights Tour
Location: Tour will start outside of Riverview Ballroom, University Center
Guided tour highlighting the sustainability efforts of our grounds department.
The tour will end at the site of the Bee Hotel, located near the amphitheater, where there will be a short dedication of the bee hotel at 3:15 p.m.
3:45 p.m. | Tree Dedication
Location: Rodli Hall Grounds (west side of the building across from the Falcon sculpture)

The City of River Falls has generously donated a tree to be planted in honor of Chancellor Maria Gallo.  Join us as we commemorate our 20th Chancellor to UWRF.
7 p.m. Interview with Annie Murphy Paul (Moderated by UWRF alum, Cathy Wurzer)
Location: Falcon's Nest, University Center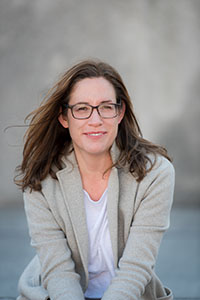 Annie Murphy Paul is an acclaimed science writer whose work has appeared in the New York Times Magazine, Scientific American and The Best American Science Writing and many other publications. Her latest book is "The Extended Mind: The Power of Thinking Outside the Brain." Published in June 2021, it was selected as Amazon Editors' Pick for Best Nonfiction; one of 50 Notable Works of Nonfiction by the Washington Post; and one of 100 Notable Books by the New York Times. Paul is the author of "Origins," also named by The New York Times as a Notable Book, and "The Cult of Personality," hailed by Malcolm Gladwell in the New Yorker as a "fascinating new book." Her TED Talk has been viewed more than 2.6 million times. Paul is a recipient of the Rosalynn Carter Mental Health Journalism Fellowship, the Spencer Education Journalism Fellowship, and the Bernard L. Schwartz Fellowship at New America. A graduate of Yale University and Columbia University Graduate School of Journalism, she is currently a Learning Sciences Exchange Fellow at New America. 
About the book, "The Extended Mind: The Power of Thinking Outside the Brain"
Use your head.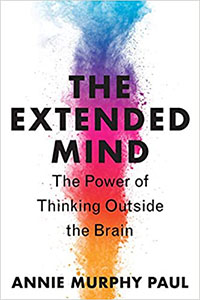 That is what we tell ourselves when facing a tricky problem or a difficult project. A growing body of research indicates that we have it exactly backward. What we need to do, says acclaimed science writer Annie Murphy Paul, is think outside the brain. A host of "extra-neural" resources—the feelings and movements of our bodies, the physical spaces in which we learn and work, and the minds of those around us— can help us focus more intently, comprehend more deeply and create more imaginatively. 
"The Extended Mind: The Power of Thinking Outside the Brain" outlines the research behind this exciting new vision of human ability, exploring the findings of neuroscientists, cognitive scientists and psychologists, and examining the practices of educators, managers, and leaders who are already reaping the benefits of thinking outside the brain. She excavates the untold history of how artists, scientists and authors—from Jackson Pollock to Jonas Salk to Robert Caro—have used mental extensions to solve problems, make discoveries and create new works. In the tradition of Howard Gardner's "Frames of Mind" or Daniel Goleman's "Emotional Intelligence," The Extended Mind offers a dramatic new view of how our minds work and is full of practical advice on how we can all think better. 
About the Moderator, UWRF Alum Cathy Wurzer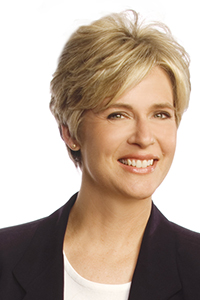 Cathy Wurzer is a graduate of UW-River Falls. In 2018, Cathy received the UWRF Distinguished Alumnus Award.  She is a past member of the UWRF Foundation Board.
Cathy is a familiar face and voice to people across the region. She is the long- time host of "Morning Edition" on the region-wide Minnesota Public Radio network and MPR's noon-time program, "Minnesota Now".
Since 1994, she has been the co-host of "Almanac", a weekly public affairs program produced by Twin Cities Public Television for Minnesota's statewide public television network. "Almanac" has been on the air since 1984, making it one of the longest running public affairs program of its kind in the country.
Cathy has been a reporter/anchor for KSTP-AM radio, WCCO Radio and TV. She was recently inducted into the Minnesota Broadcasting Hall of Fame at the Pavek Museum.
Wurzer has used her producing skills to create the award- winning documentary "Tales of the Road: Highway 61" for TPT, which was a companion production to the Minnesota Historical Society book by the same name.
In 2015, Cathy began a series of on-air conversations on MPR News with a man dying of ALS that led to an Edward R. Murrow award and work on behalf of the ALS Association. Ultimately, that series resulted in Cathy founding the End in Mind Project, a non-profit dedicated to conversations around loss, grief, death and dying.