Why Study School Psychology?
Graduate | Education | CEBAH
School Psychology emphasizes collaboration, culturally-responsive practice, leadership development and data-based decision making. School psychologists work with teachers, school administrators, parents, and other mental health professionals to ensure that every child learns in a safe, healthy and supportive environment. They understand school systems, effective teaching and successful learning and help evaluate student and classroom needs and develop systematic interventions when needed. Click here to learn more about school psychologists.
Intended for individuals who want to become outstanding licensed school psychologists and fully accredited by the National Association of School Psychologists (NASP), UWRF's School Psychology graduate program provides the opportunity to earn a Master of Science in Education and an Educational Specialist degree.
NOTE TO APPLICANTS: Please scroll down and review the Application Process information before applying. The School Psychology program has a multi-step application process.
---
Program Details
Outstanding job security. 100% of program interns have immediately secured school psychologist positions since 2002.
Easy access to and from the Twin Cities and many parts of western Wisconsin. The main campus in River Falls is a short 30-minute drive from downtown St. Paul, MN.
Progressive, updated and relevant curriculum. See complete course sequence here.  
Evening-based courses provide flexibility, with classes typically beginning at 4 p.m. or later. Many students find the structure to be integral to their success, allowing time to maintain daytime employment and/or time for other obligations as needed.
Current students and new graduates benefit from our network of hundreds of school psychology program alumni populating western Wisconsin, the Twin Cities area and many other states/regions.
Students receive varied and diverse field experiences in urban, suburban and rural schools. See the program's Values Statement Addressing Diversity.
Degree Requirements for Master of Science in Education
Required Courses, 34 credits:
SPSY 622 School Behavior Assessment & Intervention, 3 credits
SPSY 651 Diversity, Social and Cultural Issues, 3 credits
SPSY 701 Introduction to School Psychology, 3 credits
SPSY 744 Academic Assessment & Intervention, 3 credits
SPSY 745 Cognitive Assessment, 3 credits
SPSY 747 Mental Health Classification, Assessment & Intervention, 3 credits
SPSY 752 Advanced School Interventions, 3 credits
SPSY 770 Pre-practicum in School Psychology, 1 credit (.5 credits in Fall; .5 credits in Spring)
SPSY 795 Research & Program Evaluation, 3 credits
SPED 530 The Exceptional Child, 3 credits
COUN 732 Group Counseling, 3 credits
COUN 789 Special Topics: Micro Skills in Counseling, 2 credits
Degree Requirements for Education Specialist
Required Courses, 32 credits:

SPSY 722 School Safety & Crisis Response, 3 credits
SPSY 712 Early Childhood Assessment & Intervention, 3 credits
SPSY 740 Legal and Ethical Issues in School Psychology, 3 credits
SPSY 742 School-Based Advocacy & Public Policy, 1 credits
SPSY 769 School Consultation & Collaboration, 3 credits
SPSY 771 Practicum I: Comprehensive School Psychology Practice, 4 credits
SPSY 772 Practicum II: Comprehensive School Psychology Practice, 4 credits
SPSY 775 Internship in School Psychology I, 5 credits
SPSY 776 Internship in School Psychology II, 5 credits
SPSY 798 Independent Research, 1 credit
Candidates are eligible for full licensure upon completion of the 34-credit Master of Science in Education (M.S.E.) degree and the 32-credit Educational Specialist (Ed.S.) degree, for a total of 66 graduate credits.
NASP Accredited. In January 2021, the UWRF School Psychology Program was granted full accreditation (seven years) by the National Association of School Psychologists (NASP). 
For all the ins and outs and answers to your burning questions, view our Program Handbook or check out the list of Frequently Asked Questions that we've compiled. You'll find information ranging from admissions requirements to tuition details to internship guidelines. 
The School Psychology Program has one annual admissions deadline: January 15th.
Applications received and postmarked on or before January 15th each year will be prioritized for program entrance the following fall semester. Application review and decisions are typically completed in February. Late applications may be considered if open seats remain after April 15th (the date by which accepted applicants must inform the program of their intent to join the program or not). 
To be considered for admission, an applicant must have a minimum 2.75 undergraduate GPA. Applicants with GPAs lower than 2.75 may be considered in special circumstances. All application materials must be submitted as indicated in the chart below:
Application Material Required

 Submission Method Required

START HERE: Online application form (and $56 application fee)

Complete the UW System online application to access your applicant portal where you will submit your application materials. You do not need to complete the campus statement on the UW System application.

Three letters of recommendation 

References can be added in your applicant portal.

Please select School Psychology Recommendation from the recommender menu.

Once you submit the names of your references in the applicant portal, your references will be emailed with a request to submit a letter of recommendation on your behalf.

If you choose not to use the letter of references system, please contact Graduate Admissions at graduateadmissions@uwrf.edu or 715-425-3500.

The School Psychology Letter of Interest

The School Psychology Letter of Interest can be found in your applicant portal. Complete and submit the form directly in the portal. 

If you have questions, please contact Graduate Admissions at graduateadmissions@uwrf.edu or 715-425-3500.

Official Transcripts from all undergraduate and graduate schools attended 

Please send electronic transcripts. Most universities use either Parchment or the National Student Clearinghouse services. Visit your college's website to see which on they use. When ordering a transcript, select the University of Wisconsin-River Falls as the recipient.

Applicant interviews are not required. However, attending our applicant-only informational session on campus is HIGHLY ENCOURAGED for all applicants. This session is scheduled for Saturday, Jan. 20, 2024 from 9-11 a.m. The session will be held in person on the UWRF campus. Details will be shared directly with applicants.

While the applicant information session is highly encouraged (best option for applicants), there are other ways to connect and learn more about UWRF School Psychology. Applicants may contact the program director  (scott.woitaszewski@uwrf.edu) to schedule an optional informational Zoom meeting with a faculty member or to schedule another time to visit campus.
Summary of Required Application Materials:
Completed Online Application (and paid $56 fee)
Three letters of recommendation
Letter of interest
Official transcripts from all undergraduate schools attended (required) and graduate schools attended (if applicable).
Optional (but highly encouraged): Attend information session for applicants.  
Optional: Graduate Record Examination (GRE) scores are not required but will be considered if the official forms are submitted.
Final admission decisions are typically made in February. 
NOTE: A criminal background check is not required as part of the application, but will be required for all accepted students prior to formal admission. Accepted students will receive an email from the College of Education, Business and Allied Health Associate Dean about this process. Indications of any criminal history on the background check are not considered in the application review process but may require a meeting with the college Associate Dean. Additionally, the program cannot guarantee any graduate an educational license nor job opportunities. Some licensing agencies and some school districts may choose not to consider applicants with criminal histories.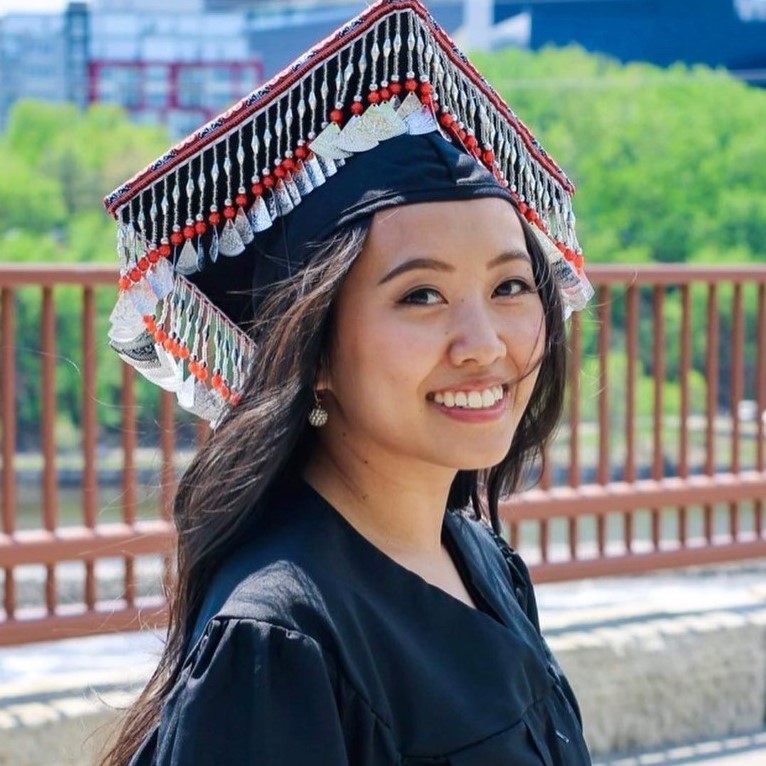 The faculty has supported my well-being and growth, personally and professionally.
Pa Lee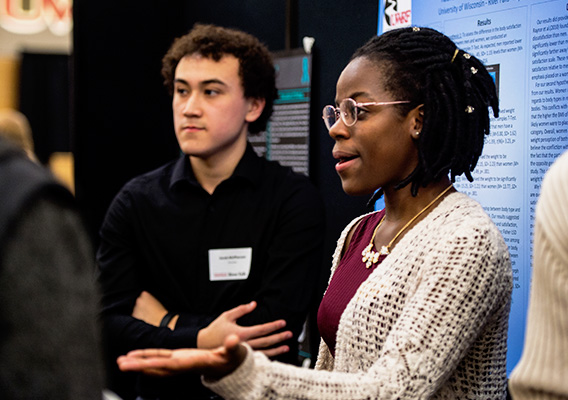 Skills and Learning Outcomes
Develop a deep understanding of best practices for academic, behavioral and mental health interventions.
Gain practical tools used for assessments of both student and school-wide challenges.
Learn to effectively communicate and collaborate with a wide variety of audiences, including parents, teachers and other professionals.
Cultivate strong skills in data-based decision making, school interventions, consultation, collaborative problem solving and culturally-responsive services.
Types of Courses
Academic Assessment & Intervention
Cognitive Assessment
Diversity, Social and Cultural Issues
Early Childhood Assessment & Intervention
Group Counseling
Legal and Ethical Issues in School Psychology
School-Based Advocacy & Public Policy
School Safety & Crisis response
The Exceptional Child