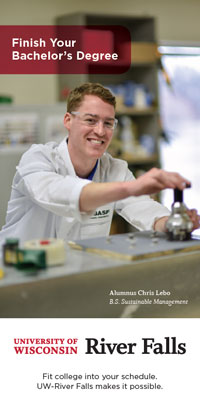 View our brochure using Acrobat Reader.
Convenient
When possible, courses are offered evenings, weekends, off-campus and online to meet the needs of working professionals. Use our class schedule lookup to search for classes by time of day and location.
Personalized
Degree plans may be customized based on your previous college experience and work history. Advisers will review your transcripts to determine how your existing credits may be used. View our transfer guide for more information. Some programs allow you to earn college-level learning through work experience. For more information, see our prior learning assessment page.
Affordable
UW-River Falls provides a great value. Check out our estimated tuition and see for yourself. You may be eligible for low interest loans, scholarships and other forms of financial aid.