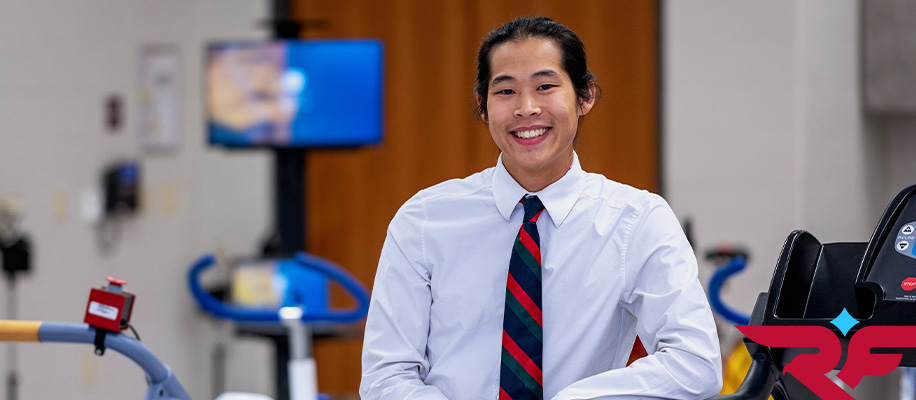 Name: Caleb Anton
Hometown: New Richmond
Major: Exercise and sports science
Position: Doctor of physical therapy at University of Minnesota
Early on in his University of Wisconsin-River Falls career, Caleb Anton found himself questioning whether he belonged in college at all. 
He thought he wanted to go into mechanical engineering, but he changed his mind after realizing he didn't have an affinity for math. He decided to major in the area of health and human performance, but he struggled at first when he took junior level classes as a freshman.
"There were times when I questioned if I was smart enough to do this," Anton recalled of his early days at UWRF. "I thought 'Do I really belong here?'" 
Anton did belong here. With determination and the support of UWRF faculty and his peers, he found his footing. An exercise and sports science major from New Richmond, Anton learned last fall that he was accepted to the doctoral physical therapy program at the University of Minnesota. 
"It was a huge sense of relief," he said of his acceptance to graduate school. "I was trying really hard to get good grades and build up my resume. Getting admitted to this program, it was like validation to me that all of that work was worth it."
While hard work and diligence toward his studies and experiences played a major role in Anton's successfully being accepted into grad school, he credits his classmates and UWRF professors for playing key roles. During his freshman year, upperclassmen offered him guidance and told him about opportunities he otherwise would not have had, he said. 
"Some of the older students, they took me under their wing," Anton said. "And I had professors and mentors who reassured me that I was smart enough, and they supported me."
Among those professors was Jodee Schaben, associate professor in the Health and Human Performance (HHP) Department, who served as Anton's adviser. When he doubted himself, she convinced him that he was talented enough to take challenging courses, Anton said. Likewise, Greg Ruegsegger, assistant HHP professor, helped Anton learn to appreciate the different advantages of doing physical therapy work with different age groups. 
Another key to Anton's success was his landing an internship with Twin Cities Orthopedics at its Hudson location his sophomore year. His successful internship turned into a job that he has retained for the remainder of his college career. He said he has logged about 3,000 hours there, a major factor in his grad school acceptance. 
"That is really how my actual love of PT started," Anton said of his experience at Twin Cities Orthopedics. "Ever since I started there, my love of PT has grown and grown." 
Anton ran on track and field teams at New Richmond and at UWRF, and initially he wanted to do physical therapy with athletes. But during an internship at Kinnic Health and Rehab in River Falls, he worked with geriatric patients and really loved it he said. He discovered that those patients enjoyed his outgoing personality, and he bonded with them while convincing them to do their exercises. 
"Now I really lean toward working with geriatric and middle-aged people," Anton said. 
Students looking to prepare for the job world should make the most of their opportunities at UWRF, Anton said. He urged them to make connections and learn to network. He noted how he learned to ask event speakers for their business cards. He stayed after presentations to ask speakers about their careers. He remained after class to discuss topics with professors. 
"Don't be quiet," he said. "Find people who are doing what you want to do and ask them how they got there. You have to take the initiative."
Anton said he plans to take initiative in his graduate program. He is open to learning as much as he can and enjoying his interactions with others. He said he could see himself working as a physical therapist in the Twin Cities area, but he is open to relocating. No matter where he goes, he looks forward to connecting with people as he helps them heal through physical therapy. 
"I really enjoy not only the physical therapy part of this, but meeting new people," he said. "And helping them get better physically, that's the best part."