Ann Lawton
Violence Prevention Coordinator
Non-Instructional Academic Staff
Ann Lawton, violence prevention coordinator, has been named the 2021 recipient of the Chancellor's Award for Excellence for Academic Staff – Non-Instructional Academic Staff. Lawton, a native of New London, also serves the university as a lecturer in the Art Department and a board-certified art therapist in Student Health and Counseling Services. She also serves as the assistant director of URSCA (Undergraduate Research, Scholarly and Creative Activity).
Lawton's nominators lauded her many skills and contributions to the university, repeatedly emphasizing her willingness to wear many hats. However, no characteristic was mentioned more often than her sheer dedication to her work and the students. Specifically referencing her role as violence prevention coordinator, one nominator spoke to Lawton's passion for helping students.
"This is a role that is student-facing. This job is incredibly challenging to do effectively but Ann has shown up with her whole heart to bring support and education to students on challenging topics and during an incredibly challenging time," they explained. "Ann helps students to feel safe, seen and heard."
"As a result, students who've crossed paths with her, whether it be in class, through student organizations, at campus events, at new student welcome events or at prevention programs, regularly contact her to seek help and guidance," they continued. "Responding to these students, and making space for assisting them, takes a lot of time and energy, even when Ann is simply connecting them with other resources."
 A 2018 recipient of the College of Arts and Sciences Outstanding Teaching Award for Excellence in Teaching, Lawton's impact on her students was reflected in nomination materials submitted by her former students.
"I am proud to have been taught, mentored and supported by Ann as an undergraduate student, university employee and now as a graduate student. Ann's passion, care and empathy for students, faculty, staff and community members alike are qualities anyone should wish to aspire to," described a former student.
Lawton's impact is felt university-wide, as evidenced by her nominators' words.
"Put simply, Ann lives out her value and ethic of caring for student success and wellbeing in incredibly concrete ways and with a consistency and efficacy that is notable even within the incredibly student-focused and caring environment of UWRF," wrote one nominator. "This is not to say that Ann will do anything for students, but instead that she does all her work in ways that prioritize student wellbeing within appropriate boundaries and with a focus on teaching students to set boundaries and advocate for themselves. Her goal is student success, not just solving problems."
Lawton resides in River Falls.
---

Grettel Hecht
Lecturer, Math Department
Instructional Academic Staff
Grettel Hecht is the 2021 recipient of the Chancellor's Award for Excellence for Academic Staff – Instructional Academic Staff. Hecht, who has been teaching at UW-River Falls since 2014, is a lecturer in the Math Department and has served as the remedial mathematics coordinator since 2014.
Hecht's commitment to all facets of her work has earned the admiration of her peers. Her nominators praised her initiative, creativity and enthusiasm in their nomination materials, along with her ability to reach a wide variety of students.
"Grettel is a highly rated teacher, both from the student viewpoint and from the viewpoint of colleagues who collaborate with her on teaching projects. I have observed her in the classroom and found her to be an exceptionally engaging and effective instructor," explained one nominator. "I often have the pleasure of hearing her gentle guidance of a struggling student who has come to office hours for help. Grettel helps me become a more effective teacher as we discuss various teaching questions and ideas."
Another nominator focused on Hecht's work with the remedial mathematics program, praising her dedication to the program and students.
"As coordinator of the remedial math program, and one of the teachers of remedial mathematics, she has improved the structure of the remedial courses and the success of students in those courses. Under her leadership we have a retention rate for students in remedial math courses that is very high among UW campuses," they explained. "In addition to being a talented teacher, she often works with students individually to make sure they are in the correct class and have the resources they need to be successful."
"She is a creative individual and continually finds new ways to engage her students with the material," added another nominator. "She is a valuable and knowledgeable educator and is more than willing to help in a variety of ways. It is pleasure to work with Grettel."
Hecht's nominators repeatedly called her an asset to the university and recognized her contributions to the university at large.
"Grettel is truly dedicated to the success of each student at UWRF. When colleagues ask for her help or support, her answer is always 'yes,'" said one nominator. "She embodies our core values of academic excellence, inclusiveness, student‐centered."
---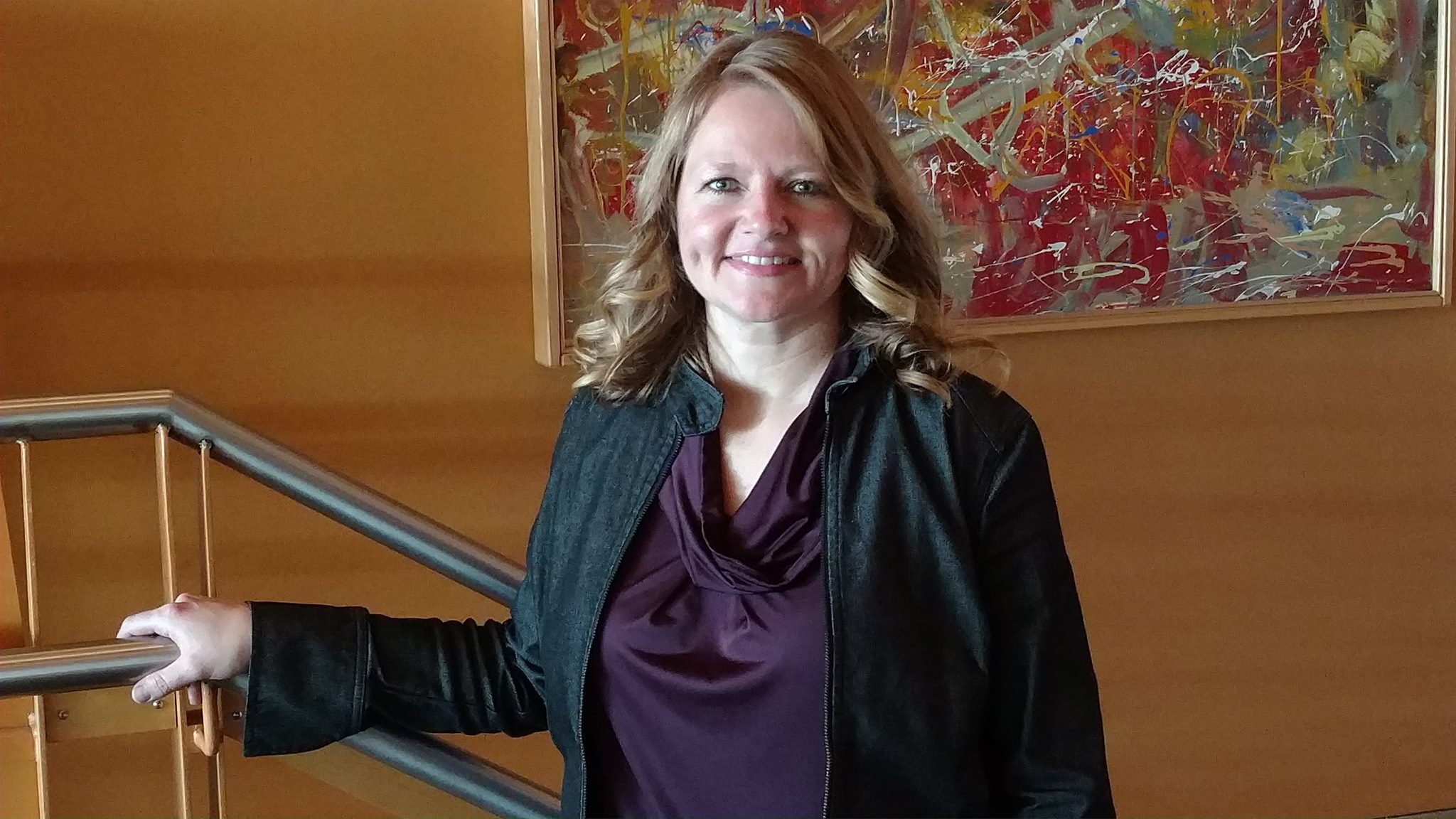 Cara Rubis
Director of  University Center and Dining Services
Limited Appointee Academic Staff
Cara Rubis has been honored with the 2021 Chancellor's Award for Excellence for Academic Staff – Limited Appointee. Rubis, the director of University Center and Dining, holds bachelor's and master's degrees from UW-River Falls and has been employed at the university since 1998.
In her role, Rubis provides leadership and support for a variety of areas, including the University Center, contracted services including Dining Services and the Falcon Shop, the Involvement Center, Student Organizations, student Events and Programs and more. Her ability to juggle a wide range of responsibilities and a large staff was repeatedly praised by the colleagues that nominated her.
"Cara's ability to manage a staff of 14 full‐time professional staff, and impact over 70 student employees, while being responsible for so many areas of campus is nothing short of a miracle," described one nominator. "In addition, Cara played a very important role for UWRF during the transition into a global pandemic. She was an important member of the emergency response team which provided moment-to-moment guidance to the campus during the most critical time during the pandemic."
"She develops, maintains and manages two of the three largest Program Revenue budgets on campus. She often spends seven days a week and endless hours during "budget season" to pour over every line item of the segregated fee funds associated with the University Center and also the user fee funds associated with the UWRF Dining budget," they continued. "It's another example of her amazing ability to focus and prioritize her work."
In addition to her day-to-day duties, Rubis has served UWRF via a variety of search and screen committees, chaired a recent search for the assistant chancellor for Student Success and worked closely with Emergency Management Team during the COVID-19 pandemic. Rubis played volleyball for the Falcons and is a member of the UW-River Falls Athletic Hall of Fame.
A truly committed alumna and employee, Rubis' nominators specifically praised her dedication to the university, the students and her fellow staff.
"It's easy to forget all the challenges for the last two years but I am thankful when I think about everything Cara and her staff accomplish, on how they never give up, on how Cara never stops trying to do the best for the students and the university, on how she never says 'no' when asked to do one more thing, on how she goes above and beyond every day to try to help others and how she leads her staff to do the same," explained one of Rubis' nominators. "I cannot express enough the gratitude I have for Cara's leadership, commitment, selflessness, work ethic, professionalism, enthusiasm and service to the students and staff. She makes a difference every day."
---

Financial Aid
Academic Staff Program/Unit/Department
Chancellor Maria Gallo has announced that Financial Aid is the first-ever recipient of the Chancellor's Recognition Award for Excellence for Academic Staff – Program/Unit/Department at UW-River Falls. 
According to Financial Aid Director Robert Bode, much of the work that the Financial Aid staff does in counseling students and families is done over the phone. The Financial Aid office fields an average of nearly 650 phone calls a month, including over 1,200 calls a month during peak times.
"When the pandemic forced staff members to work remotely, staff continued to respond to questions and resolve problems for students without a single day's disruption in service," explained Bode. "Counselors discuss the confusing topic of college financing with sensitivity, understanding and friendliness. Each staff member is knowledgeable, well-trained and personable."
In addition to counseling students and families, staff members manage multiple financial aid programs and processes and are responsible for duties including reviewing financial aid applications, creating and communicating financial aid offers to families, balancing accounts and managing the university's complex financial aid system. The COVID-19 pandemic created significant changes and additions to grant programs, waivers, federal aid program rules, admissions scholarships requirements and more. Each of these changes required staff to learn, implement and utilize new policies and procedures, often in a short amount of time.
Despite it all, the financial aid staff continued to perform to a high standard.
"What distinguishes the staff members of this office is their professionalism, dedication to serving students and their 'get it done' attitude towards their work, no matter how big the job," said Bode.   
---