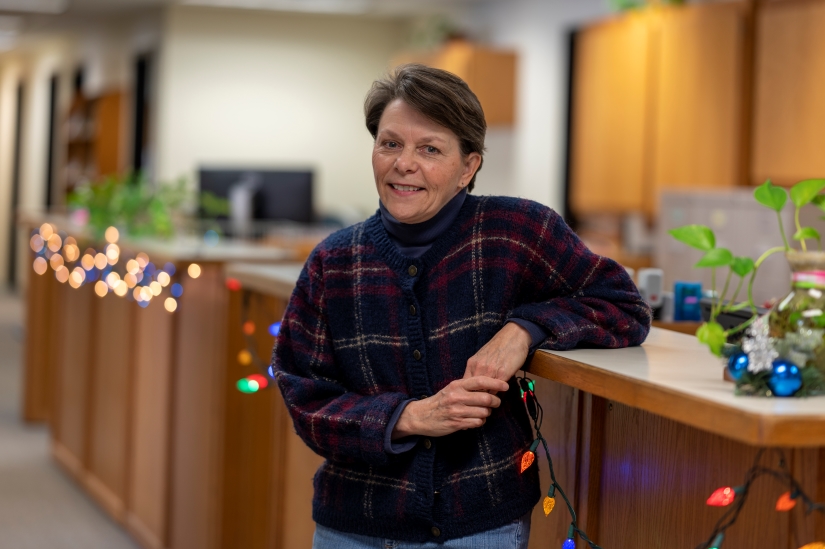 Connie Fassino, Administrative Program Supervisor, Facilities Management
Connie Fassino is the 2020 recipient of the Chancellor's Award for Excellence for Academic Staff. A UW-River Falls alumna, Fassino has served as the administrative program supervisor in Facilities Management since 2019. Prior to her current role, she spent 12 years as the dean's assistant in the College of Business and Economics. 
In their nomination materials, Fassino's nominators repeatedly praised her patience, attention to detail and commitment to the university.
"She puts in countless hours outside of the normal workday to ensure that campus facilities issues are addressed in a timely manner," remarked one nominator. "She is typically one of the last people to leave the office, always making sure that important tasks are completed and ready for the next day."
"Connie's professionalism is exemplary and she operates with the utmost integrity. As a UWRF alumna, she has great pride in this institution and a strong commitment to success for her alma mater. She is a strong advocate and ambassador for UWRF, the departments she supports and her colleagues," explained another nominator.
While Fassino stays busy overseeing a wide variety of functions and staff within the Facilities Management Division, her nominators also noted her willingness to serve other areas of campus. During her time on campus, Fassino has served on the University Scholarship Committee, employee search committees, the University Staff Senate, the University Disability Advisory Committee and a campus administrative working group. She's also served as a UWRF move-in day volunteer.
Throughout their nomination materials, Fassino's peers and nominators underscored the many qualities that make her an asset to UWRF.
"Her communication is always respectful, factual and professional. Connie focuses on delivering the highest level of service to both her external and internal customers, knowing the value that a positive experience reflects on the institution. She can be counted on to go the extra mile without being asked," a nominator explained. "She has proven herself time and time again as a valuable team member."