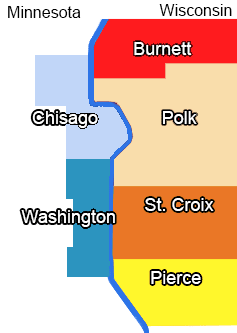 This website presents socio-economic indicators for Chisago County and Washington County in eastern Minnesota and Burnett, Pierce County, Polk County, and St. Croix County in western Wisconsin. These six counties, encompassing the St. Croix River Valley, have a combined population nearly a half-million residents.
While the St. Croix River delineates the state border between Minnesota and Wisconsin in this region, it is also the unifying feature for these six counties.
The St. Croix Valley is adjacent to the core counties that contain Minneapolis and St. Paul, Minnesota and are frequently influenced by the conditions in the "Twin Cities" and its environs. 
The Metropolitan Council of the Twin Cities includes Washington County in the "Seven County Metro Area." Chisago County, Minnesota and Pierce and St. Croix Counties in Wisconsin are classed as "Ring Counties" by the Metropolitan Council. The U.S. Census Bureau includes four of the six counties (excluding Burnett County, Wisconsin and Polk County, Wisconsin) in the Minneapolis-St. Paul-Bloomington Metropolitan Statistical Area (MSA). 
Despite the many factors shaping the regional identity of the St. Croix River Valley, the data presented in this website also show significant variation in terms of socio-economic well-being across these five counties. These analyses are based on data available at the time of development and may need to be adjusted from time to time as new data become available.