Chancellor's Advisory Council
The Chancellor's Advisory Council is a premier volunteer opportunity at UW-River Falls. The group is comprised of committed, enthusiastic community leaders representing key external stakeholder constituencies. Their counsel, ambassadorship and insights constitute invaluable support to the Chancellor. The purpose of the group is specifically aimed at supporting the university's mission through the development of partnerships that drive the success of UW-River Falls and the region we serve.
Members of the council are selected on the basis of their leadership, expertise and experience in public, private, business and academic domains. Council members serve in an advisory role and are not part of the formal governance of the university.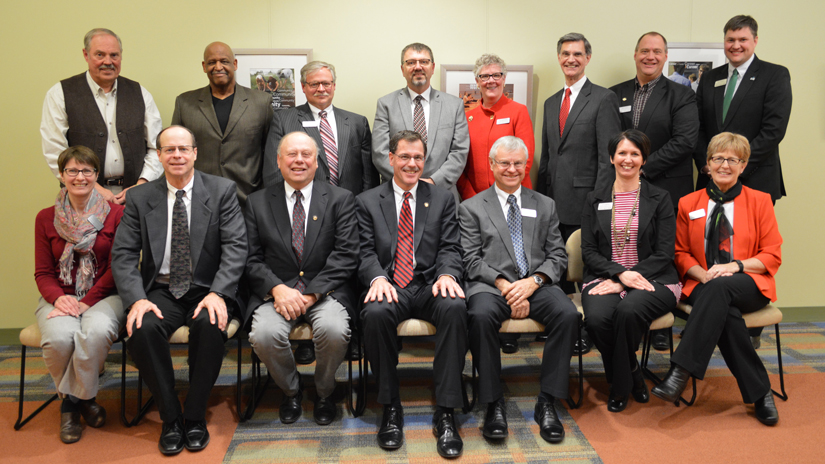 Front row L-R: Kristi Cernohous, Bill Rubin, Jim Harsdorf, Chancellor Dean Van Galen, Quentin Schultz, Chris Blasius, Interim Provost Faye Perkins

Back row L-R: Steve Healy, Greg Gray, Regent Mark Tyler, Jamie Benson, Marian Furlong, John Potter, Bob Casey, Scot Simpson
2017-18 Chancellor's Advisory Council Members
Arlin Albrecht, Owner, Red Wing Publishing (Retired)
Jamie Benson, Superintendent, School District of River Falls
Chris Blasius, CEO, River Falls Chamber of Commerce and Tourism Bureau
Bill Boehm, Retired Senior Vice Chair, The Kroger Company
Tom Borowski, President, Hudson Hospital & Clinics
Jeff Cernohous, Interfacial Consultants
Kristi Cernohous, Interfacial Consultants
Gregory Gray, Former Chief Compliance Officer, Minnesota Department of Human Services
James Harsdorf, Secretary-Emeritus, Wisconsin Department of Agriculture, Food & Consumer Protection
Steve Healy, Executive Director, Polk County Economic Development Corporation
Lynn Nelson, Executive Director, West Central Wisconsin Regional Planning Commission (WCWRPC)
Nick Oullette, Superintendent, Hudson School District
John Potter, Executive Director, Phipps Center for the Arts
John Rosenow, Partner, Rosenholm-Wolfe Dairy 
Bill Rubin, Executive Director, St. Croix Economic Development Corporation
Scot Simpson, River Falls City Administrator
Quentin Schultz, President, Eurofins BioDiagnostics, Inc. (Retired)
Regent Mark Tyler , President, OEM Fabricators 
Angel Zimmerman, Belle Vinz Winery
Shannon Zimmerman, CEO, Sajan, Inc.