Ames Suites is located on the east side of campus and houses upperclass students. The hall is named after former UW-River Falls President Jesse H. Ames.
Ames is a pod-style residence hall. It is a green building and has been awarded the prestigious LEED-NC v2009 Gold Certification from the U.S. Green Building Council (USGBC).
Eligibility for living in Ames Suites
By move-in date, meet the following:
1 year post high school graduation.
Living & Learning Communities Housed Here
2021-22 academic year community in select pods:
Healthy Living Community: The Healthy Living Community is for students who choose to live a substance free lifestyle.
What is Nearby?
Student parking (O Lot)
Sand volleyball courts
Basketball courts
Connected to Ann Lydecker Living Learning Center (LLLC) & South Fork Suites
Ann Lydecker Living Learning Center
George R. Field South Fork Suites and Jesse H. Ames Suites are connected on 1st floor through the Ann Lydecker Living Learning Center. On campus students and organizations may reserve rooms in the Living Learning Center for organizational, programming or educational use. Find information for reserving space in the Living Learning Center here.
The Living Learning Center comprises:
Two small multi-purpose rooms
A fireplace lounge
A large gathering place that can be broken up into three smaller rooms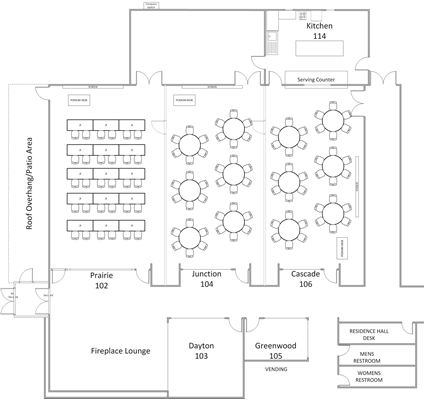 Ames Building Specifics
Four-story coed residence hall located on the east side of campus
Wireless internet is available throughout the building
Houses 240 students
Residents will be required to be on a meal plan
Academic year single and double housing rates apply to Jesse H. Ames Suites
Students will live in Pods that are made up of 3 clusters. Each pod:

Houses 22 students
Consists of 10 double and 2 single rooms
Shares common space with flat screen TV and furniture and kitchenette
Offers a scatter coed experience, where men and women reside as neighbors
Provides separate bathroom and shower facilities for men and women

Laundry facilities are located on all floors
Smaller kitchens with full oven ranges are available on the 2nd and 4th floors
Additional study space available on each floor