A Guidebook:  Assisting Students During Emotional Distress 
Intervention: Suggested Guidelines When Talking With Distressed Students 
Openly acknowledging to students that you are aware of their distress, sincerely concerned about their welfare and willing to help them explore alternative responses, can have a profound and positive effect. We encourage you, whenever possible, to speak directly and honestly with a student when you sense that he/she is in emotional distress.

When you are directly involved with a student experiencing distress we recommend the following:
Request to see the student in private. This may help minimize embarrassment and defensiveness.
Briefly acknowledge your observations and perceptions of their situation.
Express your concerns directly and honestly.
Listen carefully and try to see the issues from the student's point of view without necessarily agreeing or disagreeing.
Attempt to identify the problem. You can help by exploring with the student alternative responses to their present distress.
Inappropriate and strange behavior should not be ignored. Comment on what you have observed, but not in a judgmental way.
Involve yourself only as far as you feel comfortable and competent. The Counseling Services staff and other professionals on the campus are available to assist you.
Consultation: Exploring Your Options
If you are unsure of how to work with a specific distressed student, we encourage you to consult with one of the counselors on our staff. Once you contact us, a counselor will be made available to you for consultation immediately or very soon thereafter. Office hours are 8 AM to 4:30 PM, Monday through Friday. Call us at 715-425-3884, inform the receptionist who you are, and ask to speak with a personal counselor. A brief consultation may help you sort out the relevant issues and explore alternative approaches.

 
Referral: Getting Help for the Student
When you discuss a referral for counseling with a student, it would be helpful for the student to hear your concerns in a clear and concise manner and why you think counseling would be helpful.

 
When should I refer a student to Counseling Services?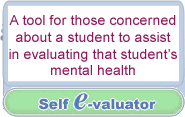 The decision to refer a student to Counseling Services is first based upon your own observations; i.e., does the student show signs and symptoms of emotional distress?
While each student experiences emotional distress in a different way, some common indicators you might observe include:
Expressed suicidal thoughts or attempts
High levels of irritability including undue aggressive or abrasive behavior expressed towards you or others
Lack of energy
Marked change in personal hygiene
Bizarre or strange behavior
Sadness, tearfulness
Frequent binge eating episodes or extreme loss of appetite
Dependency, e.g., the student who hangs around your office or makes excessive appointments to see you
Infrequent class attendance and inadequate effort put into the assignments
Falling asleep in class
Lack of enthusiasm about various aspects of student life
Unusual bruises or lacerations on face and/or body
Contact University Police at 715-425-3133 if:
You are seriously concerned about a student's safety
A student informs you that he/she has taken an overdose or committed a suicidal gesture
You are concerned about a student's safety and he/she refuses to go to Counseling Services, or if the Counseling Services office is closed.