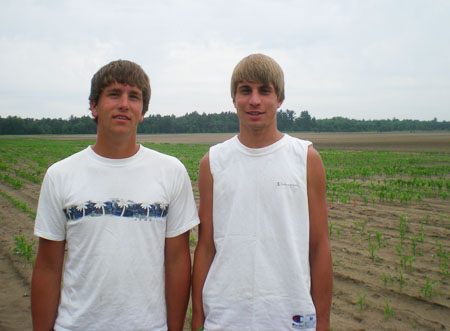 Trevor Frank
Major: Crop Science
Position Title: Plant Breeder Intern
Employer: Illinois Foundation Seeds
In the summer months of 2011, I completed an internship in Plover, Wisconsin with a company called Illinois Foundation Seeds, Inc. I chose this internship because I knew my employer previous to the internship and I have an interest in plant breeding. I really liked learning the pollination process of corn including; selfing, crossing, and back crossing. I also had the opportunity to meet customers from countries around the globe such as Spain and New Zealand. Most importantly, I benefited from this internship in so many ways, including: learning proper pollinating techniques; working with others professionally; and learning what it truly means to be a sweet corn breeder.
Tony Sternweis
Major: Crop Science and Agricultural Business
Position Title: Plant Breeder Intern
Employer: Illinois Foundation Seeds
My name is Tony Sternweis, and I am a senior, double majoring in Agriculture Business and Crop Science. Over this past summer I had an internship with Illinois Foundation Seeds out of Plover, WI. I enjoyed being able to work outside every day and took full advantage of the hands-on learning experiences with Jerry Wagner, the plant breeder and my boss. Jerry went above and beyond by offering to assist me in finding a job if I decided to pursue a plant breeding career. Getting great experience and making professional connections really made this internship worthwhile.