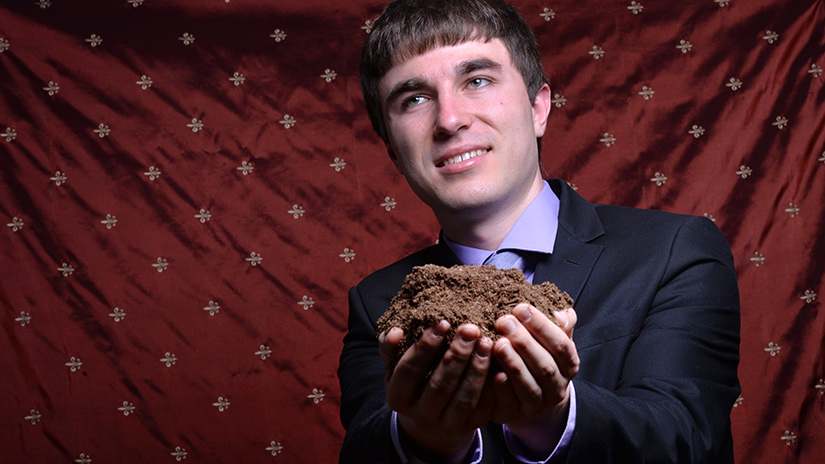 Hired Before Graduation
Nathan O'Leary, crop and soil science major
New Position: Research Agronomist for Seneca Foods in Janesville
Hometown: Brandon
Nathan O'Leary, a crop and soil science major with a soil science emphasis at UW-River Falls, will be digging deep and getting dirty in his new position with Seneca Foods in Janesville. After interview preparation with UWRF Career Services, Nathan secured a position as a research agronomist and looks forward to starting work. 
"UW-River Falls Career Services did an excellent job in helping me prepare for the interview," said Nathan. "Now I will be working on test plots in various Seneca Foods locations across the country."
Read what Nathan had to say about his experience at UWRF

How did UW-River Falls prepare you for your new career?
"UW-River Falls gave me the background to be a good agronomist. This university opened a lot of doors for me in my field of study. The courses I took gave me a large amount of the knowledge I will need for my career as a research agronomist with learning how to take plant populations, crop scout for plant diseases, insects, nutrient deficiencies and other pests. Being a part of the UW-River Falls Student Senate also helped improve my leadership, public speaking and team working skills all of which are very important for the job I have."

While attending UW-River Falls, did you have a particular class, faculty/staff member, or experience that was instrumental to your success?
"Dr. Veronica Justen played a crucial part to my success here at UW-River Falls. I probably would not have become an agronomist if I didn't have her as one of my professors. I learned the most about crop science from her and she very much influenced me to pursue a career as an agronomist over being a soil scientist. Dr. Justen was without question the best professor I have ever had in my college career. I was always able to ask her questions and her lectures, labs and discussions built-off one another so I learned the material very well. Her classes were challenging, but also engaging."

What one piece of advice would you have for an incoming freshman attending UW-River Falls?
"Don't be afraid to ask questions either during class or during your professor's office hours. It shows them you care and you definitely learn a lot more and understand concepts a lot better. Be persistent and determined as well at each goal you make for yourself. "