Welcome . . .
to the UWRF Physics/Chemistry/Engineering page. We offer several options for future engineers.
Curious how your previous college and dual-enrollment credits or AP/PSEO/IB/CIS scores would count toward a physics and/or engineering degree? Call or email 715-425-4630 to find out!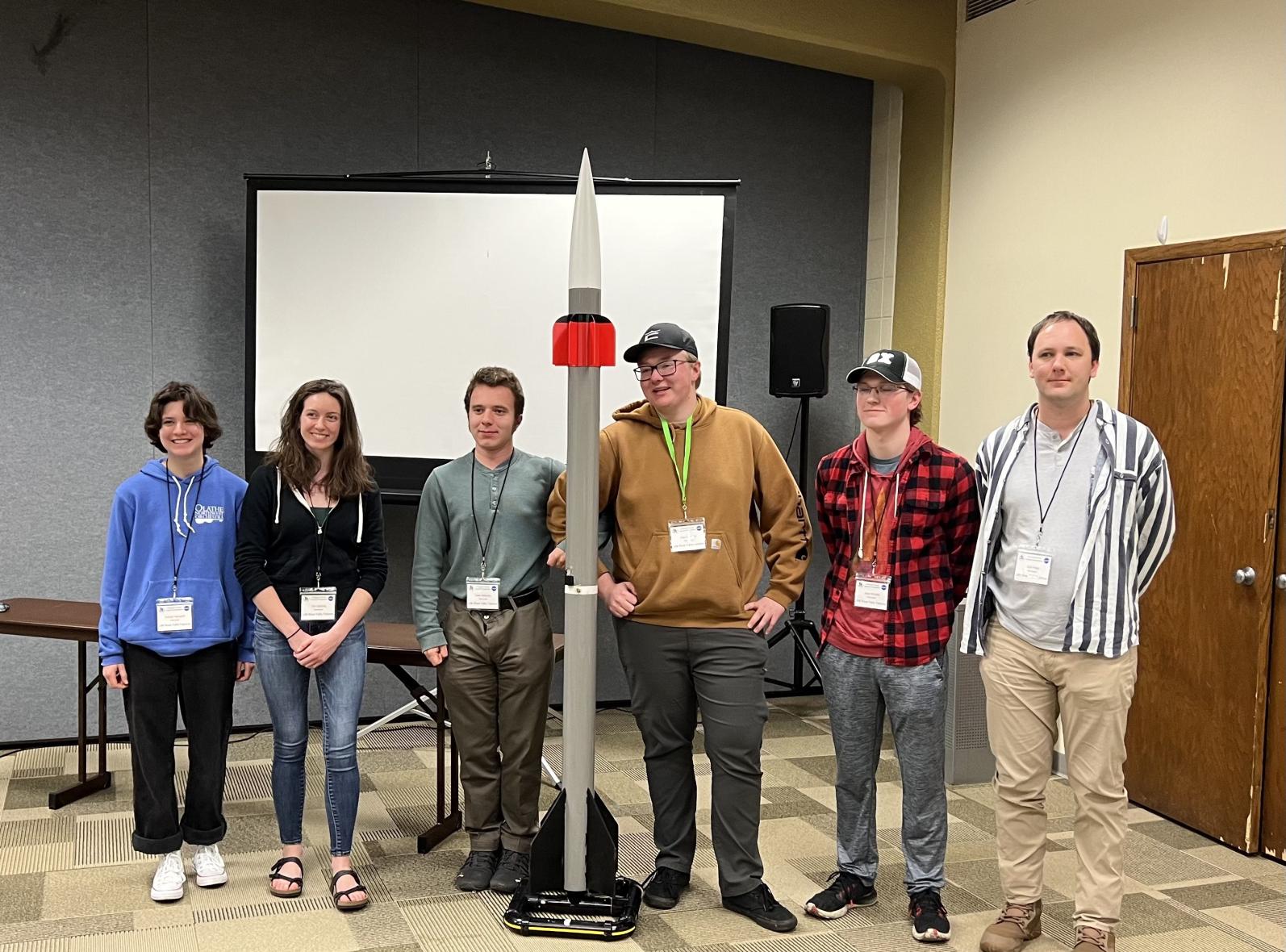 2023 High-Power Rocket Team
---

Earn a Bachelor of Science degree in Applied Physics for Industry and Engineering (APIE) OR a B.S. in Chemistry from UWRF AND an Engineering Degree from an ABET-accredited engineering program from one of our partner universities, such as U. of Minnesota-Twin Cities, UW–Madison, UW–Milwaukee, UW-Platteville, and the U. of Minnesota-Duluth. We can partner with almost any accredited engineering institution as long as you meet their admission requirements.
Engineering degrees available include:
Aerospace Engineering and Mechanics

Biomedical Engineering

Chemical Engineering

Civil Engineering

Civil and Environmental Engineering

Computer Engineering

Electrical Engineering

Engineering Mechanics and Astronautics

Engineering Physics

Geoengineering

Geological Engineering

Industrial Engineering

Industrial and Systems Engineering

Materials Engineering

Materials Science and Engineering

Mechanical Engineering

Nuclear Engineering
Degrees earned:
B.S. Applied Physics for Industry & Engineering or Chemistry, UWRF
B.S. Engineering, UM-Twin Cities, UW-Madison, UW-Milwaukee, UM-Duluth, UW-Platteville or another accredited engineering institution
Years to completion: About 5

Earn a Bachelor of Science degree in Agricultural Engineering, Environmental Engineering or Engineering Technology.
The College of Agriculture, Food and Environmental Sciences (CAFES) offers two different engineering tracks - Agricultural Engineering and Environmental Engineering. Agricultural Engineering offers three focused options:  Machinery Systems, Food and Process Systems, and Natural Resources and Environmental Systems.
Engineering Technology offers four emphasis areas: Conservation Technology, Food and Bioprocessing Systems, Test Engineering Technology, and Agricultural Systems Management.

Contact Joel Peterson, chair of Agricultural Engineering Technology, for more information. 

Degrees earned:
B.S. Agricultural Engineering, UWRF
B.S. Environmental Engineering, UWRF
B.S. Engineering Technology, UWRF
Years to completion: 4 

Complete two years of coursework at UWRF for your physics, math, and chemistry needs, plus your first engineering and electronics courses, then finish your final ~two years at your chosen  engineering university. You will save money and enjoy a supportive environment while making excellent progress toward your degree.
Degrees earned:
B.S. Engineering
Years to completion: ~4

Earn a Bachelor of Science in Applied Physics for Industry and Engineering at UWRF and a Master's or Ph.D. in Engineering from an engineering graduate school. Note that nearly all graduate work in science and engineering is financially supported through tuition remission plus a salary or stipend for being a teaching or reseaerch assistant. Some students receive fellowships as well. Unlike many other fields, students pursuing Masters or Ph.D. work in science and engineering do not take on debt to do so. 

►View the sample 4-year plans for APIE and the four areas of emphasis that APIE majors can pursue in Optics and Electronics, Mechanics, Entrepreneurship, and/or Biology.
Degrees earned:
B.S. Applied Physics for Industry & Engineering, UWRF
M.S. or Ph.D. in Engineering, engineering university
Years to completion: ~6 (more for a Ph.D.)