UWRF Concerts - COVID-19 Update
March 12, 2020
The UWRF Music Department will postpone/cancel all public concerts, events, and gatherings, effective immediately.  The health, safety, and well-being of our UWRF students, faculty, staff, and community members is of highest priority.  

The following concerts and events are POSTPONED/CANCELED.  
Falcon Band Concert, Thursday, March 12 at 7:30 PM
UWRF Piano Festival, March 12-15 events, including the following:
SCVSO Orchestra Concert, Thursday, March 12 at 7:30 PM
Frances Cohler Coffee Concert, Friday, March 13 at 12:00 Noon
UWRF Piano Festival Workshops, Saturday, March 14 (all day)
UWRF Piano Festival Closing Concert (SCVSO Orchestra, Symphony Band, University Band, Piano soloists, Sunday, March 15 at 3:00 PM
Maithree Concert, Tuesday, March 17 at 7:30 PM
Commissioned Composer Concert, Thursday, March 17 at 7:30 PM
We will seek alternative dates for rescheduling concerts when possible.  Please visit the UWRF Music Department Events Calendar for Updates. 
FFI: UWRF COVID-19 Information:  https://www.uwrf.edu/COVID-19/Online.cfm 
About Concerts at UWRF

The Music Department at the University of Wisconsin-River Falls puts on a wide variety of concert each semester, including faculty and student recitals, large-group and chamber ensembles, and performances by guest artists and ensembles. Be sure to check out our Coffee Concert Series held monthly (Fridays at noon), as well as other featured events which will be updated on this site. We hope to see you on campus soon!
All Music Department concerts, unless otherwise noted, are performed in the William Abbott Concert Hall in the Kleinpell Fine Arts building. Concerts may change without notice. The events calendar will be updated as information is received. Many Music Department concerts are free and the public is invited to attend. Concert admission for others is as follows: $8/adults, $5/seniors, $5/students. Click on the individual events to see details. Tickets are available only at the door, cash/check only. For additional information, contact the Music Department at 715-425-3183 or music@uwrf.edu.
---
Music Events Calendar 
Click here for the full Music Department Events Calendar (PDF).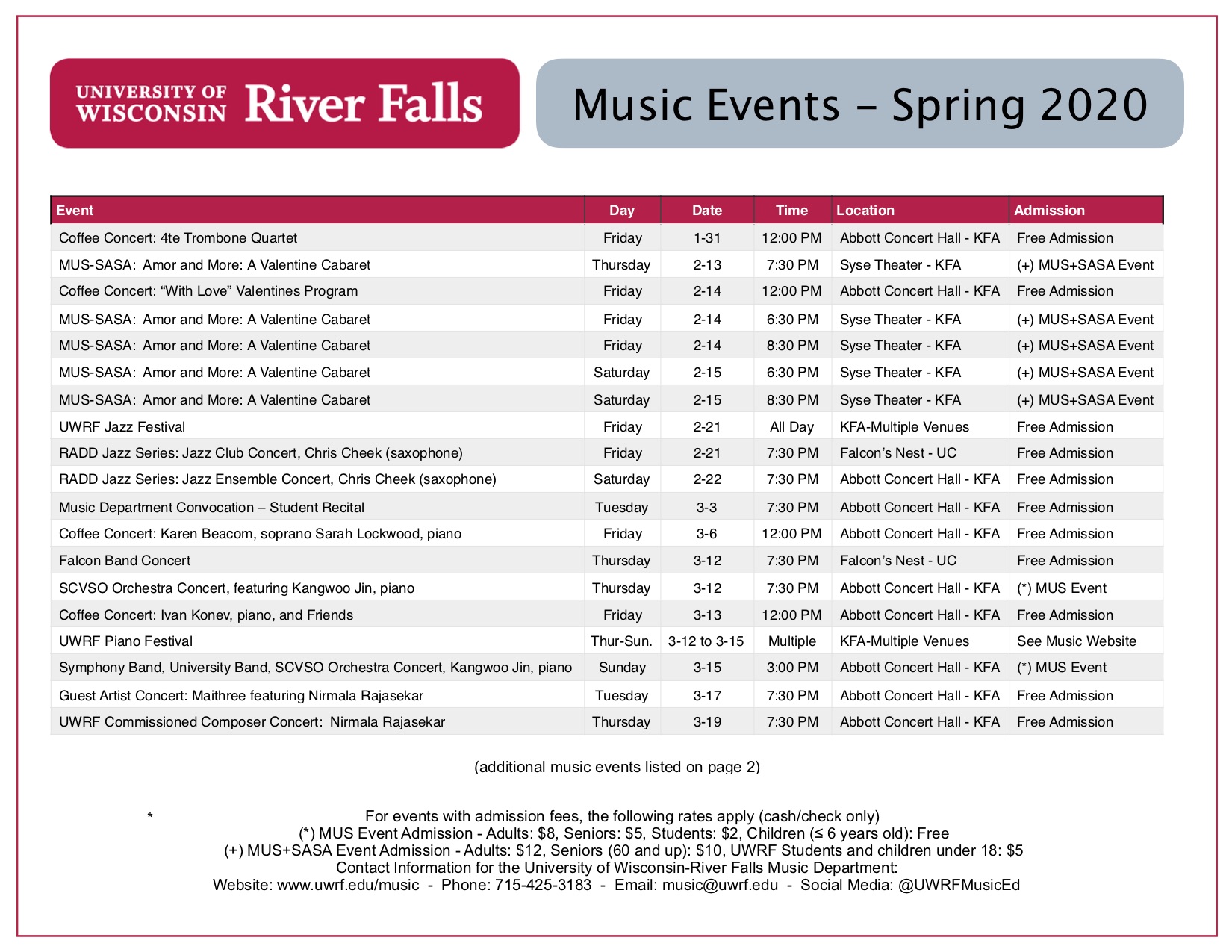 ---
UW-River Falls Piano Festival 
Click here for more information about the UWRF Piano Festival.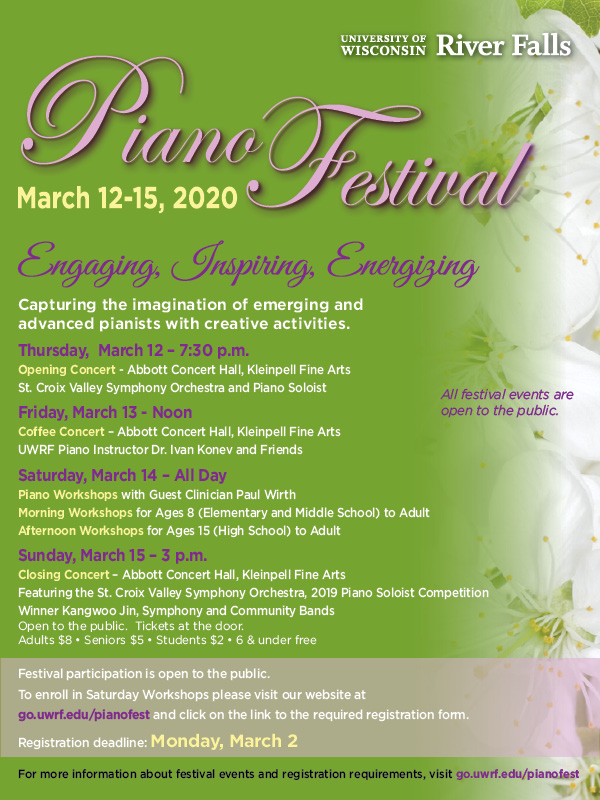 Frances Cohler Coffee Concert Series 

Click here for more information about the Frances Cohler Coffee Concert Series.