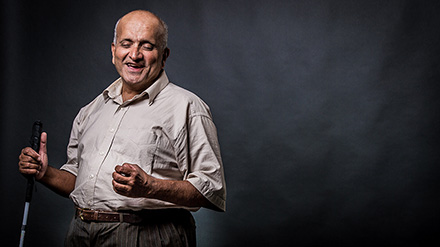 Dr. Imtiaz N. Moosa, 1957-2020
---
Dr. Imtiaz Moosa Philosophy and Ethics Speaker Series
Inaugural event is Monday, April 25, 2022
Click here for details
---

New Fund to Honor UW-River Falls Philosophy Professor

June 23, 2021
Efforts are underway to establish a memorial endowment in honor of UW-River Falls Philosophy Professor Imtiaz Moosa, Ph.D. Moosa taught at the university from 1989 until his unexpected passing in December 2020.
In tribute to the long-time philosophy professor, the Dr. Imtiaz Moosa Philosophy and Ethics Speaker Series Fund will provide financial resources for an annual contemporary philosophy and ethics symposium.
"Professor Moosa is dearly missed by our entire Falcon family," said Dean Yohnk, Dean of the College of Arts and Sciences. "Imtiaz demonstrated a vibrant spirit, a love of teaching, a steadfast dedication to our students and a true zest for life. We believe this new symposium will be a meaningful and lasting tribute to a memorable educator and remarkable person."
Yohnk said the goal is to endow the new fund, which requires contributions totaling a minimum of $25,000, to provide the ongoing financial resources for the speaker series. The sessions will feature leading experts and thought leaders on a variety of pressing philosophical, social justice and contemporary ethical issues.
"Our campus community and the entire country needs rational, informed debate on important topics now more than ever," explained Neil Kraus, chair of the History and Philosophy Department. "Our hope is that we can use the Dr. Imtiaz Moosa Philosophy and Ethics Speaker Series to bring in speakers to address many of the most important issues we face, including the precarious state of democracy itself."
Moosa earned his bachelors, masters and Ph.D. from the University of Toronto. Over the course of his 30-plus year UWRF teaching career, he impacted a multitude of students through a wide variety of philosophy courses.
To support the Dr. Imtiaz Moosa Philosophy and Ethics Speaker Series Fund, please make a secure online contribution by visiting https://www.uwrf.edu/give/MoosaMemorial.cfm. Checks should be made payable to the UWRF Foundation with Imtiaz Moosa Speaker Fund indicated in the memo line. Contributions may be mailed to: UWRF Foundation, 118 North Hall, 410 S. 3rd St., River Falls, WI 54022.
For more information, contact University Advancement Director of Operations Kimberly Gould Speckman at 715-425-4212 or kimberly.gould-speckman@uwrf.edu.
---
Shaping Minds: Imtiaz Moosa
Professor of Philosophy
Written by Kelsea Wissing.
Imtiaz Moosa's story reads something like an epic novel. Born in Africa, he moved to Canada at the age of 16. He earned his doctorate in philosophy at the University of Toronto before moving to the United States to teach at the college level. As an adult, he woke up blind one morning, but that hurdle hasn't slowed him down. Now in his third decade of teaching, Imtiaz spends his summers adventuring around the globe, philosophizing all along the way.
Imtiaz has been a professor of philosophy at the University of Wisconsin-River Falls since 1989. His experience at UW-River Falls has been a transformative one.
"When I first came to River Falls, I wanted to appear highfalutin and polished. I wanted to appear as a master of my subject, but I learned to relax myself in class," he says. "I learned to talk from the heart, not go for the show. You want to show off at first and then you realize that you don't need to impress the students. You have to be comfortable in your own skin."
Eleven years ago, Imtiaz experienced a transformation unlike any other.
"Eleven years ago I went blind. My blindness was sudden. I was seeing flashes, I was getting worried. It was weird, I couldn't focus. I went to sleep and I managed to sleep but I woke up very agitated in the morning, as though I suspected this," he recalls. "I opened my eyes and I couldn't see my hand. I shut my eyes and I said, 'No, no, I can't be blind. This is not possible. This is a bad dream.'"
"I thought, I'll go back to sleep and when I wake up, I'll be fine. I managed to go back to sleep but when I opened my eyes again, this time I was terrified," he says. "And then I realized, 'my God, the world has changed.' I was dumbfounded."
"The thought was not, 'How will I teach?' or 'How will I get to the university?' or 'How will I read books?' Those are real problems," he says. "No, the thought was, 'I'm a handicapped guy now. I'm a failure. I'll have to beg people to help me cross the road. I have no dignity left. How will I walk around with a cane? How can I display myself as a cripple?'"
"I thought I was no longer part of the common humanity. I am no longer one of the robust guys walking around, doing their thing. I've lost it. I thought, 'I have fallen very low.' I seriously wanted to die. I said, 'man, this is not going to be fun,'" he said.
But Imtiaz was eventually able to pull himself together and face his challenge head on.
"I thought, pain is good because it means I'm alive. Death is inevitable, but what's the hurry? I'm in pain, but I'm awake and I'm alive. That calmed me down," he recalls. "I kind of wrapped my mind around the brutal fact that I was blind."
"My brother came with his wife and kids. I told him, 'this is going to be tough because I am no more the tough guy that I thought I was. I am a handicapped guy,'" he says.
"I wanted to go to campus and let the students see me. It was this mental block that I had. It was tough, students had never seen me with a cane," he says. "Now that I think about it, I think 'what nonsense!' It's weird to me what I felt about them. The real problem is not how people look at you or how you cross the road. The real problem is how to read books and how do I be in a classroom and give individual attention to each of my students?"
In a sense, many of Imtiaz's worries were alleviated after entering the classroom as a blind professor.
"I think, as weird as it may sound, blindness has made me a better teacher," he says.
He explains that prior to his blindness, he had already struggled with his eyesight.
"I had bad eyesight. I used to come too close to students to see them and ask questions, which terrified them. They would think, 'holy cow! This guy will come barging into our area and plunge his head right next to us and ask questions,''' he recalls. "People kind of eyed me with distrust. I was kind of unpredictable."
"Once I became blind, I couldn't do that," he says. "I don't know where people are sitting. People kind of relaxed and I listened to them more. That was the key, I was listening more. I listen, I hear their sounds, I can hear if they're interested."
Creating interest within his classes is not a hard goal for Imtiaz to reach. His field, philosophy is a natural part of human nature, he says.
"If there's one thing you've already been doing, you've been philosophizing. That's what it means to be human," he explains. "Philosophy is something we do all the time. Do you believe in God? What is right and wrong? There are a whole host of issues that we've got to discuss and know because that's what it means to be human."
"Here [at UW-River Falls] students want to know how philosophy is relevant to their lives. They don't care about pomposity," he continued. "They just want to understand things and relish philosophy. I really enjoy the students because they are real, they have real problems."
"The highlight of my classes is when we are opening our souls, when we are talking about life in its rawness. When we are now philosophizing in a passionate way. It's almost a Zen-like experience," he says. "When students really start talking and revealing and asking and probing and questioning and they take possession of the material and I become only accessory to the discussion. I'm not a professor anymore, I'm just part of the group. Those are the high points in the classroom."
Imtiaz recognizes, though, that it takes more than just serious listening and engaged students to succeed as a teacher.
"The university has provided me with excellent voice technology. I can have a computer read a book to me. I am very lucky that I am a professor at a really good college where they administration really respects me. I have a good job and that helps my perspective. I don't think blindness has been catastrophic to me," he says.
Tackling his return to campus as a now-blinded professor has not been Imtiaz's major accomplishment.
"I want people to realize that me being blind doesn't mean that I haven't had any vigorous adventures," he says. "Howard Fairbank is a friend of mine. He came to River Falls with his girlfriend and we became friends and now we take adventures together."
"Since then we have canoed the Yukon River, we have made a trip to Africa. We've been to Canada multiple times and the Boundary Waters. I've been to New Zealand to visit him," he shares. "I have done some vigorous canoeing and portaging on rivers and lakes for the past seven years."
"I don't think being blind means you can't do certain things. We shouldn't exaggerate. It's not like blindness is not a handicap, that would be an exaggeration," he says. "But you can still do quite a bit despite it. You can still do it and I'm doing it."
"Those trips have bolstered my self-confidence because when you do something that's hard, then you realize, you know what, you can do it. It has an impact everywhere else," he says.
---
Philosophy Professor Moosa Mourned, UWRF Student Voice
Dr. Moosa's Emeritus Faculty page