The UWRF History and Philosophy Department offers:
three majors in history
a major in broad field social studies (for teaching)
minors in history, philosophy and broad field social studies
Our mission is to generate, cultivate and transmit knowledge and understanding of history and philosophy.

Email us at history@uwrf.edu if have questions or comments.
Faculty email addresses are posted here.
We can also be reached at 715-425-3164, 307 Kleinpell Fine Arts, Cascade Ave., River Falls, Wisconsin, USA. View more maps here.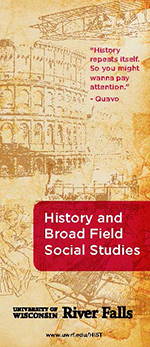 Scroll through our interactive brochure