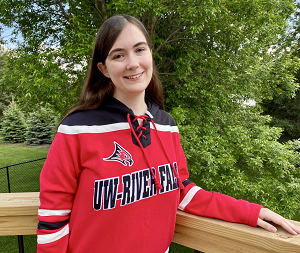 Hello! My name is Alice Shock and I am currently a senior at UWRF. I am majoring in international studies and Teaching English to Speakers of Other Languages and my minors are in Asian studies and German.
I was drawn to the international studies major at UWRF because I am passionate about different cultures and our increasingly global society. I have loved all of my classes here at UWRF, but my favorites from the international studies major have to be Introduction to International Studies, INTS 200, and World and Food Populations, AGEC 250. Both of these classes helped me learn about current social and political issues that exist in our world. I have used information from these classes to direct my projects and hone in on how I can make a difference in the world.
What I like about projects from the international studies program is that students often have a choice in what they research. Because I am an Asian studies minor, I wanted to direct my research towards countries in Asia. In Introduction to International Studies, I was able to select a country I wanted to research throughout the semester. There were countries from all across the globe to choose from so students were able to tailor studies towards different interests. I chose Japan as the country for my case study since I am also studying Japanese at UWRF. With what I learned in class, I was able to narrow my research and learn more about the culture and demographics of Japan along with the social and political issues that exist within the country.
When I first started attending UWRF, I was only majoring in TESOL. I was looking at the international studies major too, but I thought it would be too much to do a double major. After a semester of taking classes and talking to my advisers and professors, I realized that I could double major in international studies and still graduate within four years! The international studies degree extracurriculars often double-counted with my minors too. Faculty and staff have been supportive in my studies and know me by name. I always find the topics in class to be engaging and useful for future studies and my future career.
After college, I know I want to continue learning and working with different countries and cultures. My professors have shown me several programs to work and study abroad after school, such as the JET Program and Fulbright. Although I don't know where I'm headed yet, I know I've learned what I need to be a successful professional from UWRF!