Mallory Westlund
Senior, Horticulture, Landscape emphasis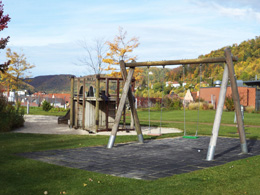 In fall 2013, I spent an amazing semester studying abroad in Europe. For more than three months I traveled to sites, met up with professionals in my area of interest, and explored a continent all on my own. How? Through Semester Abroad Europe!  There, I was allowed to choose a research topic close to my interests - mine was horticulture - and I was given the freedom to go where I thought I could learn the most. Whether I was visiting sites in Switzerland, or meeting up with internationally-respected minds in their own hometowns in Germany, I controlled my itinerary.

The topic of my choice was green roofs with a public access. I saw parks and playgrounds on top of shopping malls (Yes, the playground above is on top of a shopping mall in Germany) and meadows on the roofs of museums. Boys in Copenhagen, Denmark, skateboarded on underground garages and trees grew on rooftops. Roofs, I found, are an extremely underused commodity. They have great potential in bringing plants back into our cities along with other numerous side benefits.

While in Europe I learned a lot about green roofs and have gained a great deal of confidence when discussing them. They are still new idea that is constantly being improved upon. Because of this, the academic professionals I met at the World Green Roof Conference encouraged me to question the norms and try out new theories and experiments. In coming summers, I plan on building a green roof at my parent's home using a new strategy and I have been asked to send all the data concerning it to a professional in England with seasonal or yearly updates.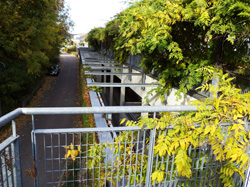 Besides my academic confidence, my confidence as a person greatly increased. Through the Semester Abroad Europe program, I was able to gain valuable experience in contacting professionals in my field of interest, communicating despite a language barrier, and trusting in myself to navigate regions that are foreign to me. In a word, independence. I also gained professional and personal contacts from all over the world. The experience provided from my semester abroad is priceless and I encourage every student to take the initiative to go out into the world and learn more about what inspires them!