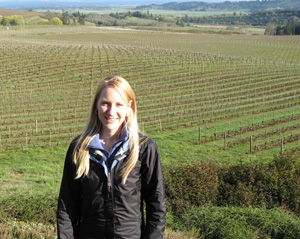 Patty Skinkis
Graduation Year: 2002
Major/Minor: Horticulture, Professional option
Other Degree(s): Ph.D. in Horticulture (2006) Purdue University
Position Title: Viticulture Extension Specialist & Associate Professor
Employer: Oregon State University, Department of Horticulture, Oregon Wine Research Institute

As viticultural at Oregon State University, I serve in the tripartite mission of the land-grant university by conducting extension, research, and teaching. I develop and deliver outreach programs to the Oregon wine grape industry, conduct applied research to meet industry needs, and teach course in viticulture to undergraduate and graduate students. The majority of my time is spent working directly with the commercial wine grape industry statewide through Extension.

I truly enjoy working with the wine grape industry in Oregon to develop research studies that meet their production challenges and develop outreach programs and products to help keep them informed of new information. Having an Extension position means that there is never a dull moment and there is no such thing as a "typical" day. I enjoy being a part of the life-long learning that spans from student to producer, effectively working towards the mission of land-grant universities.
During my undergraduate degree program at UWRF, I completed two internships that were valuable in helping me determine my career track. My first internship was with the University of Wisconsin Extension in Outagamie County where I served as a public garden coordinator. In this position, I gained experience in working with the public sector and developing outreach programs in gardening and basic horticultural concepts. After taking Dr. Brian Smith's course in fruit production at UWRF, I became very interested in commercial fruit production and sought out a research internship through UW-Peninsular Ag Research Station in Sturgeon Bay, WI. It is through that experience that I became very interested in fruit production research and viticulture.

In addition to the horticulture curriculum and advising at UWRF, I found being a part of other organizations were beneficial to my career development. I was a member of the UWRF Horticulture Society, Pi Alpha Xi and UWRF Floral Evaluation Team. All provided me with opportunities to learn outside of the classroom and develop leadership skills.