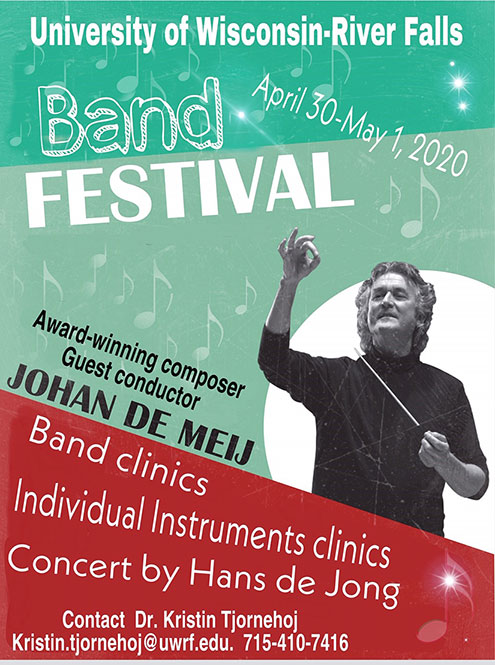 Featuring the music of Johan de Meij (including a world premier), conducted by Johan at 7:30pm, Thursday, April 30, at the William Abbott Concert Hall, UWRF Campus.
Johan de Meij studied trombone and conducting at the Royal Conservatory of Music in The Hague. He has earned international fame as a composer and arranger. De Meij's Symphony No. 1 The Lord of the Rings received the prestigious Sudler Composition Award in 1989. Renowned orchestras such as The London Symphony Orchestra, North Netherlands Orchestra, Nagoya Philharmonic and the Amsterdam Wind Orchestra have recorded The Lord of the Rings. Other major works such as Symphony No. 2 The Big Apple, Symphony No. 3 Planet Earth, Symphony No. 4 Sinfonie der Lieder, T-Bone Concerto and Casanova and shorter works such as Extreme Makeover and Extreme Beethoven have also gained worldwide recognition.
Besides composing and arranging, Johan de Meij is active as a conductor, adjudicator and lecturer. As a trombone and euphonium player he has performed with the major orchestras and ensembles in The Netherlands. He has conducted some of the leading wind orchestras of Europe, Asia, Australia, North and South America.
In 2010, he was appointed regular guest conductor of the renowned Simón Bolívar Youth Wind Orchestra in Caracas, Venezuela. In 2014, Johan de Meij became principal guest conductor of both The New York Wind Symphony and The Kyushu Wind Orchestra in Fukuoka, Japan.