UPCOMING SCHEDULE: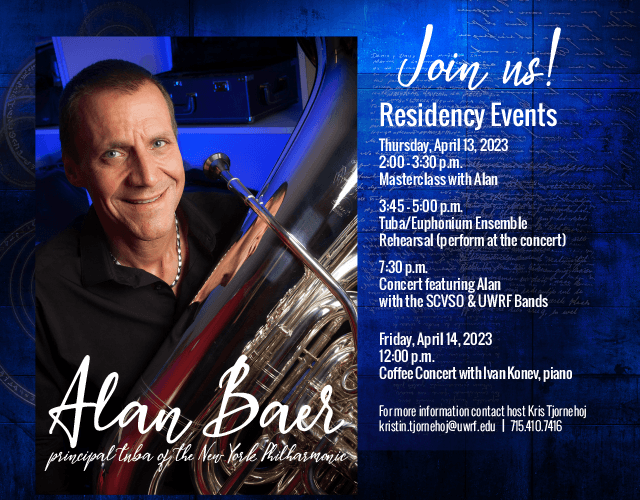 Dr. Tjornehoj Conducts:  
Thursday, April 13.  Alan Baer, tuba with the Symphony & University Bands, and SCVSO
Concertino for Tuba - Gary Ziek, composer
Thursday, April 20.  Commissioned Composer Davor Bobić, Symphony Band, UWRF Concert Choir and more!
Pictures from Zagorje
Thursday, May 4.  Spring Fling! Symphony Band plays
Libertadores by Oscar Navarro; Somewhere Over the Rainbow, featuring Dr. David Milne;
"Galop" by Shostakovich and more.
Where exciting things are happening!
Performances offer the best in wind band literature
Annual commissions and world premieres
Working with world class composers Oscar Navarro,  Javier Perez Garrido,  Johan de Meij,  Nigel Clarke,  Gregory Fritze, Stan Nieuwenhuis, Jacob Beranek, Joel Blahnik, etc.
Guest conductors and performers join the group on a regular basis
Opportunities to travel the world through the Three Rivers Concert Band collaboration (every other May - European tours)
Building relationships and experiences that enrich your life.
Symphony Band is comprised of the finest wind and percussion majors and minors at the University of Wisconsin – River Falls, as well as non-music majors who are selected by audition each semester. Adult community members may audition, register, and join this ensemble as per the permission of the instructor.  Director Kris Tjornehoj provides leadership and a quality experience for all students through the rehearsal and performance of a wide variety of the best wind band repertoire from all time periods. Guest artists frequently perform with the band and commissions and premiers take place on an annual basis.
Highlights
An Early Evening Walk
"An Early Evening Walk" for tuba and piano, by Gregory Fritze was transcribed in 2019. The original is from "A Day In Valencia
UWRF Symphony Band and University Band Concert featuring Gregory Fritz, United States premiere of "Variations on a Canarian Hymn"
April 19, 2018
Band Festival with Jack Stamp and Kris Tjornehoj
November 15, 2017
UWRF Symphony Band and University Band Concert featuring Belgian cornetist Harmen VanHoorne
December 14, 2017  
World Premiere – Fanfare: Churn Ahoy!
Composer Jack Stamp, December, 2016 
World Premiere - Evolution: Fifty Shades of E
Composer Johan de Meij conducted the premier of "Fifty Shades of E" with the UWRF Symphony Band on November 17, 2016.