Where exciting things are happening!
Imagine...
Performing the best in wind band literature 
Working with world class guests such as Johan de Meij, Boston Brass, etc.
Opportunities to travel the world 
Making friends that will last a lifetime
Symphony Band is comprised of the finest wind and percussion majors and minors at the University of Wisconsin – River Falls, as well as non-music majors who are selected by audition each semester. Director Kris Tjornehoj is dedicated to providing a quality experience for all students through the rehearsal and performance of a wide variety of the best wind band repertoire from all time periods. Guest artists frequently perform with the band and commissions and premiers take place on an annual basis.
Upcoming Events 
Symphony Band and University Band
October 12, 2017
Band Festival with Jack Stamp and Kris Tjornehoj
November 15, 2017
UWRF Symphony Band and University Band Concert featuring Belgian cornetist Harmen VanHoorne
December 14, 2017   |   7:30 p.m. |  William Abbott Concert Hall, UWRF Campus Tickets sold at the door: Adults $5, Seniors $3, Students $2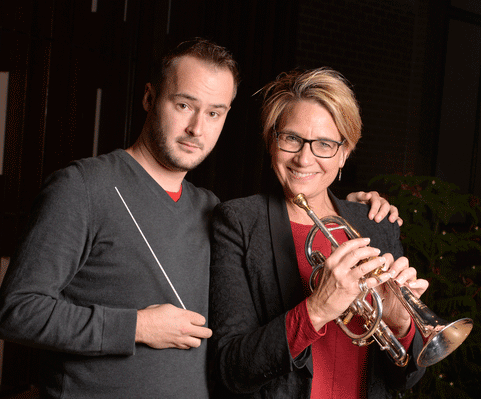 Recent Highlights
World Premiere – Fanfare: Churn Ahoy!
December, 2016 
World Premiere - Evolution: Fifty Shades of E
Composer Johan de Meij conducted the premier of "Fifty Shades of E" with the UWRF Symphony Band on November 17, 2016.