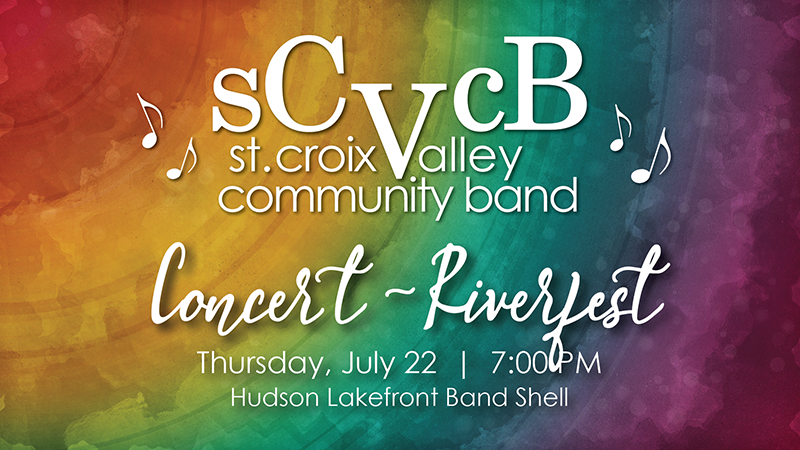 The St. Croix Valley Community Band is a volunteer organization of musicians from River Falls, Red Wing, St. Paul, Minneapolis  and surrounding communities. The ensemble provides  opportunities for local musicians to share their talents, develop their abilities, and make connections with other musicians . Founded in 1982 by Dr.  Kristin Tjornehoj, the band rehearses summers only and performs 2-4 concerts annually. The variety of music includes symphonic band arrangements, marches, classical works, Dixieland, big band, musical theatre, and solo features. This year vocalist Colleen Raye and trumpet virtuoso Dick Miller will be the featured solosits.
The band rehearses Wednesday evenings from 7-9 p.m. from June15 – July 21, 2022.   Concerts are slated for 7:00 p.m. Monday, July 12 at the Shell Lake Pavillion and Thursday, July 22 at the Hudson Band Shell as part of RIVERFEST:   Party with a purpose.
In addition to performing locally, musicians collaborate with the Three Rivers Concert Band for International tours. The 2022 tour will be to Holland, Belgium and Germany.   Deposits are due September 1, 2021 for this culturally enrichening experience.    See the Three Rivers Concert Band Facebook page or contact Dr. Tjornehoj for more information.
For more information, email kristin.tjornehoj@uwrf.edu or call 715-410-7416.
Travel Opportunity:  Three Rivers Concert Band  
May 25-June 4, 2021.  Holland/Belgium/Germany
Contact Kris Tjornehoj for further information:  715-410-7410
Dates: Rehearsals begin June 15, 2021
Travel Opportunity:  Three Rivers Concert Band  
May 26-June 4, 2021.  Holland/Belgium/Germany
Contact Kris Tjornehoj for further information:  715-410-7410