The University of Wisconsin-River Falls Brass Ensemble is an auditioned ensemble of 16 of the finest brass performers on campus. It is conducted by Rick Gaynor, adjunct faculty of Low Brass at UWRF. This group performs at least four concerts a year.
The River Falls Brass consists of brass faculty Thomas Barnett and Craig Hara, trumpet; Matt Wilson, horn; Rick Gaynor, trombone; and Charles Wazanowski, tuba. The River Falls Brass performs regularly on campus, and presents clinics and recitals at area schools.
There are also Student Brass Quintets, a Horn Choir, Tuba-Euphonium Quartet, and a Trumpet Ensemble at UWRF. The main purpose of these groups is to explore the vast brass literature of the past 500 years and to perform in concert, on and off campus.
The Brass Ensembles listed above perform several concerts annually and have performed at area schools and churches. Please see Upcoming Events below for further information on performances.
Events
The River Falls Brass Chamber Music Camp
Trumpet, Trombone, Horn, Baritone/Euphonium, Tuba. For Students Completing Grades 7-12
http://www.uwrf.edu/brass/brass_camp.htm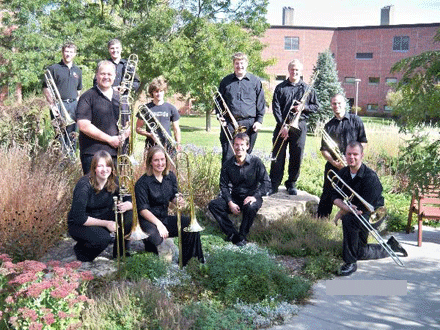 Trombone Choir, Fall 2009
Front row: Michelle Sailor, Laura Rogers, Director Rick Gaynor, Ben Allen
Second Row: Tristan Brodie, Asher Heere, Paul Nelson, Kyle Lewis, Tim Mills
Third Row: Joe Baumann, Bjorn Carlson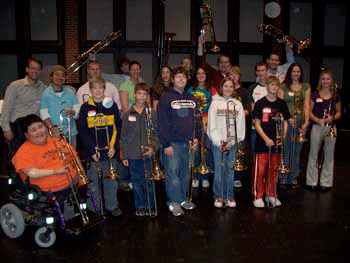 Trombone Day at UW-River Falls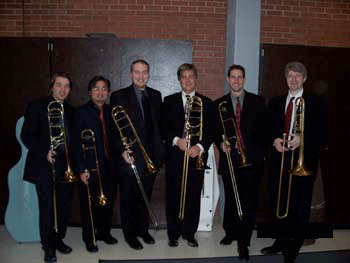 Minnesota Orchestra Trombone Section with UWRF students after a performance at Orchestra Hall, Minneapolis.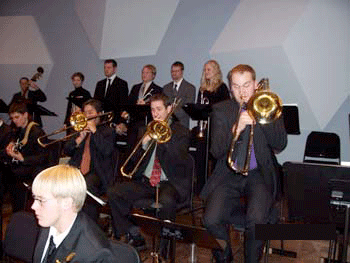 UWRF Jazz Ensemble Performance Ellington's Nutcracker at Orchestra Hall.