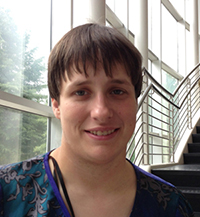 Susan Ficken
B.S. Mathematics with minors in Agricultural Studies, German and International Studies, UW-River Falls
M.S. Mathematics, Northern Illinois University
Ph.D. Mathematics, Northern Illinois University 
I am an Assistant Professor of Mathematics at the Mississippi University for Women. It is a terrifically awesome job. I really like the fact that every semester I've gotten to teach a couple of developmental classes (honestly one of my favorites, I love seeing lightbulbs turn on), a standard freshman class, and an upper-division proofs class (thus far modern algebra, advanced calculus, and topology). It keeps me on my toes and stops me from getting stale.
There were many things I appreciated about UWRF. The small class sizes made it a lot easier to not get lost in the shuffle. The encouragement to participate in things such as research experiences, the modeling competition, and the Putnam exam really did wonders for me.
However, I think one of the things that UWRF did the best at preparing me for was the reality of working in a smaller primarily undergraduate institution. I was able to enthusiastically and genuinely discuss the needs of entering students with varying degrees of mathematical preparation and interest during job interviews. I deliberately set out looking for a job at a place somewhat similar to UWRF.