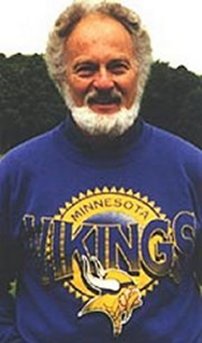 Dr. Cederberg retired in June 1999 after a distinguished teaching career of 33 years at UWRF. After retiring he continued to teach part-time at UWRF (American art history and Colonial history) for several more years.
Dr. Cederberg arrived at the UWRF with an illustrious group of seven new faculty in History in 1966: H. Cederberg (U. S. Colonial), J. Buschen (Medieval, Renaissance, Reformation), C. N. Stockton (U. S. intellectual and philosophy), Frank McCann (Latin America), Pei Huang (Far East), Barbara Corrado (modern Europe) and Daryl Gease (Archives). They joined Drs. E. N. Peterson (20th c. Europe), George Garlid (20th c. U. S.), James T. King (19th c. U. S. and Native American) and C. C. Smith (very ancient history). Those were the glory days.

An update from Dr. Cederberg (January 2007) . . .
I have had a gloriously busy year. We went to the Australian open tennis matches in Melbourne. In the Spring I completed work on a NEA grant having to do with WWI jointly shared with the Amery Public library. I continue on the Board of Directors of the JOBS NOW Coalition and Alice and I are still on the YPSCA Board for the Minneapolis Symphony. Our interest in classical music got us drafted into serving on the officers' nominating committee for the Thursday Musical Association.
This Spring semester I will be teaching a course on two thousand years of art images depicting the Virgin Mary at the Osher Center at the University of Minnesota. In June I will be competing at the National Senior Olympics at Louisville. My doubles partner and I qualified by winning the Minnesota gold medal for doubles tennis last September. Now back to work on the Virgin Mary project. Exhausting.