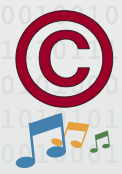 Get the facts on sharing and downloading music online.  It is your responsibility to ensure you're downloading and sharing legally.
Unauthorized distribution of copyrighted materials
Unauthorized distribution of copyrighted material, including peer-to-peer file sharing, is a violation of the Division of Technology Services (DoTS) Acceptable Use Policy (AUP), which states, in part:

You are expected to use University computer resources in an ethical manner...

Examples of actions that violate one or more of the various policies or guidelines...


violating copyright laws on published works, music, graphics or software; e.g. obtaining, or making available to others, commercial software via the Internet in violation of the licensing agreements on such software;
The complete AUP is displayed when you activate your Falcon Account.  You must agree to the AUP before continuing to activate your Falcon Account. The AUP can be reviewed at anytime on the Policies and Practices page on the DoTS Web Site
Copyright infringement is the act of exercising, without permission or legal authority, one or more of the exclusive rights granted to the copyright owner under section 106 of the Copyright Act (Title 17 of the United States Code). These rights include the right to reproduce or distribute a copyrighted work. In the file-sharing context, downloading or uploading substantial parts of a copyrighted work without authority constitutes an infringement.

Penalties for copyright infringement include civil and criminal penalties. In general, anyone found liable for civil copyright infringement may be ordered to pay either actual damages or "statutory" damages affixed at not less than $750 and not more than $30,000 per work infringed. For "willful" infringement, a court may award up to $150,000 per work infringed. A court can, in its discretion, also assess costs and attorneys' fees. For details, see Title 17, United States Code, Sections 504, 505.

Willful copyright infringement can also result in criminal penalties, including imprisonment of up to five years and fines of up to $250,000 per offense.

For more information, please see the Web site of the U.S. Copyright Office at http://www.copyright.gov, especially their FAQ's at http://www.copyright.gov/help/faq.
Violations
UWRF DoTS will investigate all notices of copyright infringement sent to us at the e-mail address abuse@uwrf.edu from the copyright owner or entities representing the copyright owner. Such notices include details about when and where the violation occurred, as well as what files were involved.  DoTS correlates this information with our network information to trace the alleged violation back to an individual.

Once the individual(s) involved have been identified, appropriate disciplinary action will be taken as provided under existing procedures applicable to students (Student Affairs - Department of Residence Life/Student Rights & Responsibilities) and employees (Human Resources Department). Sanctions will vary but can include such things as a written notification to cease, a personal meeting, additional required education, and, complete loss of network privileges. Civil or criminal prosecution may also be pursued by the copyright owners.
For more information and assistance, feel free to contact DoTS at 715-425-DOTS (3687), e-mail dots@uwrf.edu.