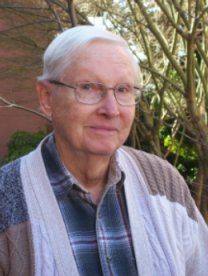 An update from Noble Stockton (May 2021)
To everybody I know and love:
I'm almost 96, growing old, feeble, slightly goofy. Fingers are so numb I can't write gracious letters to each of you, so this circular will have to do.
New address: Noble Stockton, Brookdale Santa Fe, 640 Alta Vista, #115, Santa Fe NM 87505. New cell phone: 206-708-9965.
It's located a few blocks from the new house of my son Paul Stockton, &  Missy, & Will. Also a few blocks from the Unitarian-Universalist Church.
Paul, et.al., moved from Washington D.C. quite recently.
Affection, doddering slightly,
Noble
---
An update from Noble Stockton (May 2019)
What's new with me?  My wife Ronnie died December 8, 2017. We'd been living under the friendly supervision of our older son Paul, who had been Assistant Secretary of Defense for Obama. October 1, 2018, my family moved me to Reno, where my younger son Richard is a computer wizard and concert master of Toccata, a local orchestra and chorus that do Handel, Bach, and the like. My local daughter-in-law Ann Waldron is practicing psychiatry here.
And I'll be 94 years old on May 26. My health? Still staggering along. And so does my brain — still staggering along. Just wrote an erudite book review of a biography of the American suffragette Alice Paul. I impressed myself!
Noble
See also his story, "Ronnie, Archaeology, and Me."
---
An update from Noble Stockton (Nov. 2014)
My years at UW-RF, 1966-1989, were happy, productive, and useful.
In youth I'd worked for the Illinois legislature, kept the state police headquarters open from 4 p.m. to midnight while attending junior college, and learned how to be a newspaper feature writer. Then at the University of Chicago I studied English and served as managing editor of the school newspaper. In Los Angeles I earned degrees in philosophy at U.C.L.A.—cheaper than Chicago—while working nights for truck lines. Bakersfield College hired me to teach Humanities. Then at Claremont I got a doctorate in history while working at Univ. of Calif.–Riverside.
At R.F. I taught half-time in philosophy, half-time in history. My most profound course was Philosophy of History but I had fun with a wild-and-goofy class in Philosophy of Art—I loved the time we brought the Kabuki man from Minneapolis. American and British history continued to fascinate me but I specialized more and more in regional and local history and architecture. My Wisconsin History class had a regional emphasis, although our most noteworthy visiting speaker was the former Socialist Party mayor of Milwaukee. My last talk for the American Society for 18th-Century Studies was "French Colonial Architecture in the Upper Midwest."
My biggest scholarly project, over the years, was serving as editor for philosophy and intellectual history for The Eighteenth Century: a Current Bibliography, published annually by the American Society for 18th-Century Studies. Aided by the late James Delaplain and several generations of student assistants, we checked some 150 periodicals in various languages and I organized the reviews of 60 or 75 books every year—the weird ones I reviewed myself.
I participated in beginning the Wisconsin-in-Scotland program where R.F. and some sister institutions lease a 217-room palace eight miles east of Edinburgh. With the new program, naturally, whatever could go wrong did go wrong! I have anecdotes.....
When I retired in 1989, Ronnie announced that she did not want to be buried in permafrost and so we returned to California. We settled in Santa Monica, where the sea breeze blows the smog on Pasadena and city buses take you everywhere. I catalogued old photographs for the Los Angeles Central Library and led walking tours of downtown art deco skyscrapers and Little Tokyo's Buddhist temples. Deciding to live near our son Paul N. Stockton, we moved to Monterey, original capital of Spanish California, where I catalogued old documents, helped edit the quarterly published by the Monterey History and Art Society, and assisted the Carmel Bach Festival. When Paul joined the faculty at Stanford we volunteered at a senior center in Palo Alto. When Obama made him Assistant Secretary of Defense we all moved to the Washington area. Here in Arlington I'm in two writing groups and one chorus and plan junkets to museums and concerts for the senior residence where we live.
A couple of years ago some of my former students started Face-Booking me. I like that. And I'm happy to hear from old friends at cnstockton@sbcglobal.net.
---