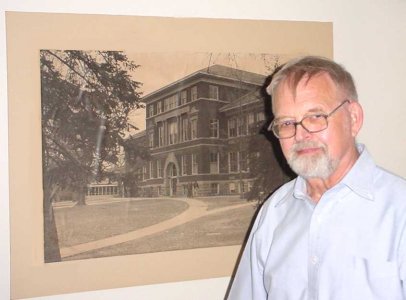 Dr. Edward N. Peterson was born in St. Joseph, Missouri in 1925, the same year that Dr. Garlid and Dr. Stockton were born. He entered the U.S. Army during World War II and served in Germany. Drafted into the U.S. Army on March 28, 1944, he served in the Anti-tank Platoon, 1st Battalion, 274 Infantry Regiment, of the 70th Infantry Division (United States), being sent to Europe on December 1, 1944. He was at the Front on the Rhine River by Christmas 1944, part of the 7th and later the 3rd Armies. Here he met his wife, Ursula.
They returned to the U.S. and Dr. Peterson began his university studies at the University of Wisconsin-Madison. There he obtained his B.A., M.A. and Ph.D. In 1954 Dr. Wyman hired Dr. Peterson to teach "European History." Over the years Dr. Peterson taught many different classes - 20th century Europe, World War I, World War II, German History, Great Ideas 496 and Senior Seminar. He was part of the Social Science Department.
In 1962, a separate History Department was created and Dr. Peterson became Chairman; Dr. Wyman moved to Whitewater as president of the university there. Dr. Peterson remained chairman for more than 30 years. In 1962 he hired Dr. Garlid part-time; in 1963 he hired Dr. King for 19th Century U.S.; in 1964 he hired Dr. Garlid full-time for 20th Century U.S.; in 1965 he hired Dr. C.C. Smith for ancient history. And in 1966, with the university expanding very rapidly, Dr. Peterson hired seven new History faculty members: Dr. Stockton (19th Century U.S. and Philosophy), Dr. Cederberg (Colonial U.S. History), Dr. Buschen (Medieval, Renaissance, and Reformation History), Dr. Frank McCann (Latin American History), Dr. Pei Huang (Asian History), Mr. Daryl Gease (Archives), and Ms Barbara Corrado (20th Century European History).
Dr. Peterson and Dr. Garlid had offices on the first floor of South Hall, along with Annie Robbins, the Department Secretary. All the other members of the department were on the third floor. At first, there was only one telephone for the Department, so Annie would have to climb up three flights to get someone to come down and take a call. Eventually they ran a line to everyone on third floor for phones, although there were several people on each line for a while. Later, people were scattered around South Hall in various offices - Dr. Buschen and Dr. Smith at the Northeast corner, Dr. King in the middle of the wing running back to the old gym, etc. For a while the Department had the entire old Art Department room across the hall for a lounge, mimeo machine, and other work space. That was a very nice period. 
But in 1985, the Department was required to move over to the third floor of the Fine Arts Building. Classrooms 223 and 224 in South Hall remained popular for years, especially for Dr. Peterson. When some wanted to tear down South Hall for something more modern, Dr. and Mrs. Peterson led the campaign to preserve South Hall and they were ultimately successful. 
Every summer, and on numerous sabbaticals or leaves with grants from institutions such as the Humboldt Foundation and the National Endowment for the Humanities, Dr. and Mrs. Peterson went to Germany to do research in his areas of interest.  In the early days, he took notes on thousands of 3x5 file cards, then brought them home to River Falls, and created a book from them. In later years, he was one of the first historical researchers to take a laptop computer with him to Berlin so that he could take notes in the archives much more quickly and organize them more efficiently. After doing research all day in an archives, he would go back to his rented room and begin to write. Dr. Peterson was a very prolific author and scholar; a few of Dr. Peterson's many books are listed at right.

Mrs. Ursula Peterson also published a number of valuable books. She became interested in local history in Pierce and St. Croix Counties, and over the years wrote a number of books on the history of the counties, some of the towns, and especially of the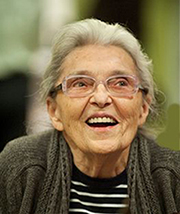 ethnic groups such as Bohemians who settled in various areas. Ursula often worked with History seniors in the archives doing primary research in local history. For many years Ursula gave annual presentations in each of the schools in River Falls about the history of the city and a number of the important buildings, such as churches, commercial buildings, schools, and homes.
Dr. Peterson and Ursula were also gracious hosts for many History Department parties in their home over many years where faculty and students could relax together. Old-timers still remember with fond nostalgia the scrumptious raspberry, blueberry and strawberry tarts and other pastries which Mrs. Peterson would present one after another all evening and all topped with real whipped cream. Dr. Peterson would write a poem for each of these parties and rhymed couplets would recount events in the Department in recent months. The poems elicited delight, amazement and some groans at the stretched rhymes.  These have all been preserved in the university archives.
Working with the university administration was not always easy, but Dr. Peterson had a deserved reputation for the effectiveness of his writing. When he sat down and told an administrator how things ought to be done properly, they were, although they did not always credit him. 
He was a true friend to the members of the History faculty as well as the students. He was honored with the Distinguished Teaching Award, and later a splendid mural was painted on a long wall in Wyman Education Building showing Dr. Peterson actively pacing at the front of a classroom, as generations of students remembered him.
Dr. Peterson served as the first Chairman of the Faculty Senate, the faculty governing body, a significant honor. Dr. Peterson brought Phi Alpha Theta - the History honor society - to UWRF and he was always present at initiation ceremonies. One of the great pleasures of his life, he said, was grading blue books, and he was doing that the night before he died in spring of 2005, having served at UWRF for 51 years. (Contributed July 2013 by Dr. John Buschen)