UWRF Scholarships for English and TESOL Majors

Starting November 16, students can apply for various English scholarships with one application through the UW-River Falls Scholarship System. Deadline dates for certain scholarship opportunities may vary, but the majority of scholarships have a deadline date of February 1st.  An overview of English/TESOL scholarships are available below.

To get started, students can follow these easy steps:
Click  to log into the UW-River Falls Scholarship Application System.
Select "Sign In" and use your UWRF W# and password.
Complete your simple online general scholarship application.
Review all recommended scholarship opportunities and "Apply" with the click of a button! You are also able to do a "Search" to narrow down the list of available scholarships to review. For example, type "TESOL" or "English".
An email notification to all scholarship applicants will be sent to their UWRF email account once all selections have been finalized and the selection period has closed.
Official award notification from the Financial Assistance Office normally occurs in June.  All scholarship awards are contingent on students meeting eligibility requirements as defined by the UW-River Falls Foundation and Financial Aid office.
---
Overview of English & TESOL Scholarships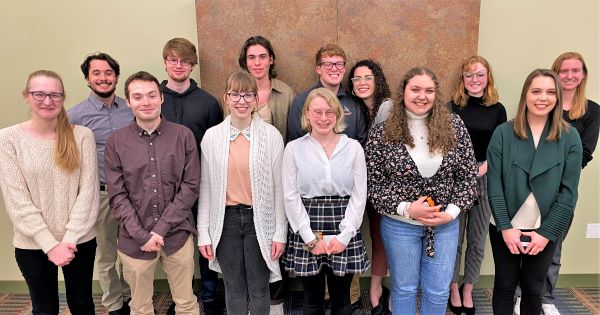 2022-2023 English, TESOL, & Modern Languages scholarship recipients.

The Chisholm-Engler Memorial Scholarship
Awarded every year to a junior English major on the basis of achievement and promise in literary scholarship.

The Nicholas J. and Inga Karolides English Education Scholarship
Given to a senior English Education major who shows superior promise as an English teacher.

Steve Luebke English Scholarship
Awarded to an incoming first year English major.

The Margaret Odegard Scholarship
Awarded to an English major, often of an English Liberal Arts major in honor of Dr. Odegard's long-time championing of the liberal arts and the humanities. Awarded to a student who will be a junior or senior with a minimum cumulative 3.0 GPA

The E. J. Prucha Memorial Scholarship
Awarded to a sophomore who shows consistent excellence in writing.

The Robert R. and M. Susan Beck Memorial Scholarship
Named for two long-time professors in the English Department who devoted themselves to language, language acquisition, and linguistics, this scholarship is awarded to an outstanding sophomore or junior who is an English, English Education, or TESOL major with a minimum GPA of 3.0.

Lloyd and Alberta Ruesink Endowed Scholarship
Awarded to a student who has attained sophomore or junior status. Student must be enrolled in an English Education degree program, have a cumulative GPA of 3.0 or higher, and have demonstrated financial need. The English Department awards this scholarship only in alternate years.

Olaf and Grace Pilgrim Bloom Scholarship
Awarded to students who are majoring in English.

The Helen K. White Memorial Scholarship
Awarded to a student majoring in English. Student will be chosen based on demonstrated financial need.
---
Scholarships Outside of UWRF

For TESOL majors:
Wisconsin Association for Language Teachers
Serving Wisconsin teachers since 1913,  the Wisconsin Association For Language Teachers is committed to the growth and expansion of language learning and teaching throughout the state of Wisconsin. In addition they offer numerous opportunities for professional development, grants and awards reaching out to language teachers at all levels of instruction.