Cathy Wurzer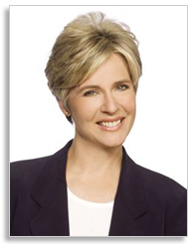 Graduated 1992
Anchor of "Morning Edition" on Minnesota Public Radio
Co-host of "Almanac" on Twin Cities Public Television
Location: St. Paul, MN
What's your job like? My job is exciting and can be exhausting. My morning radio program demands that I get up at 2:30 a.m. for a 4 a.m. start time. The program itself is a mix of international/national and regional news and that entails a good deal of juggling various elements in order to make it a smooth, listenable show. My television program is a live show, on Friday evenings, and we cover regional politics, news, public affairs, culture, sports, arts and music. It is a long running program, and the highest rated program of its kind, on Friday nights, in the entire PBS system. "Almanac" keeps me on my toes, as does "Morning Edition." In addition to my broadcast work, I also have a small video production company and am branching out into documentary and cable television series production. My feature length documentary "Tales of the Road-Highway 61" was seen on the stations of Minnesota Public Television in January 2009. (www.talesoftheroad.net ) A book version, published by the Minnesota Historical Society Press, came out in October 2008.
Personal News: I'm married with no children. When I'm not on the air, you can find me in a barn, working with horses...or on a trout stream--fishing. In the winter months, I'm in an art studio, working with clay and mosaics.
Reflections: I enjoyed my time at UW-River Falls and felt that I received wonderful hands-on and academic preparation for what I do today.