Bachelor's Degree
The Data Science Degree is taught in the Computer Science and Information Systems Department within the College of Business and Economics. UW-River Falls, located east of the Twin Cities, is the only school in the University of Wisconsin System to offer this course of study as an in-person undergraduate degree.
Students majoring in Data Science and Predictive Analytics learn to collect, manage, interpret and analyze data in order to assist in making data-driven decisions for the benefit of a company or organization.
The program will involve coursework in areas such as machine learning, data visualization, data storage and statistics across the disciplines of computer science and information systems and math. Electives in accounting, finance, management, marketing and economics are also available to provide students with a comprehensive business education.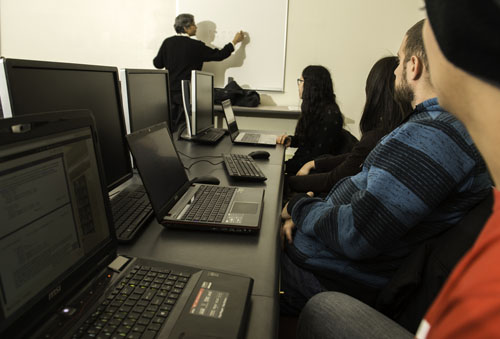 Career Opportunities
There is a growing need for individuals who have the skills to effectively collect and analyze data and to make informed, data-driven decisions. Jobs for data scientists, business intelligence analysts, data mining analysts and other data science professions have emerged across all industries that use data extensively, including government, business, healthcare, online commerce and more. 
Employment in data science related careers is projected to grow 11 percent from 2014 to 2024, according to the Bureau of Labor Statistics (BLS), which is much faster than other careers. For more information about data science career outcomes, click here. 
Learning Outcomes
Upon completion of the four-year bachelor's degree in Data Science and Predictive Analytics, students will possess an understanding of and skills involving:
Big data and the challenges of capturing, storing and retrieving massive data
The application programming interface (API) ecosystem and data infrastructure that supports data acquisition, storage, retrieval and analysis
The foundations, frameworks and applications of the emerging field of data science
The application of a data-based analytical approach to identify and solve problems