Predicting Crude Protein in Silage Corn Using Sensor Technology
William Steffel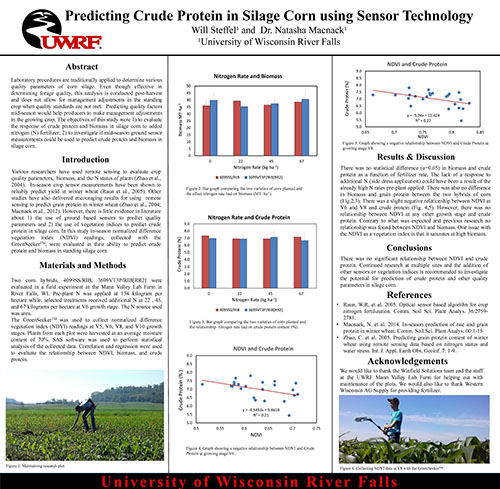 He presented this research poster at the National Annual Meeting of Students of Agronomy, Soil, and Environmental Sciences (SASES) in fall 2015 and placed 1st in the undergraduate research poster competition. Read more.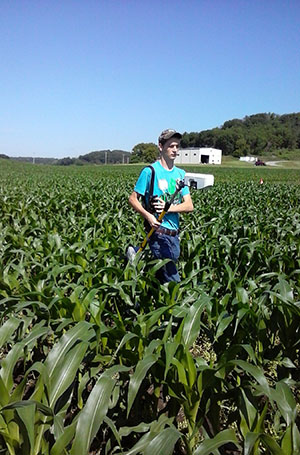 My name is Will Steffel and I was born and raised in Champlin, MN. I graduated from West Lutheran High School located in Plymouth, MN in 2014. During the three years it took me to graduate from the University of Wisconsin-River Falls I was an Agricultural Business major with a minor in Crop Science.
While at UWRF I was blessed with countless opportunities and the first one was the opportunity to conduct research with Dr. Natasha Macnack, the summer after my freshman year. We worked on researching predicting crude protein in corn silage using the GreenSeekerTM. During this research project I learned how to conduct research in the first place, how to problem solve on the go, and most importantly it sparked my passion for soil health and agronomy as a whole. After conducting all of this research I was given the opportunity to present my research at the annual Students of Agronomy, Soils, and Environmental Sciences (SASES) in the fall of 2015, in Minneapolis, MN. My research and my poster presentation with the title "Predicting Crude Protein in Silage Corn using Sensor Technology" took 1st place, not only that but I then went on to become the National Vice President of SASES. Through this I gained many professional connections and had experiences that would have never occurred if not for the student research I was able to conduct with Dr. Macnack. The opportunity created by just doing a research project that I didn't think would be anything but a resume builder opened so many doors for me that wouldn't have existed otherwise. One of those doors was the internship I went on to have as a Summer Research Technician for Winfield, where I got to showcase a lot of the research knowledge and problem solving skills that I had learned by doing research with Dr. Macnack.
Participating in research opened my eyes and reinforced my passion for agriculture. If I could leave you with some advice it would be to take every opportunity you can to advance your knowledge and if you are passionate about agriculture, do research and be hands on with your passion. I found my passion in soil health and followed it and it opened many doors and I would not be where I am in my career without it.