This trip may satisfy the general education Global Perspectives requirement. Consult with your adviser for details.

See more photos at UWRF India 2013 Facebook page, the CAFES Flickr album, the UWRF India 2015 Facebook group, the UWRF India 2016 Facebook group, and the UWRF India 2017 Facebook group.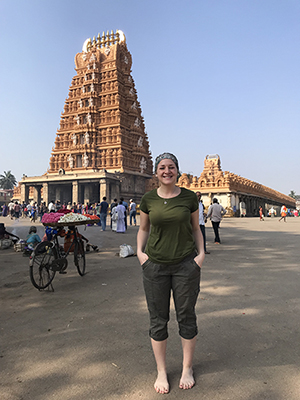 Our trip to India was such a whirlwind. While we were there, the days moved slowly at first as we were taking in our surroundings, trying new things, and just getting to know all the people we were traveling with. As we settled into the Indian culture more, the days started moving by faster and faster.
One of top take-aways from this trip was the way that people gave all of themselves to their religion as we explored Hinduism, Buddhism, and Christianity. My number one, all-time favorite memory from the trip was attending the nightly Hindu worship with the JSS students.
I didn't know what to expect of their production and harvest mechanization. I didn't know if I should expect more manual labor or more machines. We saw mainly manual and animal drawn labor while learning about pre-harvest. On the second half of our trip, when we were learning about post-harvest, we saw much more mechanization that was still being developed and evolving. During the processing of ginger, there was a mix of both manual and mechanized production.
The environmental impact of climate change has really affected their monsoon season and characteristics of some of their crops. One example of this is how the caffeine content in coffee beans has decreased in recent years. Water is also an issue that was addressed during some of our farm visits. I was impressed at the different methods that producers used to collect and conserve water.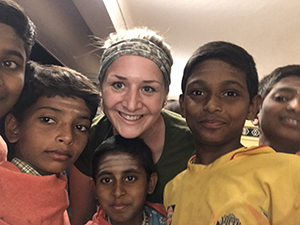 If I could talk to someone who is considering going to India in the future, I would share some of my stories and absolutely recommend that they travel there---they won't regret it! All in all, I would do the India trip all over again in a heartbeat.