1910-19:  The Beginning

In 1911 the Wisc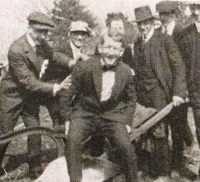 onsin legislature passed a law establishing that agriculture be taught in the high schools, thus creating a need for teachers of agriculture. The River Falls Normal School already offered a course in agriculture taught by Winthrop Welles, who saw the opportunity for the school to establish a specialty in agriculture. President Crabtree was interested in building up the school and saw this as an opportunity to attract another group of students, and students from across the state. Through local Regent, Philip W. Ramer, President Crabtree successfully appealed to the Board of Regents for authority to establish a special curriculum in agriculture.  
When scho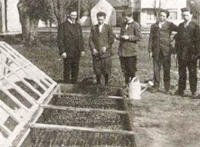 ol opened on September 2, 1912, there were 40 students in the program. That very first year, students and staff organized a livestock show. In the early years a large tent was erected for the show. As the show grew in popularity, faculty members and local farmers co-signed on a bank loan to build a 300 foot stall shed. The show was an annual event organized by upper-classmen until 1923 when county fairs took over this role.     
By 1914 the school started acquiring land for a farm. The first 14 acres were just west of South Hall. Where Stratton Hall now stands there was a small house, a stone cellar and two small sheds. For the first few years, the cellar served as housing for a few cows and a team of horses. Over the next few years additional acreage was purchased so that by the end of the decade the farm was just over 100 acres.     
Bec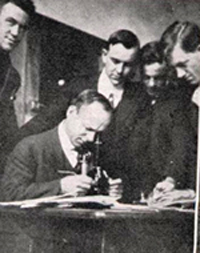 ause of the passage of the federal Smith-Hughes Act in 1917 which subsidized high schools offering agriculture instruction, the program at River Falls boomed. The River Falls Normal School was quickly approved by the State Vocational Board as an institution to train agricultural teachers. Approval was also needed from the Federal Board to obtain funds and have River Falls graduates accepted on an equal basis with those from the land-grant campus in Madison. The Federal Board wanted River Falls to be better equipped before being approved – they wanted a hog house, a barn, a milk house, a tractor and more animals among other items. It wasn't until 1919 that the Wisconsin legislature appropriated funds and construction started immediately on a "modern" 25 stanchion dairy barn. The barn was built for $5000 on the site where the Agricultural Science building now stands.