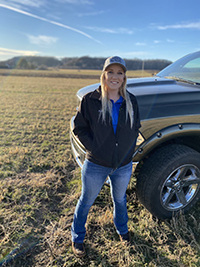 A meeting at the UWRF Career Fair and an internship was the path that Kirsten took to her new career with Ag Partners.
"I was thrilled to be able to work for Ag Partners as a Sale Agronomy Intern the summer of 2020. It was a great opportunity to be able to make new connections while still learning to work independently in the field and with customers. They have an outstanding intern program and I am extremely grateful for all the opportunities they presented me with. They offered me a full-time position in August as my internship was coming to an end. I happily accepted."
As an Agronomy Associate, Kirsten looks forward to assisting with precision ag operations for AYS, the company's Advanced Yield Systems program, gathering data and learning how to create variable rate prescriptions. In the spring, she will begin helping with product application and operations, and training for a future sales role in the company.
 
Kirsten took advantage of many opportunities during her time at UWRF.
"I was actively involved in a variety of things from Crops and Soils Club, to intramurals, volunteering as a tour guide, and even having the opportunity to be a research assistant with some great professors. However, the most impactful experience of all has been my time as a student manager for the campus farm. I have made so many new friends and learned so much out at Mann Valley. It quite literally became a second home."
 
And while she learned much outside of the classroom, she is just as grateful for her time in the classroom.
"The faculty at UWRF did an amazing job prepping me for my future. All the hands-on courses and individual time they spent providing me with extensive resources has guided me in the right direction and provided the basic knowledge I need to start my career in agronomy. Thank you all so much."