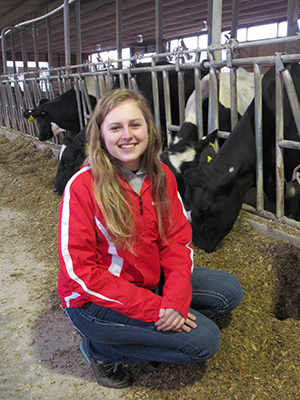 After meeting representatives from Agropur at a presentation during her Dairy Manufacturing II class and completing several steps of interviews, Ariel received a job offer in December to start as an Argopur Graduate this summer. Ariel explains this unique starting job position for recent graduates at Agropur.
"This program hires college graduates for a two-year rotational program that consists of four six-month rotations through four different Agropur plants/locations. My first rotation will be at their Jerome, Idaho location. This is one of their largest locations and here I will be learning about all of the different aspects of cheese production. After the six months in Idaho, I will be moving back to Wisconsin and working in the Appleton area. Agropur has three plants near there, Luxemburg, Little Chute and Weyauwega, so I will be at two of those three locations for 6 months each. After those three rotations, Many factors will determine my final location. They will consider where I excelled, where they liked me, what I enjoyed and where they have an opening. Based on all these factors, I will likely be placed as a supervisor of cheese production somewhere within the company!"
At UWRF, Ariel was involved in several activities like Dairy Club, Farm Bureau, Alpha Zeta and intramural sports. Ariel recalls her experiences in Dairy Club.
"This club allowed me to meet so many people, many of which will definitely be life-long friends. We traveled throughout the Midwest and met other dairy science students from other universities. Dairy Club connected me to multiple conferences that gave us amazing networking opportunities and taught me so much about the dairy industry through workshops, presentations, keynote speakers and by talking with many industry professionals. Participating in these trips and conferences made me a very well-rounded dairy science student. I learned a lot from my classes, but participating in these events gave me real life experience that you simply can't get in the classroom."
"The classes, professors, students and activities at UWRF prepared me for my future by challenging me. College wasn't always a breeze. I was constantly challenged by my professors with the course work, by my peers to stay involved and improve our clubs, and by myself to keep going and build a better version of myself. These challenges made me a better public speaker, increased my confidence and taught me the academic skills that I will use in my position and in the rest of my professional career."