2017 is the 100th anniversary of the birth of John Fitzgerald Kennedy, 35th president of the United States and the youngest elected president.
The University Archives & Area Research Center created an exhibit commemorating the Kennedy years that was previously on display in the Chalmer Davee Library on the main floor. This online exhibit was intended to supplement that display with other material and information. Down the right side you will find a timeline with highlights from JFK's life and career. In the main area are items relating to Kennedy and the 1960 Wisconsin elections (primary and general), Kennedy's visits to "our" northwestern Wisconsin area, and how the area newspapers reacted to the President's death.
The 1960 Wisconsin Primary
Senator John F. Kennedy crisscrossed the state of Wisconsin several times leading up to the April 5, 1960, primary.  He visited River Falls twice, once in the fall of 1959 and again in the spring of 1960. He returned to the area on March 29, 1960, when he spoke in Hudson, New Richmond, River Falls, and Ellsworth.
November 12, 1959
—

WSC-River Falls Visit

Senator Kennedy did not officially announce his presidential candidacy until January 1960.  In 1959, however, he was busy campaigning informally, visiting a variety of venues—from a rice festival in Louisiana, to a live broadcast in Duluth, Minnesota.  Kennedy also visited the Midwest in 1959, including Ohio, Illinois, and Wisconsin.  He did a Chautauqua-style speaking tour in the fall of 1959, visiting many colleges.  On November 12, 1959, Kennedy spoke at Wisconsin State College-River Falls, giving a speech in the North Hall Auditorium on the crisis in education.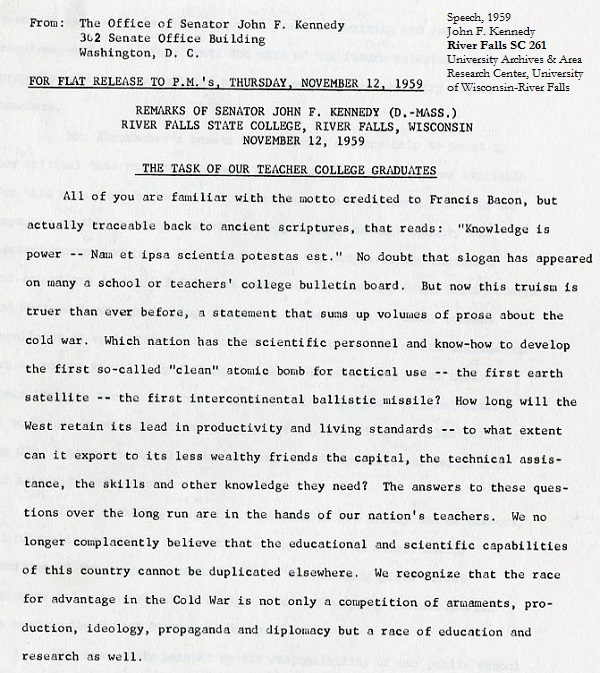 Transcript of Kennedy's speech at WSC-RF on November 12, 1959, from RF Small Collection 261, University Archives, UW-River Falls
February-March 1960
Senator Kennedy commenced a whirlwind tour around Wisconsin hoping for a win in the Wisconsin primary.  The following article from the New Richmond News of February 11, 1960, outlines Kennedy's tour.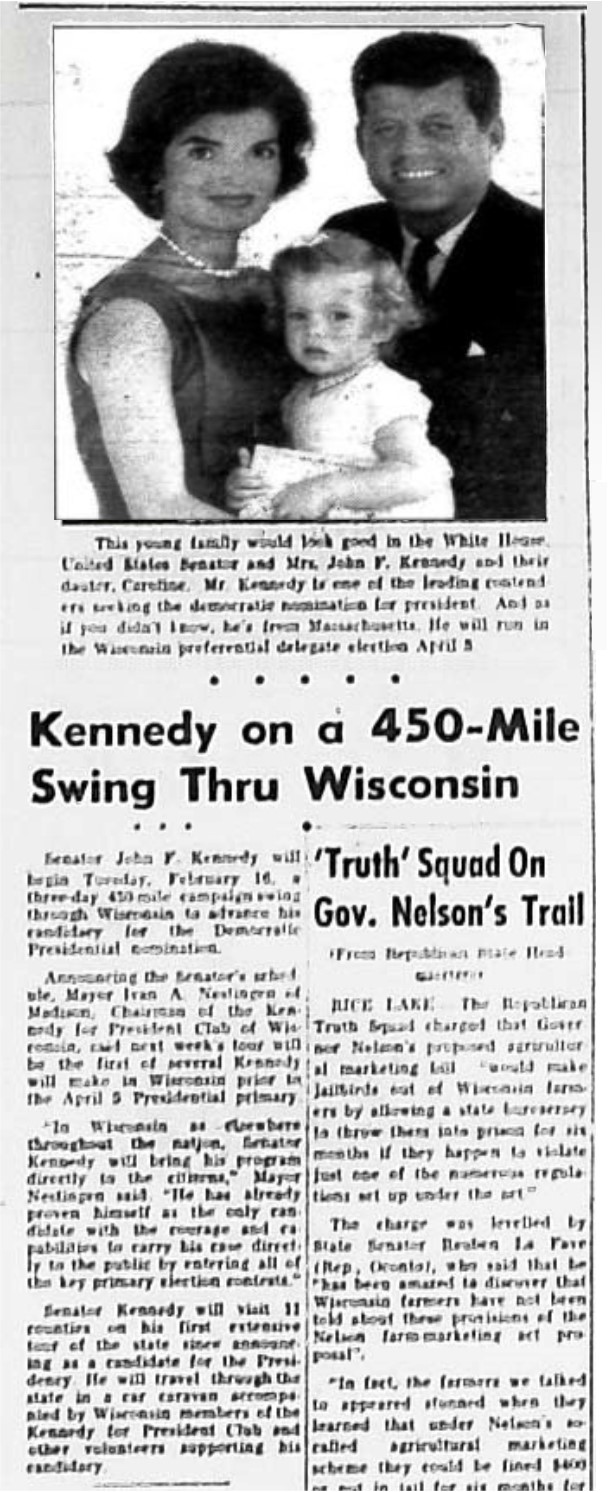 This young family would look good in the White House. United States Senator and Mrs. John F. Kennedy and their dauter [sic], Caroline. Mr. Kennedy is one of the leading contenders seeking the democratic nomination for president. And as if you didn't know, he's from Massachusetts. He will run in the Wisconsin preferential delegate election April 5.
Kennedy on a 450-Mile Swing Thru Wisconsin
"Senator John F. Kennedy will begin Tuesday, February 16, a three-day 450-mile campaign swing through Wisconsin to advance his candidacy for the Democratic Presidential nomination.
"Announcing the Senator's schedule, Mayor Ivan A. Nestingen of Madison, Chairman of the Kennedy for President Club of Wisconsin, said next week's tour will be the first of several Kennedy will make in Wisconsin prior to the April 5 Presidential primary.
" 'In Wisconsin as elsewhere throughout the nation, Senator Kennedy will bring his program directly to the citizens,' Mayor Nestingen said.  'He has already proven himself as the only candidate with the courage and capabilities to carry his case directly to the public by entering all of the key primary election contests.'
"Senator Kennedy will visit 11 counties on his first extensive tour of the state since announcing as a candidate for the Presidency.  He will travel through the state in a car caravan accompanied by Wisconsin members of the Kennedy for President Club and other volunteers supporting his candidacy."
March 29, 1960
—

Hudson, New Richmond, River Falls, Ellsworth

Senator Kennedy started March 29, 1960, in Saint Paul, Minnesota, and ended the day in Milwaukee, Wisconsin. In between, Hudson, New Richmond, River Falls, and Ellsworth were whistle stops on Kennedy's stump of Wisconsin.

In Hudson, Kennedy spoke to the high school students and general public at the Oak Street auditorium for about half an hour; more than 1,000 attended.  The Hudson Star-Observer noted that he "left an indelible impression on all who heard him speak"and "was a dynamic man whose spontaneity and vigor were ever present."

In New Richmond, the News headlined its article, "Sen. Kennedy Thrills Large Crowd Here."  The article reads, "United State Senator John F. Kennedy of Massachusetts, Democratic presidental hopeful, whose ultimate victory or doom may be spelled out in the vote he gets in the 9th Congressional District (that's us and 10 other counties in Western Wisconsin) of Wisconsin in Tuesday's delegate elections, thrilled a capacity house at the Gem theatre Tuesday morning.  Despite the fact the senator was running 45 minutes late, folks stayed to see and hear him--every young woman (under or over 50, even) will no doubt vote for John F. Kennedy.  He's a real American young man, and smart, too, and you can't help but like him.  Mothers with no one to leave the children with, brot the children!  That's a good omen for Senator Kennedy!  We hope he wins Tuesday in the 9th District and thruout Wisconsin!"

Senator Kennedy returned to River Falls, speaking and glad-handing in downtown River Falls.  He spoke from the top of a car, greeted people in a local restaurant, and spoke on the radio.  Robert Kennedy had preceded his brother by a week to make arrangements.  Both visits were front-page news in the River Falls Journal.  The Journal later reported that JFK was "making a bid for the farm vote" and outlined a five-part program for helping boost farm income. "A good sized crowd of people heard the senator speak on the street and shook hands with him as he walked up and down Main Street."

Following a noon lunch in the Methodist Church in Ellsworth on March 29, Kennedy spoke to a full house.  The Pierce County Herald of March 31, 1960, quoted Kennedy's speech: "What you Wisconsin voters do April 5th, will have the greatest possible influence on what the people of Maine, of Hawaii and of Alaska do.  All other states are watching you closely.  This is one of three contested primaries in the nation, and will have a big effect."  Of local interest, the Herald pointed out that Senator Hubert H. Humphrey, Kennedy's opponent in the primary, and Kennedy himself were "the only two presidential candidates ever to visit the fair village of Ellsworth."
Kennedy's Whirlwind Primary Schedule in Wisconsin
| | |
| --- | --- |
| February 1960 | March 1960 |
| Feb. 16: Fort Atkinson, Whitewater, Lake Geneva, Kenosha, Madison | March 9: Madison, Baraboo, Reedsburg, Mauston, Sparta, La Crosse |
| Feb. 17: Port Washington, West Bend, Mayville, Beaver Dam, Fond du Lac | March 10: Black River Falls, Fairchild, Marshfield, Stevens Point |
| Feb. 18: Oshkosh, DePere, Appleton, Green Bay | March 11: Manawa, Clintonville, Shawano, New London, Neenah, Menasha, Appleton |
| Feb. 19: Berlin | March 16: Madison |
| Feb. 24: Madison, Portage, | March 17: Cornell, Ladysmith, Park Falls, Mellen, Montreal, Hurley, Ashland |
| Feb. 25: Wausau, Antigo, Medford, Abbotsford | March 18: Washburn, Hayward, Shell Lake, Minong, Gordon, Superior |
| Feb. 26: Eau Claire, Chippewa Falls, Bloomer, Durand | March 19: Milwaukee, Mukwonago, Burlington, Racine, Delavan, Janesville |
|   | March 20: Milwaukee, Marionette |
| April 1960 | March 23: Milwaukee |
| April 1: Dodgeville, Beloit | March 24: Milwaukee, Kenosha, Racine |
| April 2: Milwaukee | March 25: Hillsboro, Gays Mills, Muscoda, Lancaster, Milwaukee |
| April 3: Milwaukee | March 29: Hudson, New Richmond, River Falls, Ellsworth, Milwaukee |
| April 4: Milwaukee | March 30: Manitowoc |
| April 5: Kennedy Wins Wisconsin Primary | March 31: Oconomowoc |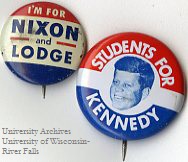 Kennedy and Nixon political buttons, 1960
The 1960 Election in Wisconsin
After the hard-fought primary election, Senator Kennedy returned to Wisconsin only once, for a two-visit to Green Bay (October 22), and Milwaukee, Madison, and La Crosse (October 23).
The 1960 election was held Tuesday, November 8. The presidential race was too close to call until the final ballots were tallied.  Results were not official until noon the following day.  In the end John F. Kennedy (D) had won with 303 electoral votes and 34,226,731 popular votes compared to Richard M. Nixon (R) 219 electoral votes and 34,108,157 popular votes.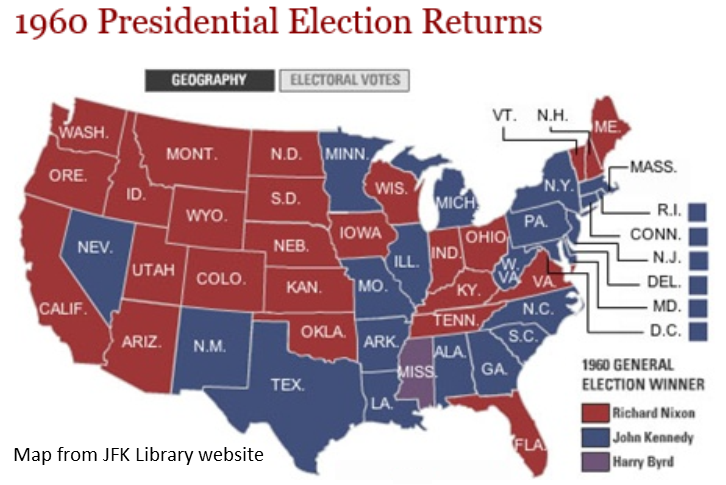 Despite winning the Wisconsin primary, Democrat Kennedy lost the presidental election in Wisconsin to Republican Nixon, by 895,175 to 830,805 votes, or 51.77% to 48.05%.
By contrast, in the Wisconsin gubernatorial election, the Democratic nominee, and incumbant—Gaylord Nelson—won with 51.5% of the vote.
All four counties in the Area Research Center's area—Burnett, Pierce, Polk, and Saint Croix—went Democratic for the gubernatorial election, but Republican for the presidental election.
"The President is Dead"
So starts one of the articles in the November 28, 1963, issue of the River Falls Journal.  It continues, "These words shocked millions of persons across the world Friday [November 22, 1963] an hour after a hidden sniper cut down President John F. Kennedy and Texas Gov. John Connaly [sic] with three blasts of a high powered rifle."
"Hundreds of River Falls citizens who shook the hand of Sen. John F. Kennedy and watched his climb to the position of Chief Executive of the United States look back with numbed horror and disbelief at the tragic events of the past weekend."
"On Monday [November 25, the day of Kennedy's funeral] flags were displayed from one end of Main St. to another.  River Falls stores closed from 7:30 a.m. until 1 p.m.  Schools were closed all day.  Some churches held memorial services and a mass at the Catholic Church was sponsored by the Foreign Students Assn. of River Falls State College as the people of River Falls remembered the President's visit here on March 29, 1960."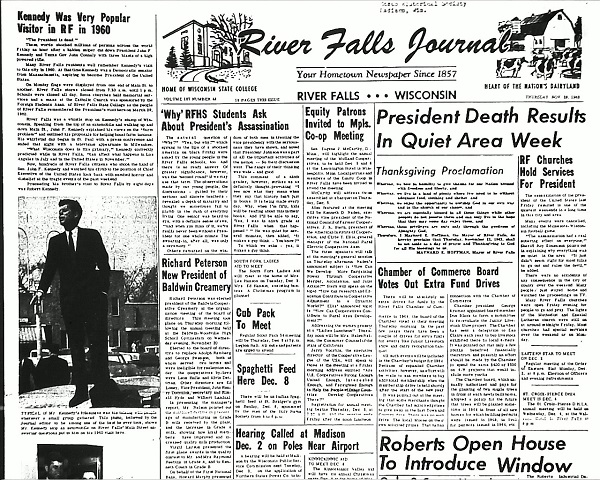 Front page of the River Falls Journal, November 28, 1963
The November 28, 1963, issue of the Hudson Star-Observer also remembered Kennedy's 1960 visit with an article by Dr. Donald L. Iverson titled "Kennedy's Visit to Hudson in 1960 is Recalled."  Alongside is a photograph of Kennedy, Iverson, and Iverson's two children.
Another article, entitled "Business Comes to A Standstill; All Schools Closed," recounts events similar to River Falls:
"Hudson joined the rest of the country Monday in paying final tribute to President Kennedy, who was killed Friday by an assassin's bullet.  Business establishments, as well as city offices were closed from 11 a.m. to 2 p.m. in observance of President Johnson's proclamation declaring Monday the day of official mourning.

"Hudson's business district was nearly deserted most of Monday.  Only an occasional shopper was seen on the street.  The parking meters went unused.  Flags were prominently displayed on the street -- some at half mast and others carrying a strip of black mourning crepe.

"All county offices were closed as was the post office.  In observance of the mourning proclamation, the Hudson Community schools and St. Patrick's parochial schools did not have classes Monday.

"A brief public memorial service was held at 11:30 a.m. on Second street in the center of the business district, by the Veterans of Foreign Wars."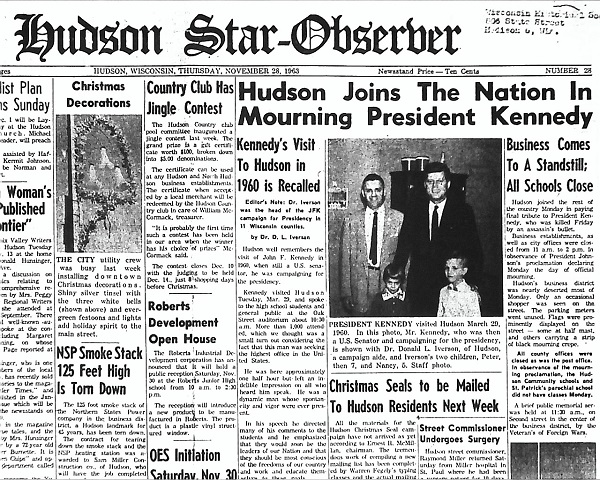 Front page of the Hudson Star-Observer, November 28, 1963