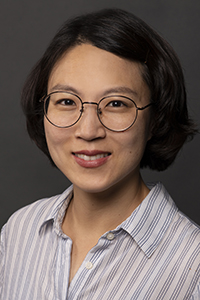 Sooh-Rhee Ryu
Associate Professor

Start Year: 2012
Political Science
Office: 355d Kleinpell Fine Arts
Phone: 715-425-3318
Email: soohrhee.ryu@uwrf.edu

Education:
Ph.D. Political Science, University at Buffalo, SUNY
M.A. International Relations,Seoul National University, Seoul, Korea
B.A. Political Science and Diplomacy, Chungbuk National University, Cheongju, Korea
Research Interests:
Comparative Politics:
Theories of Comparative Politics
Politics of Developing Countries
Latin American Politics
East Asian Politics
Post Communist Europe
International Relations:
Theories of International Relations
Domestic Institutions and Foreign Policy
International Law and Organizations
Professional Activities:
Midwest Political Science Association (since 2006)
Publications:
Journal Articles:
"Promises are Promises? A Study of Campaign Promise Fulfillment among South Korean Legislators, 2008-2012." Korea Journal, Vol. 57, No. 1, Spring 2017.
"Repudiating or Rewarding Neoliberalism? How Broken Campaign Promises Condition Economic Voting in Latin America" with Gregg B. Johnson. Latin American Politics and Society, Vol. 52, No. 4, Winter 2010.
"Policy Responsiveness in Post-Communist Democracies: A Study of Promise-to-Policy Congruence,"with Dinissa Duvanova. Journal of Self-Governance and Management Economics, Vol. 2(3), 2014, pp.7-27.

Book Review:
"Protesting in America: Democracy and the U.S.-Korea Alliance." by Katharine H.S. Moon. University of California Press, 2012. The Journal of Asian Studies, Volume 72, Issue 4, November 2013, pp. 1012-1013.
"Reassessing the Park Chung Hee Era, 1961-1979: Development, Political Thought, Democracy and Cultural Influence." By Hyung-A Kim and Clark W. Sorensen (eds.). Center for Korea Studies, University of Washington, 2011. Asian Studies Review, Volume 37, No. 4, January 2013, pp. 596-597.