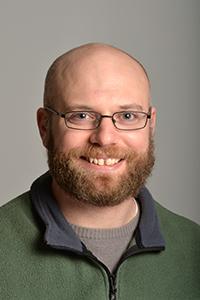 Kevyn Juneau
Assistant Professor of Conservation and Environmental Science
member of graduate faculty
Plant and Earth Science
Office: 303 Ag Science Building
Phone: 715-425-4958
Email: kevyn.juneau@uwrf.edu

Education:
Ph.D. 2013, Michigan Technological University, Forest Science
M.S. 2009, University of Florida, Entomology and Nematology
B.S. 2005, State University of New York at Plattsburgh, Biological Sciences

Courses Taught:
ESM 105: Introduction to Environmental Science (F, Sp)
ESM 109: Introduction to Forestry (F, Sp)
ESM 343: Forest Restoration and Management (Sp)

Professional Certifications:
Certified Associate Ecologist - Ecological Society of America
Assistant Laboratory Animal Technician - American Association for Laboratory Animal Science
Commercial Pesticide Applicator. Aquatic, Demonstration & Research.
Areas of Specialty:
Forest Ecology and Management
Forest Restoration and Conservation
Invasive Plant Ecology and Management
Additional Interests and Projects:
Ecology Research as Education Network (EREN) member
Additional Information: