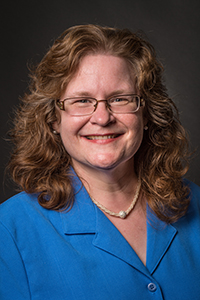 Kathleen Hunzer
Interim Associate Vice Chancellor for Academic Excellence and Student Success
member of graduate faculty
Provost and Vice-Chancellor For Academic Affairs Office
Office: 213a Rodli Hall
Phone: 715-425-0720
Email: kathleen.hunzer@uwrf.edu

Education:
B.A., Trenton State College;
M.A., West Chester University;
Ph.D., Lehigh University.
Areas of Specialization:
Composition and Rhetoric, Film Studies, Adolescent Literature, Women's Studies,and Modern American Literature
Publications:
Kathleen has presented at several local and national conferences such as CCCC, NCTE, MMLA, WPA, and WCTELA. Her publications include articles and reviews in The International Journal of Listening, Feminist Teacher, Pedagogy, Literary Magazine Review, and the Writing Lab Newsletter. She has also published a book titled Collaborative Learning and Writing: Essays on Using Small Groups in Teaching English and Composition.
Up-coming book reviews in Pedagogy and Feminist Teacher
Lessons from the Public Sphere: Listening, Adversity, and Learning. The International Journal of Listening 22.1 (2008): 90-98.
Diversifying Our Views of Argument: Dialogue, Respect, and Feminist Rhetoric" Feminist Teacher 15.3 (2005): 213-233.
Increasing the Visibility of the Disinclined and Silenced: Enabling Alternatives to Traditional Argument" ERIC (1999): ED 431 201.
"Misperceptions of Gender in the Writing Center: Stereotyping and the Facilitative Tutor." Writing Lab Newsletter 22.2 (1997): 6-10.
Autobiographical Information:
Kathleen is a Composition and Rhetoric specialist who currently teaches both undergraduate and graduate courses including ENGL 100: Academic Reading and Writing; ENGL 200: Investigating Ideas; ENGL 251: Advanced Composition; ENGL/FILM/WGST 300/500: Women, Film, and Society; ENGL 361/561: Composition Theory; and ENGL 362: Introduction to Rhetorical Studies. She has also taught honors seminars on "Interrogating Literary Utopias" and "Freedom of Expression in America" as well as ENGL 250: Literature for Children (online), ENGL/FILM 307: Ethnic Film, Literature, and Culture, ENGL 355: Literature for Adolescents, FILM 389: The Films of Alfred Hitchcock, and WGST 200: Introduction to Women's Studies. Kathleen embraces the interdisciplinary nature of all of her classes and hopes that she can help her students appreciate the power of language in our culture and our lives.